Exfoliation is one of the most basic steps of skincare that quite a few people unfortunately overlook. Whilst the traditional 3-step skincare routine consists of cleansing, toning, and moisturizing, long gone are the days when this routine is sufficient for everyone out there.
There's a lot more information and education available for people looking into upgrading their skincare routine, and with the rise in popularity and interest in the Korean multi-step skincare routine, comes the spotlight on exfoliation.
To put it simply, exfoliation is the removal of dead skin. You may think that by using a good enough cleaning product, you will be able to sufficiently remove your dead skin cells but that is far from the case.
The main difference between cleansing and exfoliating is that the former cleans the exterior by removing impurities and dust, whilst the latter removes dead skin cells trapped on and underneath your skin's surface layer. This, in turn, reveals a more youthful, brighter complexion.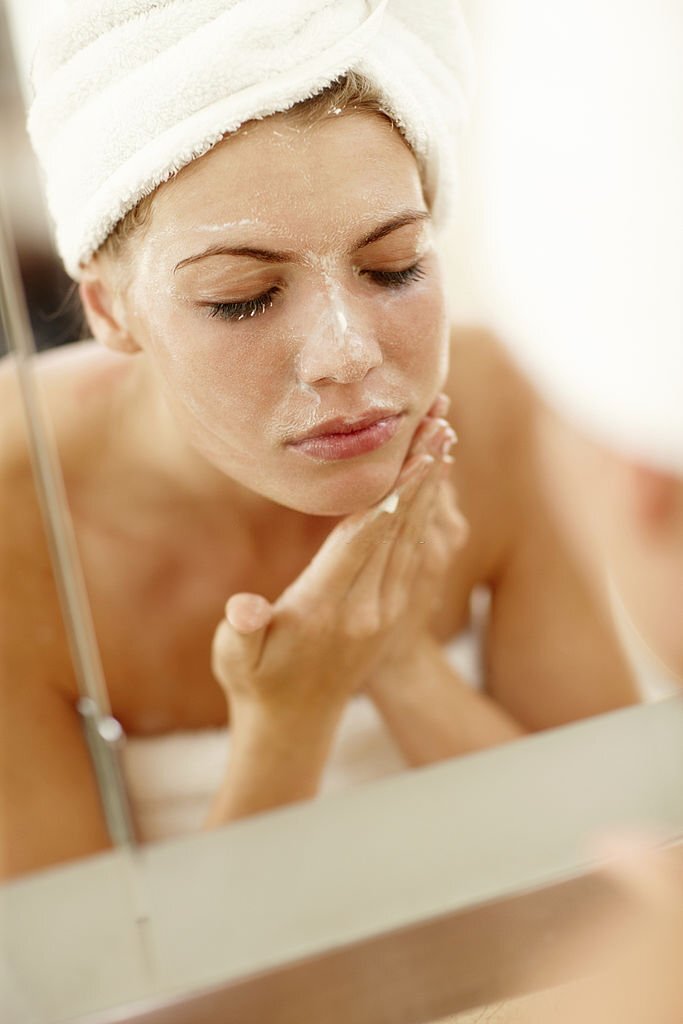 When exfoliating for the first time, notice just how smooth and baby-like your skin feels after washing the product off.
Korean exfoliators come in a variety of forms, including toning solutions, physical scrubs, gels, chemical peels, and even pad solutions. The type of exfoliator you would choose for yourself depends on your skin type and regularity of use.
The ultimate Korean standard of achieving the 'glass skin' look depends on multiple things, one of them being how smooth the complexion is. Using a suitable exfoliator on a regular or recommended basis will help you achieve the look!
We've listed below the 10 best Korean exfoliators that you should be using right now. Let's go and have a read!
1.  Pyunkang Yul Peeling Gel
This peeling gel exfoliator scrub is a gem for those with dry skin. It not only deeply cleanses the skin to get rid of excess dead skin cells but it also deeply moisturizes your skin in the process.
It's full of ingredients such as sugar beet extract, allantoin from comfrey leaf, and betaine salicylate, which help to soothe and heal the skin post-exfoliation. It's also free from parabens, synthetic fragrances, and dyes.
It has a soft gel-like texture that transforms into a gentle foam once mixed with water and applied to the face.
Summary:
Contains betaine salicylate, sugar beet extract, and allantoin from comfrey leaf and roots
Parabens, synthetic fragrances, and dye-free
The gel-like texture goes on like foam
2. Some By Mi AHA BHA PHA 30 Days Miracle Toner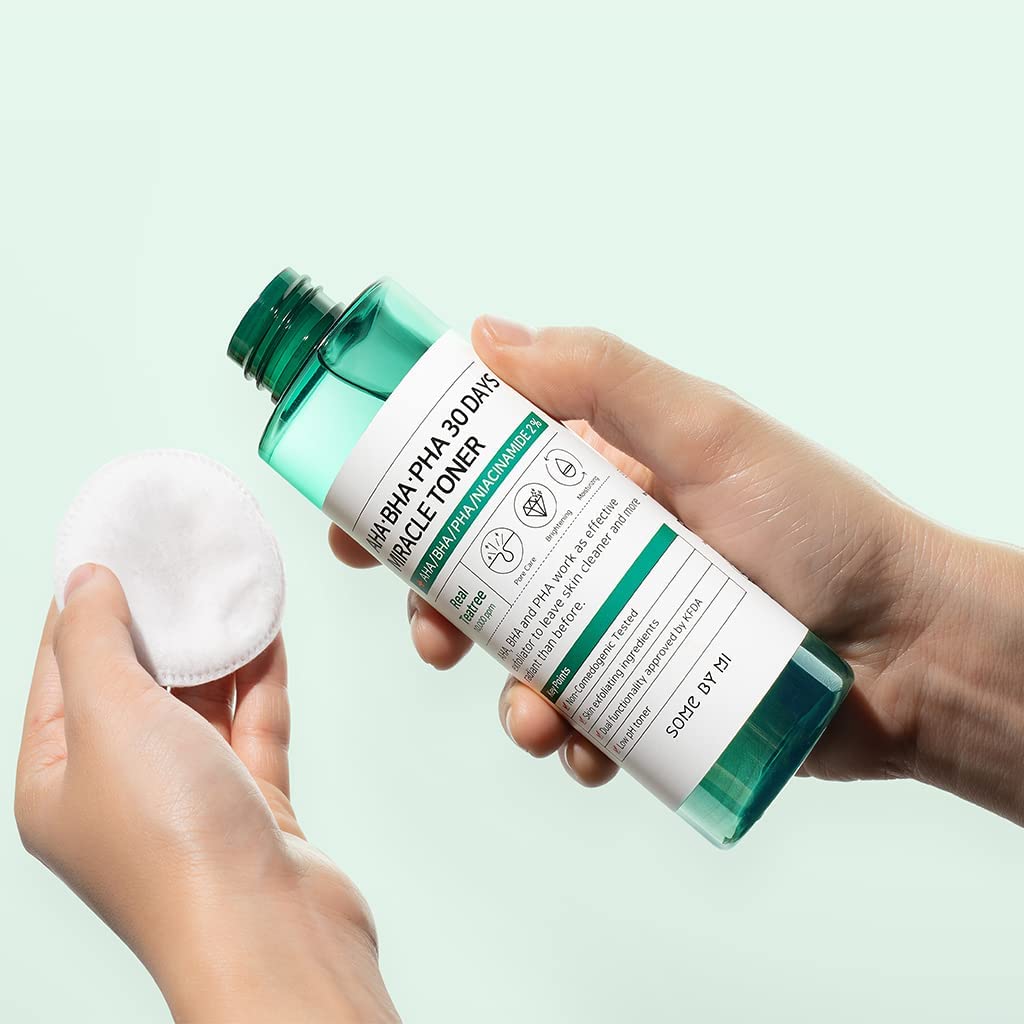 This gentle toner is one of the most popular exfoliation items in Korea. The perfectly balanced mix of AHAs, BHAs, and PHAs work in sync to break down and remove dead skin cells and excess sebum. Its mild composition means that you won't be breaking out from using it.
It also contains tea tree extract, which is a wonderful option for those who have pimple blemishes. It acts as a pore purifier, leaving your skin looking clearer and more radiant.
Summary:
Hypoallergenic
Contains glycolic acid, tea tree extracts
Contains 2% AHA, BHA, and PHA concentration
Contains tea-tree extract
3. Klavuu Pure Pearlsation Revitalizing Intensive Peeling Gel
This non-irritating exfoliator contains ECOCERT-certified cellulose from pine trees, which helps it to effectively scrub away dead skin cells and sebum whilst improving skin texture. After a few uses, you will notice a restored natural glow and radiance on your skin.
This effective exfoliating formula also contains Korean pearl extract and nutrient-rich seaweed complex, both of which help to brighten as well as replenish the skin's moisture barrier.
Summary:
Suitable for all skin types
Improves skin texture, restores natural glow, replenishes skin's moisture barrier
Contains cellulose from pine trees
4. Isntree Clear Skin BHA Toner
This BHA toner by Isntree is a fantastic option for those who suffer from oily, combination, or acne-prone skin. It contains natural exfoliants such as willow bark extract and betaine salicylate, which gently but effectively rids unnecessary keratin within the pores to clear the skin.
It also contains a seaweed complex (including hijiki, sea staghorn, sea trumpet, and agar), to detox your skin and improves its overall condition.
Summary:
Suitable for oily, combination, or acne-prone skin
Contains salicylic acid and betaine (from beet)
Contains seaweeds complex
Enhances absorption of subsequent serums
Read More: How Do K-pop Idols Deal With Acne – 9 Insider Tips
5. COSRX AHA/BHA Clarifying Treatment Toner
COSRX AHA/BHA had to make our list of the best Korean exfoliators!
This mild and gentle toner is a popular option amongst people who have sensitive skin and want to use a toner that won't aggravate the skin. It contains 10% willow bark and glycolic acid, both of which work together to provide a gentle exfoliation for improved skin radiance.
Natural mineral water, panthenol, and allantoin feature in this toner to assist with soothing and hydrating the skin in the process. Many users claim that using this toner regularly resulted in a brighter, clearer complexion, with a noticeable reduction in blackheads, whiteheads, and blemishes.
Summary:
Contains 10% willow bark and glycolic acid
Contains mineral water, panthenol, and allantoin
Gently exfoliates whilst soothing the skin
Users reported a brighter complexion with fewer blemishes
6. COSRX One Step Original Clear Pads
This award-winning exfoliating product from COSRX is the perfect option for those looking to start using an exfoliator as well as seasoned skincare experts. Its balanced composition of AHA and BHAs means that it's perfect for those with combination skin.
The pad themselves contain willow bark water and betaine salicylate which gently exfoliate without drying out your skin. They effectively dissolve impurities and dead skin cells to be washed away after.
The conveniently dual-sided pads both exfoliate as well as moisturize, and people love using this product for its hygienic packaging and process. Simply wipe using both sides and you're done!
Summary:
Dual-sided pads both exfoliate and moisturize
Contains willow bark water and betaine
Suitable for combination or oily/acne-prone skin
7. Dr. G Brightening Peeling Gel
This peeling exfoliator gel is one of the gentlest products on this list. It boasts of being free from any parabens, SLS, SLES, phthalate, and harmful chemicals, so if you have sensitive skin, this is a great product to try.
You May Also Like: Korean Nighttime Skincare Routine
This brightening peeling gel contains natural cellulose that instantly brightens dark spots and smooths your skin after just one use. With ingredients such as honey, hollyhock flower, and black willow extracts, you can bet your sensitive skin will feel soothed. Add trehalose and olive oil to the mix and you've got some nourished skin right there.
It is considered one of the top-rated Korean peeling masks!
Summary:
Ideal for all skin types
Free from parabens, SLS, SLES, phthalate, and harmful chemicals
Contains anti-inflammatory ingredients (such as honey and hollyhock flower)
Contains moisturizing ingredients (such as trehalose and olive oil)
Contains Vitamin C
8. Skinfood Black Sugar Mask Wash Off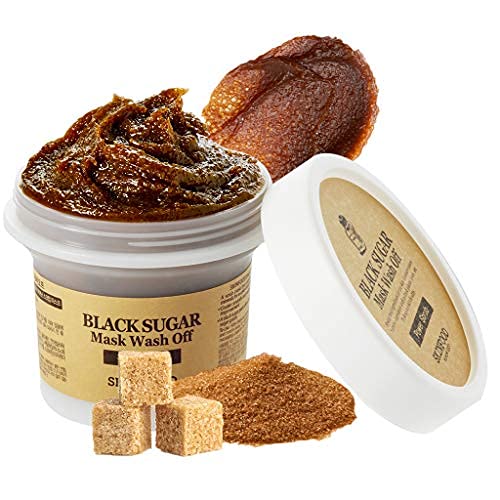 Skinfood is a leading market brand when it comes to wash-off masks. Their huge range of masks contains natural ingredients that all work to target key issues people experience on their faces, but they all effectively do their number one task: exfoliate.
The Black Sugar Mask Wash Off is one of the most popular scrubs by Skinfood.
It contains mineral-rich Brazilian black sugar which is unrefined and full of calcium, iron, magnesium, phosphorus, and potassium. This sugar provides gentle exfoliation for the face, whilst ingredients such as shea butter and natural oils from macadamia nuts inject moisture and nourishment into the skin.
If you've avoided scrub masks because they tend to dry out the skin, give this one a go. We think you'll be pleasantly surprised.
Summary:
Suitable for dry or combination skin
Contains shea butter and natural oils from macadamia nut
Free from parabens, alcohol, and mineral oils
9. Neogen Dermalogy Gauze Peeling Wine
The Neogen gauze peeling pads are one of the market-leading exfoliation products in Korea. They're simple to use, hygienic, and effective, and there are a few different choices containing different ingredients for people to choose from.
The Neogen Dermalogy Gauze Peeling Wine is known for its ability to produce clearer, smoother, and tighter skin after a few uses. The product's most prominent ingredient is Resveratrol, a naturally fermented ingredient that is derived from red wine. Resveratrol contains a healthy amount of AHA, which helps effectively exfoliate dead skin cells.
The result of using these wine peeling pads is improved and regenerated skin texture.
Summary:
100% cotton mesh pads
Free from paraben, SLS, SLES, and harmful chemicals
Suitable for all skin types
10. SkinFood Pineapple Peeling Gel
The gorgeous packaging of this bottle might be the thing that catches your eye first, but this peeling gel is generally a fantastic option that is suitable for most skin types.
It is enriched with pineapple enzymes, an ingredient that is full of vitamin A and C to help brighten and soften the skin as well as reduce inflammation. It also contains AHA derived from apples which is the main ingredient to gently cleanse your pores and excess sebum.
Summary:
Contains fruit extracts
Contains vitamin A and C
Suitable for all skin types
Free from SLS, SLES, and mineral oils
I hope this selection of the best Korean exfoliators was useful for you!
Whether you give chemical exfoliants or physical exfoliants a go, we know that introducing this step into your skincare routine will do wonders for the texture of your face.
For those who have been using exfoliators for a while, why not give the other option a go?
There are pros and cons for both types of exfoliants, however, the 10 Korean exfoliants that we've listed above are the cream of the crop, and we're certain that they'll have you free from excess oils and sebum from the first use!
If you're cautious about your skin, we recommend using one that is suitable for sensitive skin. If it's your first-time using exfoliators, try not to excessively exfoliate during the first few days, as some might take a short period to show results.
Which one will you be purchasing from this list? Let us know in the comments section below!
For more beauty products, make sure you also read lists of the best Korean moisturizers, the best Korean eye patches and the best Korean whitening creams.