Have you ever wondered why Koreans have slim, fit, and healthy bodies? It's simply because their diet is generally healthy! Korean cuisine offers numerous health benefits. From the main dish to side dishes, it mostly features vegetables and fermented foods.
Apart from exercising or working out, the foods you eat play a major role in achieving a Korean idol-like figure. So, you've got to make a well-planned healthy, low-calorie diet in your weight loss and healthy-eating journey to gain the best results.
If you're looking for other fun ways to eat healthier and lose weight, perhaps it's time you sharpen your kitchen knife, unleash your inner chef, and try to cook some savory Korean dishes!
This list will also help you to know the healthy Korean foods you can order when you visit your favorite Korean restaurant next time!
15 Healthy Korean Foods With Low Calories
Whether you want to lead a healthy diet or you're trying to lose weight, this blog post is perfect for you! We've listed below an array of healthy Korean food with low calories you should eat more!
Kimchi-jjigae
Bibimbap
Kimbap
Mandu
Samgyetang
Jang-uh-gui
Sundaeguk
Gyeranmari
Galchi-jorim
Kongguksu
Hoedeopbap
Soondubu-jjigae
Miyeokguk
Haemul-jeongol
Bukeoguk
1. Kimchi-jjigae (Kimchi Stew)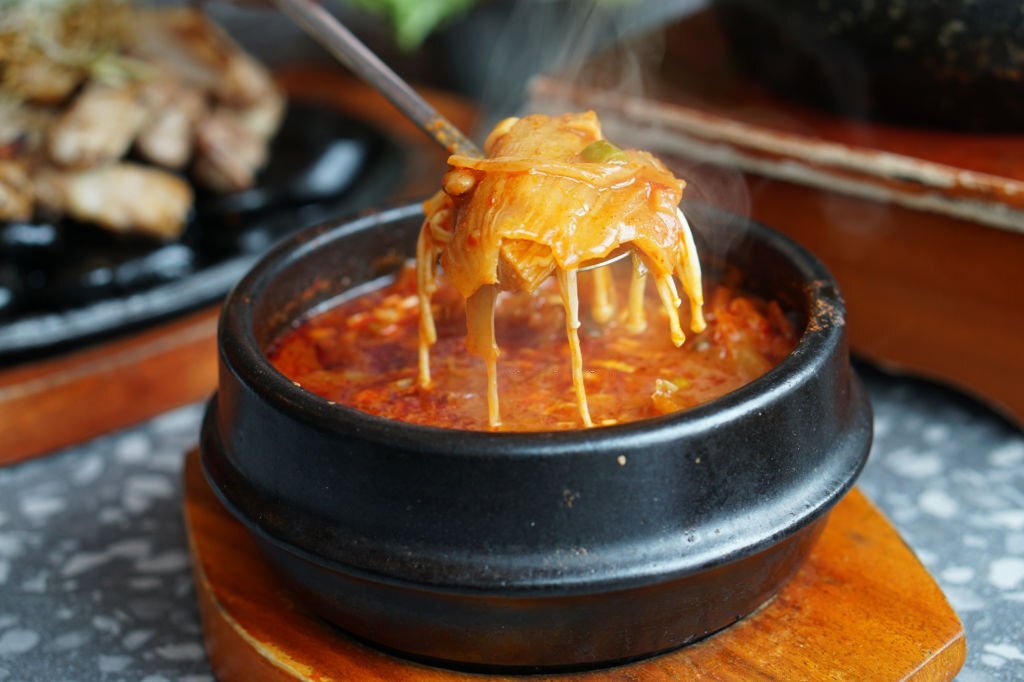 Whether fresh or fermented, kimchi is very low in calories and best for boosting weight loss because it's almost fat-free. It is a spicy side dish made with pickled cabbage, scallions, or radishes.
Apart from being just a side dish, it is also used as an ingredient to make kimchi-jjigae—another appetizing way to consume kimchi. It is also known as a go-to stew made with kimchi, tofu, and some pork belly. Since it's served warm and bursting with flavor, it is considered comfort food for most Koreans.
Additionally, you can cook it the way you want! Instead of just putting pork belly, you can add other meats or ingredients for a tastier kick, and it will still be low in calories.
Average calories per serving: 186
You May Also Like: Discover Gimjang, The Korean Traditional Way To Make Kimchi
2. Bibimbap (Mixed Rice With Vegetables)
Bibimbap is a traditional Korean dish that's popular even around the world. The word 'bibimbap' is a combination of two words: bibim (mixed) and bap (rice). It serves as a complete meal as it consists of rice with assorted vegetables on top.
It also comes with stir-fried beef, egg, and sometimes noodles. Since it's usually packed with veggies (carrots, mushrooms, bean sprouts, zucchinis, and spinach), it's a good source of all three macronutrients, fiber, and certain vitamins. Plus, the amount of protein from beef and egg helps boost metabolism.
Bibimbap is indeed a delicious healthy meal. It's the kind of dish you can customize according to your diet needs!
Average calories per serving: 120
3. Kimbap (Korean Seaweed Rice Rolls)
Kimbap is the perfect meal on the go, which you'll easily sight in Korean night markets or street food carts. Its ingredients are wrapped in a sheet of seaweed, similar to sushi rolls.
It contains rice and vegetables such as carrots, spinach, and yellow pickled radish. Usually, the rice used in kimbap is seasoned with salt, sugar, vinegar, and sesame oil to make it flavorful. It is often paired with tteokbokki or simmered rice cake with sweet chili sauce, which you can use as a dip for the kimbap.
Considering that its ingredients are almost the same as bibimbap's, it provides a great number of nutrients, fiber, and protein too! However, we recommend that you eat this dish in moderation as it might have lots of carbs, especially if you won't measure or limit the rice in it.
Average calories per serving: 150
4. Mandu (Korean Dumplings)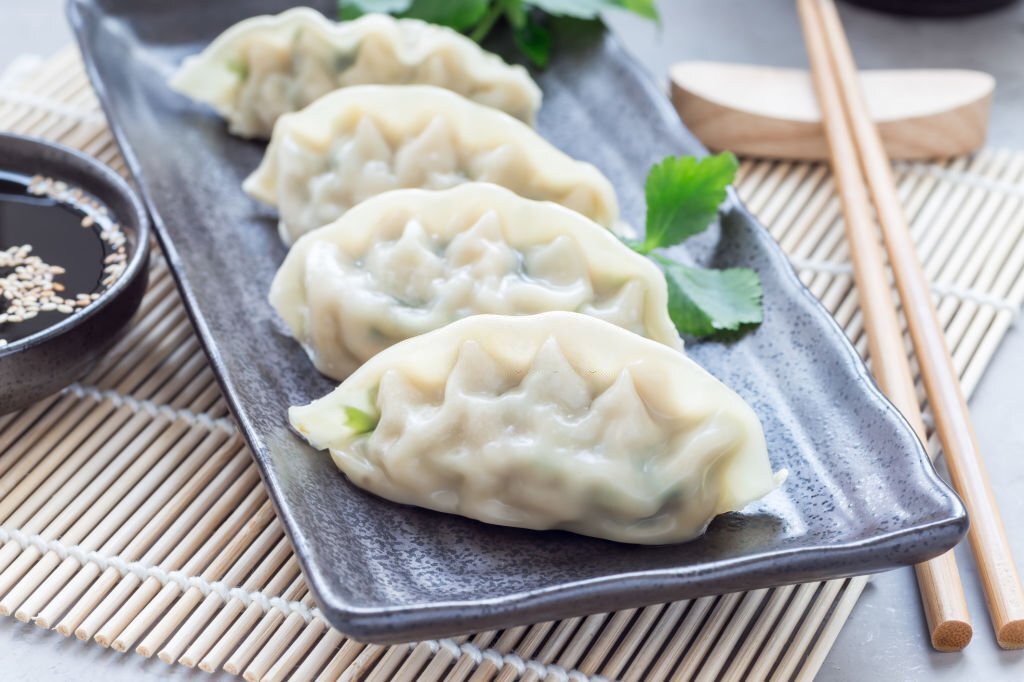 Mandu or Korean dumplings were traditionally served at feasts, ancestral rites, or Lunar New Year to pray for luck and prosperity. But nowadays, Koreans prepare them at home whenever they like.
Mandu is usually steamed or boiled, making them a perfect snack for those trying to avoid fried foods. They're filled with mixed meat and vegetables, but there are also meat-free versions.
They hold lots of nutrients, especially when made with a variety of ingredients. Although they come in different sizes, they're still great for a healthy diet as each dumpling is low in calories. Just keep in mind that its nutritional value and calorie count depend on its ingredients, so keep track of what goes in your dumplings!
Average calories per serving (4 pieces of mandu): 232
5. Samgyetang (Chicken Ginseng Soup)
Samgyetang is known as the magical chicken ginseng soup for centuries. It makes a great comfort food, and it works wonders when you're feeling a little bit under the weather.
It is made with many healthy ingredients—young chicken stuffed with rice, ginseng, garlic, and jujube.
Koreans have a long list of health benefits from this soup. It combats fatigue, lifts body energy, and restores appetite. It also boosts immunity while bringing anti-inflammatory effects. Overall, it improves body wellness with its protein, vitamins, minerals, and other nutrients.
Average calories per serving: 90
Read More: Why Koreans Eat So Much And Don't Get Weight
6. Jang-uh-gui (Broiled & Grilled Eel)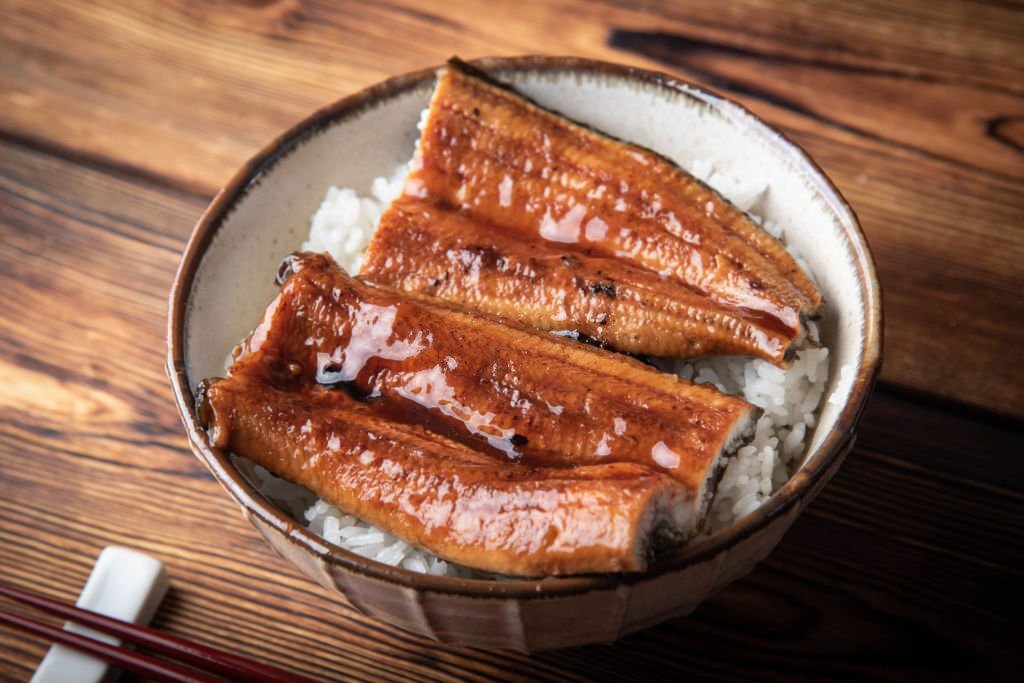 Although eating eel is unusual in some countries, it is common and popular in South Korea. Koreans love it as it's easy to cook and eat because it doesn't have a lot of bones.
It can be grilled as it is, but it can also be marinated with a sweet, tangy sauce or wrapped in a lettuce leaf.
Eel offers plenty of health benefits such as improving blood pressure, lowering bad cholesterol, and reducing risks of diabetes. It is also rich in vitamins, minerals, and protein.
Average calories per serving: 223
7. Sundaeguk (Blood Sausage Soup)
Aside from kimbap, you'll surely encounter sundae or Korean blood sausage as you walk on the streets of South Korea. It is a great snack made of cow or pig's intestines stuffed with rice, glass noodles, and pig's blood.
The combination of ingredients might seem weird, but you might be surprised by its taste once you try it!
When turned into a soup, it gives off many flavors and different textures. The broth includes sliced blood sausage, vegetables, and even noodles. It is low in fat and calorie, and it only has a moderate amount of protein, making it a balanced meal.
Average calories per serving: 110
8. Gyeranmari (Korean Omelette Rolls)
If you often watch K-dramas, you've probably seen and craved the soft, fluffy layers of egg called gyeranmari or Korean omelette rolls. These egg rolls are not just simply rolled eggs as they're mixed with ham, cheese, carrots, green onions, and mushrooms to make every bite delightful.
Just like kimchi, they're often served in every meal as banchan or side dish, but they make a great quick snack, especially when you're trying to lose weight. These bite-sized egg rolls are also not just tasty but healthy as they contain vitamin C, fiber, high amount of protein.
Average calories per serving: 130
9. Galchi-jorim (Spicy Fish Soup)
If we'll talk about spicy and savory Korean dishes, we won't miss out on galchi-jorim! It's a popular spicy fish soup which comes with the perfect taste of sweet and spicy with a hint of ocean flavor.
Its main ingredient is galchi or cutlass fish cooked in red pepper spiced sauce. If you don't have enough time to prepare the whole dish, you can just grill and eat the fish as it is because its meat is already soft, tender, and flavorful!
Galchi or galchi-jorim is a dish you can include in your fitness diet as it's low on carbohydrates and has tons of protein.
Average calories per serving: 130
You May Also Like: The 10 Best Korean Spicy Dishes
10. Kongguksu (Soybean Milk Noodles)
Kongguksu is one of the most popular healthy Korean foods!
It's a cold noodle dish. It features wheat flour noodles called somyeon, nutty homemade soy-milk broth, and fresh vegetable garnish. It's usually enjoyed during summertime for its refreshing and cooling effects as the noodles are served on chilled creamy soy milk with a few ice cubes.
This might be the first time you've heard of cold noodles, but before you think it's weird, we encourage you to give it a taste!
Aside from being great for vegans and vegetarians, it is also good for weight loss as wheat noodles contain fiber. Additionally, soybean milk helps the body recover after a workout and promotes better bone health.
Average calories per serving: 260
Read More: How K-Pop Idols Lose Weight
11. Hoedeopbap (Korean Sashimi Rice)
If you're a raw fish lover, you might love hoedeopbap! It's a great option to rev up your simple bibimbap dish with some slices of raw fish.
Heodeopbap consists of steamed rice as a base, topped with raw fish, a few mixed vegetables, and sweet and sour gochujang or red chili sauce for the tangy flavor.
Read More: How Does Gochujang Taste Like
This dish can be a healthful addition to your diet as raw fish has higher levels of valuable nutrients and heart-healthy omega-3 fatty acids. It is very easy to make as you don't have to marinate the fish, and it doesn't need a lot of ingredients.
Average calories per serving: 120
12. Soondubu-jjigae (Spicy Tofu Soup)
Soondubu-jjigae is another popular soup that features soft tofu as the highlight ingredient. It can be incorporated with vegetables, kimchi, minced pork, and even seafood, depending on your preference.
Since tofu is the centerpiece of this Korean dish, you'll have to find the softest tofu labeled as soondubu, silken tofu, or extra soft tofu if you're aiming for authenticity.
Koreans love this delicious dish not just for its taste but also for its well-balanced nutrition. It is an excellent source of complete protein and fiber, and it's very low in calories.
Average calories per serving: 90
13. Miyeokguk (Korean Seaweed Soup)
Miyeokguk or seaweed soup is typically made with dried seaweed. To enhance the broth's flavor, beef, seafood, and light seasoning are added.
For Koreans, miyeokguk is well-known as a birthday soup. They serve this on their birthday to show respect and honor their mothers because Korean women who have just given birth eat only miyeokguk to recover and increase breastmilk supply.
Still, anyone can eat this nutritious dish at any time of the year. Generally, it helps with metabolism, gut health, and detoxification.
Average calories per serving: 100
14. Haemul-jeongol (Korean Seafood Hot Pot)
Haemul-jeongol is one of the signature dishes in the coastal regions of South Korea. This spicy mixed-up soup is loaded with seafood (prawns, mussels, baby octopus, squid, and cod fish), vegetables, and seasonings.
It is served best during the cold days, and it's the perfect food for your family or guests.
The variety of ingredients is equivalent to loads of health benefits as it's a good source of essential nutrients, protein, and omega-3 fatty acids that are good for the heart.
Average calories per serving: 192
15. Bukeoguk (Dried Pollack Soup)
If you're looking for a quick and easy Korean recipe, you might want to try bukeoguk or dried pollack soup. It is made with dried pollack, tofu, vegetables, and other optional ingredients such as potato, radish, and soybean sprouts to create a unique flavor.
This soup works great as a remedy for hangovers because of its detoxifying and soothing effects. But apart from being just a healthy soup, this will surely comfort and warm you up after a long tiring day.
Average calories per serving: 45
Unhealthy Korean Foods to Avoid
While there's a lot of healthy Korean foods to eat more, there are also some foods you need to avoid even though they're hard to resist. Here are some unhealthy Korean foods that might be bad for your health:
Korean Fried Chicken
Korean fried chicken is a popular snack for occasions or celebrations in South Korea. It is a crunchy chicken coated with spicy or sweet sauce. While this mouthwatering dish makes you crave it, it's best to limit or avoid it as deep-fried foods are high in fat and calories.
Ramyun (Korean noodles)
Ramyun is a type of instant noodles or cup noodles eaten as a quick and easy snack. Although it's okay to eat once in a while, try your best to limit yourself as it's high in fat, carbohydrates, and sodium.
Jajangmyeon (Noodles in Black Bean Sauce)
Jajangmyeon is a Korean noodle dish made with black bean sauce, which consists of salty black bean paste, diced pork, and vegetables. Although it's a part of traditional Korean cuisine, it may not be a healthy choice since it has a lot of calories.
—
We hope that this blog post healthy Korean foods has been a great read for you!
When leading a healthy diet, it's best to avoid certain foods that contains artificial flavors, preservatives, and high sodium content. Even though you just discovered a number of healthy Korean foods to try, try to make a well-planned diet that really suits your needs.
Also, if you have comments and suggestions, feel free to share them with us in the comment section below!
Finally, if you want to learn more about a superfood from Korea, make sure you read our post about the health benefits of Korean sweet potatoes.