Gyeongju was once the powerhouse capital city of Korea. During the Silla dynasty (many centuries ago), Gyeongju was home to the most powerful elites, from the Royal Court to the upper echelon members of society.
Fast-forward thousands of years, and Gyeongju now remains one of the most historically rich areas of Korea. Never mind the imposing buildings in Seoul or the bright city lights of Busan, Gyeongju's palaces, traditional villages, temples, and surrounding national parks will take you to a time and place in Korea's history where its beauty ruled the world.
You can get more information on what to do in Gyeongju here.
If you're looking at visiting this magical city, chances are, you've stumbled across hanok home accommodations. To truly experience this cultural hub, you should stay in one of these hanok homes.
Hanok homes are traditional Korean-style homes whose origins begin way back during the Joseon Dynasty. Their unique beauty is unmatched, and their exterior and interior architecture design is vastly different from the western-style accommodations you're likely used to.
Staying in a hanok is not only a fun experience but will also allow you a glimpse into the life of how people lived eons ago in Korea.
There are several hanok stays in Gyeongju that you will witness once you start researching, however, we've done the hard yards and curated a list of the 7 best hanok stays in Gyeongju here for you.
If you're ready to make a booking, have a look at our wonderful list below.
1. Dorandoran Guesthouse
Dorandoran Guesthouse is a no-frills hanok accommodation that offers convenience and comfort at a no-frills cost. Its beauty will have you questioning whether you've paid the right price (it's quite affordable!), and the service is a-grade.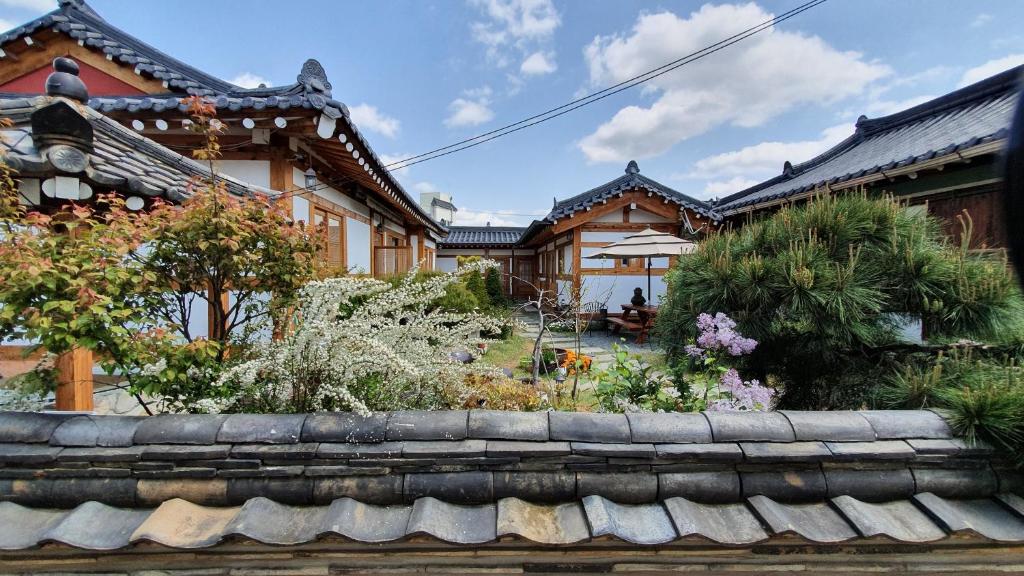 Among the super convenient central location that all the guests love, this guest house offers a cozy shared lounge, a well-equipped shared kitchen, free Wi-Fi throughout the property, and private bathrooms with all the amenities needed for a comfortable stay.
Why Guests Love It: The location of this guesthouse was super central to everything. The host was welcoming and lovely and goes out of their way to ensure you have a comfortable stay.
Book It Now: Dorandoran Guesthouse
2. Namuae
Namuae is a traditional Korean home that's as authentic as it gets. It doesn't have the glitz and glam of hanoks that mix traditional style with modern features, but that just adds to its charm.
The accommodation itself feels like you've stepped into a family home – imagine a relaxing, welcoming ambiance every time you step into the home. It features a shared seating area, kitchenette, and dining area, as well as private bathrooms and a banging breakfast.
Why Guests Love It: The hosts made this stay incredible. They were super accommodating and went out of their way to ensure the stay was memorable. The buffet-style breakfast was amazing. The location was perfect.
Book It Now: Namuae
3. Yettle Hanok Stay
Yettle Hanok Stay is characterized by big windows, sunlight-filled rooms, and minimalistic traditional Korean furniture. This accommodation feels like a breath of fresh air from the clusters of small hotels you're used to, not unlike visiting Gyeongju after a few days of exploring the big cities.
Yettle Hanok Stay offers guest rooms with private bathrooms, well-kept bathrooms, a clean well-equipped kitchen, and a lovely terrace for a relaxing afternoon sipping on tea whilst taking in the peace.
Why Guests Love It: This hanok feels like a real Korean hanok. The staff members are super friendly and kind. The location is in the middle of all the attractions.
Book It Now: Yettle Hanok Stay
4. Hanok 1st Street
Hanok 1st Street is the cool kid on the block, with expansive garden grounds for guests to appreciate, spacious guest rooms that afford privacy, and an interior that feels authentic without lacking modern creature comforts.
This guest house offers a private bathroom in every guest room, an American-style breakfast is available for all guests, and ondol heating. The guest rooms are spacious and clean, and it is located just far enough to be devoid of the hustle and bustle of the crowds, yet convenient enough to be close to many attractions.
Why Guests Love It: It's cozy, clean, and within a calm location. The warm welcome and friendly attitude of the hosts made the stay extra memorable. The heated flooring and comfortable Korean bedding made the experience super special.
Book It Now: Hanok 1st Street
5. Hanok Raon
Hanok Raon offers one of the cutest, most picturesque gardens you'll ever lay your eyes on. In line with the design of most traditional hanoks, the garden sits at the center of the hanok, surrounded by the guest rooms and thus offering a warm and welcoming area of relaxation.
The hanok itself is well-maintained and spacious, with plenty of room for lounging about in the rooms themselves. The traditional Korean futons are fluffy and comfortable, and the private bathrooms come with shower facilities. At night, when lit up, the hanok is a scene straight out of an epic drama.
Why Guests Love It: Cozy is a word that is consistently used to describe this hanok. The owner is super welcoming and cooks a simple but delicious breakfast. The decor is beautiful, the location is central, and the futon bedding makes it difficult to wake up in the morning (it's just so comfortable).
Book It Now: Hanok Raon
Want to stay in a Korean traditional house in other cities? Make sure you read our list of the best Hanok Stays in Korea!
6. Wolamjae
The ambiance of Wolamjae can only be described as one thing: serene.
Situated away from the main city center, this hanok offers peace and tranquillity – the exact way that hanok stays should be experienced.
Wolamjae is surrounded by greenery and nature and offers a picturesque garden within its grounds. A stone wall wraps itself around the hanok, much like the dramas where the characters pop their heads over the top to sneak in secret conversations away from the elders.
The curved roofs are astonishingly beautiful, as are the structure of the hanoks themselves. Wolamjae is a rather private residence, offering three bedrooms, a living area, a fully equipped kitchen, and two bathrooms.
Why Guests Love It: The atmosphere is amazing, super serene, and peaceful. It was a beautiful stay away from the city. Watching the stars at night is amazing. Booking the entire property means you can get ultimate privacy.
Book It Now: Wolamjae
7. Hwangridangil Adamjeong
Hwangridangil Adamjeong is considered a hidden gem in Gyeongju. This hanok is located at the end of a small, quiet street; it's so hidden, in fact, that many guests require additional information from the hosts to locate it. 
But that's the best thing about this place – its location is the best of both worlds. Quiet enough for a restful sleep at night, yet mere meters from the bustling streets of Gyeongju, this hanok caters to everyone.
The guest rooms are warm and cozy (albeit they're not as spacious as others), but the comfort makes up for the lack of space. The hanok is a great balance of traditional with modern, offering traditional architecture with modern amenities such as air-conditioning, modern, clean bathrooms, and a well-appointed contemporary kitchen.
Why Guests Love It: The host was a friendly, knowledgeable person who will assist you with all the information you need to get around Gyeongju. The rooms were cozy and comfortable. The location is in the middle of the bustling cafes and shops.
Book It Now: Hwangridangil Adamjeong
I hope this list of best hanok stays in Gyeongju was useful! Did you find your favourite?
In a historic city such as Gyeongju, a stay at a hanok should be in the books. Any one of the aforementioned stays will allow you to experience living like Koreans back in the Joseon Era, a unique and memorable way to appreciate the history and culture of Korea.
There's nothing like being able to fully immerse yourself into a hanok, to appreciate the beauty of the architecture, the warmth of the guest rooms with ondol heating, and the ambiance of a hanok garden.
For more Korean traditional stays, make sure you also check our lists of the best hanok stays in Seoul and the best hanok stays in Jeonju.
You can also discover here the most beautiful Hanok villages in Korea and our full Hanok guide!