The beauty of visiting a bustling city like Seoul is that, within mere steps of each other, you have towering modern skyscrapers juxtaposing quaint traditional hanok homes.
You do get the best of both worlds here, with pop-culture elements like K-pop blasting on the streets, livening the atmosphere of food markets showcasing stalls that have been passed down from generation to generation, with no end in sight.
With that in mind, most people tend to build their itinerary simply around the city itself. With things like temples, hanoks, gardens, and mountain ranges within easy reach of the modern metropolis that is Seoul, there is no need to travel elsewhere, especially if you're only there for a short time.
Amongst all this, one activity that is highly recommended to do in Seoul is cafe hopping. The cafe culture in Korea is unlike any other around the world. Cafes are not just a place for a quick coffee, they're part of the lifestyle over there. Cafes serve as a place to catch up with friends, have study sessions, grab lunch, unwind, start the morning, and end the day – they're malleable in purpose and serve however the customer wants to be served.
In particular, many cafes around Seoul are built within refurbished hanok homes, making them unique across the entire world. Hanok homes are traditional Korean homes characterized by sloping roofs, wooden exteriors, and interiors, and a central garden. Whilst many of these hanok cafes have kept the beauty and aesthetic of the hanok on the outside, most have fitted out the interior to serve delicious coffee and pastries.
The 10 Best Hanok Cafes In Seoul
Hanok cafes are amongst some of the most Instagram-worthy places you can visit in Seoul, and most of them serve up a mean cup of coffee. Let's explore the top 10 that you can visit!
1-In-1 Cafe
Seoul Coffee
Cha-teul
Cafe Onion Anguk
Ikdongdabang
Tteuran Tea House
J. Hidden House
Green Mile Coffee
Wol-Yeongdang
Coffee & Brunch (The Hanok)
Here are these 10 cafes in a map so you can organise your trip easier.
1. 1-In-1 Cafe
Arguably the most beautiful hanok cafe in all of Seoul, 1-In-1 Cafe resides in Eunpyeong Hanok Village, one of the many hanok villages in the city. Eunpyeong is not a traditional hanok village that's evolved from years of history through. It was a massive tourism effort by the government to create a memorable, educational, and fun experience for tourists.
If you're interested in learning more about this village, make sure to read our article about the best thins to do in Eunpyeong Hanok Village.
1-In-1 Cafe is a multi-story, multi-purpose cafe that serves as a place you can grab a delicious cup of coffee, a restaurant, a gallery for a furniture brand, and a rooftop area to relax in. It offers sweeping views of Eunpyeong Hanok Village as well as the Bukhansan Mountain range in the distance.
Quite frankly, it's probably one of the most aesthetic and serene hanok villages for you to experience. It's relatively distanced from the city centre, but transport to and from is easy and efficient.
2. Seoul Coffee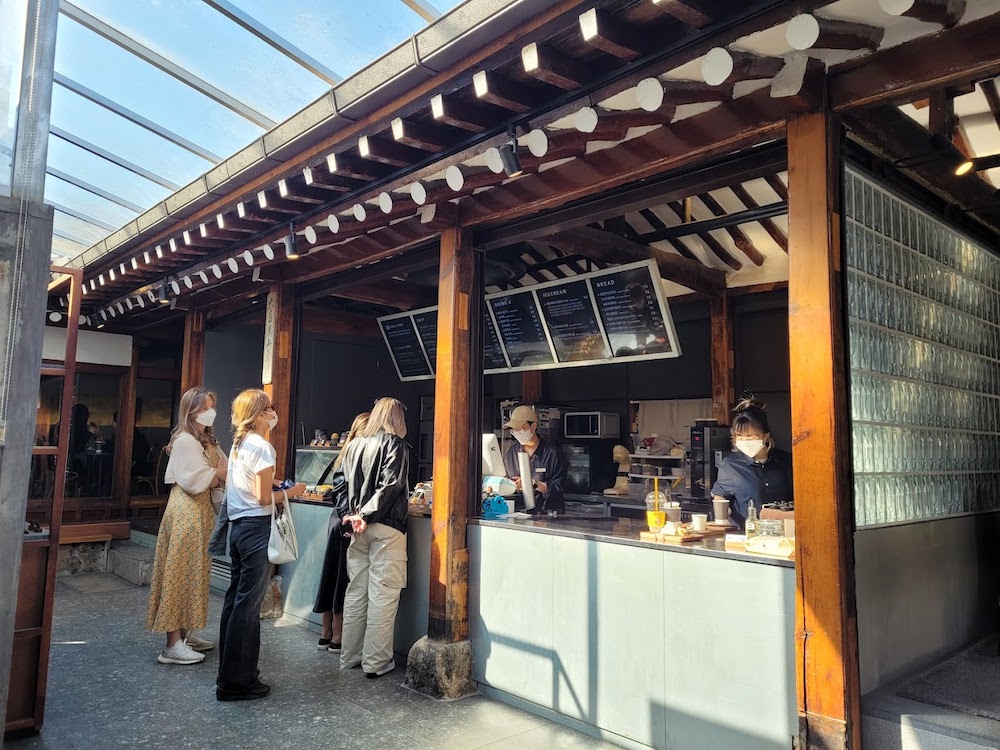 Located in the bustling area of Ikseondong, Seoul Coffee is a popular hanok cafe that's made a name for itself with its beautiful traditional exterior and minimal refurbished interior.
It's quite a spacious cafe so don't be surprised if you find crowds milling in and around this cafe on any given day. Seoul coffee offers a mean cup of coffee, but they also offer fantastic cold drink options such as their yuzu-ade, and they also have a gelato bar that's perfect for those hot summer days.
3. Cha-teul
Cha-teul is quite an institution in Seoul. Known as the most aesthetic tea house in the city, Cha-teul rightfully commands this title as it sits on the higher end of Samcheong-dong (near Bukchon Hanok Village), with sweeping views of the neighborhood.
Its name translates to "tea-drinking garden", and everything is set up at this cafe for you to enjoy just that. From its quiet classical music playing in the background to its well-maintained central garden, this place is quite the dream.
The most popular and beautiful time of the day to enjoy a cup of tea here would be during golden hour when the sun is just about to set and it casts a golden blanket over the cafe.
4. Cafe Onion Anguk
This list of hanok cafes would not be complete without a mention of the Insta-famous Cafe Onion Anguk. If you're a cafe aficionado, this is a place you need to have on your bucket list.
Cafe Onion Anguk is the second one to open its brand. The first Onion cafe started in Seongsudong, but it garnered such immense popularity that it opened up a second branch.
Cafe Onion is known for its stunning hanok aesthetics, open-air courtyard, huge glass windows, and, of course, delicious drinks and pastries. There are traditional low-seating options for those who want the full experience, but there are also regular tables and chairs if you can't sit on the floor for too long.
We recommend that you try their Pandoro, a castella cake with powdered sugar on top.
5. Ikdongdabang
Created through the efforts of six Ikseondong village enthusiasts, Ikdongdabong is more than just a hanok cafe, it's a cultural art display area that showcases the current pieces by local artists.
Here you'll come across relaxing outdoor seating arrangements made from various plastic furniture and comfortable indoor seating centered around the current artworks. The drip coffee here is also out of this world, so if you're looking for a place that specializes in it, we highly recommend you try it here!
Read More: Must-Visit Night Markets in Seoul
6. Tteuran Tea House
Tteuran Tea House blends the traditional timber styling of hanoks with lush greenery to create an escape from the urban metropolis of Seoul – right in the middle of it.
There are tables and chairs here to sit in, but the true experience would be selecting one of the traditional floor seating arrangements, tucking your legs underneath you, and relaxing with the view of the garden.
The ambiance is serene here, and it's the type of cafe you'd want to amble away your afternoon, chatting to friends and simply enjoying the experience.
7. J. Hidden House
J. Hidden House is a hanok cafe that boasts over 100 years of history! Situated in a hanok that was built more than a century ago, this cafe has carefully and delicately resorted its interior so that the traditional feel still exists, and yet it's perfectly balanced with minimal modernism for an extremely aesthetic look.
Situated near the popular Dongdaemun area, this is a fantastic hanok cafe to seek out once you've done a bit of shopping and exploring and just want a place to sit down and relax. The walls are made of glass so you can get lost in the views of the hustle and bustle outside.
8. Green Mile Coffee
Green Mile Coffee is located smack bang in the middle of the most popular hanok village in Seoul, Bukchon Hanok Village.
It offers three expansive levels of seating, with the third and upmost floor being an open-air terrace that offers picture-perfect photo opportunities. To be honest, though, almost every corner of this cafe is a fantastic photo opportunity given its gorgeous interior design and glass windows.
Green Mile Coffee is known for its unique views across the hanok roof tiles so if you're looking for an Instagram-worthy image, this is where you'll get it!
9. Wol-Yeongdang
This stunning hanok cafe is located just on the outskirts of the city. It's situated within a standalone hanok that overlooks the Wolyeonggyo Bridge and it is simply a visual masterpiece.
There are casual seating options outside underneath umbrellas as well as ample space inside to visit with small and large groups. We recommend trying to get a spot near the window because there's nothing quite like people-watching with a river flowing in the background whilst you sip on a delicious cup of coffee.
They offer an assortment of pastries and drinks, but their specialties would be the Andong Help Latte and their Andong Hemp Madeleine.
10. Coffee & Brunch (The Hanok)
Coffee & Brunch is your typical friendly and delicious neighborhood cafe where you just know you'll get a fantastic experience dining there.
Known for its convenient location, this hanok cafe is situated right in Bukchon Hanok Village, and offers a traditional atmosphere complete with timber sliding doors, glass windows, and a central courtyard for relaxing vibes.
Whilst not as modern as many other hanok cafes, the crowds that this cafe draws are those who appreciate the understated beauty of old traditional furniture, a homey atmosphere, and friendly staff who treat you like family.
With the thriving cafe culture in Korea, there's no doubt that every corner will house an adorable cafe that serves up a delicious cup of coffee and aesthetic baked sweets. However, cafe-hopping amongst hanok cafes is on another level.
It's like the essence of Korean tradition mixing with new-school vibes to create this unique experience you just won't get anywhere else worldwide. The beauty of timber hanok exteriors with modern glass walls makes for a picture-perfect Instagram-worthy photo – every time.
We hope you enjoyed our list of the 10 best Hanok cafes in Seoul. Next time you visit, snap a quick pic and tag us, we'd love to follow your adventures!
Before you leave, make sure you also check out our list of the 5 best Hanok villages in Seoul!