At the epicenter of the impressively cultural country of Korea lies Seoul, an almost futuristic city that respectfully pays homage to both the illustrious history of Korea and the incredibly bright future of the country.
Seoul is wildly exciting, almost blindingly bright, and yet neighboring some of the world's tallest skyscrapers sit monuments that are centuries old.
Many temples, palaces, and neighborhoods that existed in the era of Emperors and Crown Princes still stand tall and proud today. Surprisingly, but also unsurprisingly, they're some of the most popular attractions in the city, alongside the frantic streets of Seoul that feed into its zesty society of beauty-obsessed, idolizing individuals.
As you can see, if you haven't been to Seoul, it's quite the mix!
Tradition, modernity, culture, and contemporary trends amalgamate here to create this unique blend of experiences that you'll find difficult to replicate elsewhere in the world.
One way to truly immerse yourself into the culture would be to stay at a hanok.
Why Stay In A Hanok In Seoul?
But, what is actually a hanok? Well, it's a traditional Korean-style homemade from raw materials, most notably timber. Its unique architectural design features curved tiled roofs, wooden beams, and stone-block construction.
A distinctive feature of hanok homes is that they are built according to the region they're in, taking into consideration environmental factors such as rivers and mountains.
Many hanok homes still stand today, and a surprising number currently exist in Seoul.
Staying in a hanok within one of the biggest metropolises in the world sounds jarring, but it also makes it an experience unlike any other.
Seoul may be home to hundreds of accommodation options that offer style, comfort, and convenience. However, if you're looking for an authentic and memorable experience, we highly recommend looking at one of the below.
We've curated below a list of the 6 best hanok stays in Seoul. Have a read and choose your favourite!
1. Bonum 1957 Hanok and Boutique
Bonum 1957 Hanok and Boutique is what you get when you mix history and opulence. It's located smack bang in the middle of what's arguably the most popular Hanok villages in all of Korea, Bukchon Hanok Village.
This hanok stay will stun you with its beauty and delight you with its exceptional features!
It's situated far away from the crowds so you'll be able to witness its peace during the night. Unlike many other hanok stays, it features concierge services for convenience. It also offers free Wi-Fi throughout, a stunning manicured garden, and both Korean-style and western-style bedding.
Our favorite feature is how it balances historical architecture with modern textures and styles to create a perfect ambient stay for its guests.
Why Guests Love It: this accommodation was super clean and felt cozy. Everything about it is beautiful, from peaceful gardens to private balconies. It's a walkable distance to the station and the bus stop.
Book It Now: Bonum 1957 Hanok and Boutique
2. Bukchonmaru Hanok Guesthouse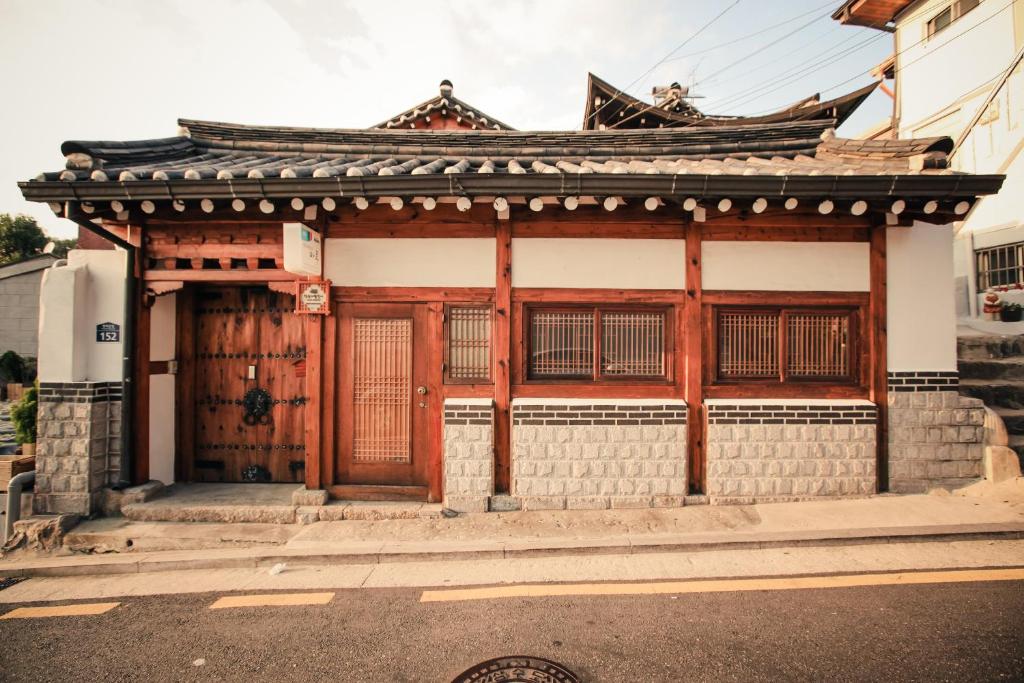 A beautifully maintained and authentic hanok home, the Bukchonmaru Hanok Guesthouse is pretty much a traveler's dream.
If you're the type to love overly friendly and helpful hosts, this is the place. The elderly couple who run this place love welcoming people into their home and will go out of their way to ensure you have a memorable stay.
The guesthouse itself is eye-catching and historic on the outside, and the interior gives way to large, clean, and comfortable guest rooms. All rooms boast private bathrooms, air-conditioning, and free WiFi.
Why Guests Love It: It's a beautiful building, within a perfect location for exploring Bukchon Hanok Village. The hosts were extremely accommodating and friendly. The Korean breakfast was amazing!
Book It Now: Bukchonmaru Hanok Guesthouse
3. Gongsimga Hanok Guesthouse
This lovely hanok guesthouse will stun you with its beauty throughout all seasons of the year. From the blooming florals in spring to the blanket of snow in winter, the Gongsimga Hanok Guesthouse is a must for those looking for a magical hanok stay in Seoul.
Located only 600m from the must-see Gyeongbukgung Palace, this place is surprisingly devoid of crowds and noise at night. The guest rooms are simple and affordable, yet they lack discomfort. All guests receive free Wi-Fi, traditional Korean mats, and a private bathroom. There is also a cozy shared lounging area to relax in.
Why Guests Love It: It had all the amenities for a comfortable stay. The location was great. The futon was surprisingly super comfortable and the breakfast was fantastic. The staff members are super friendly and have to speak great English.
Book It Now: Gongsimga Hanok Guesthouse
4. Hanok Guesthouse Suni
From the get-go, you'll instantly fall in love with Hanok Guesthouse Suni. The hanok looks like something out of a historic Korean drama. The building itself is stunning, but it's the distinct features such as the impressive gate, beautiful doors and windows, and traditional Korean furniture ensure that ensure this place is the real deal.
This guesthouse is rather small, but you'll feel nothing but coziness staying here. There is a 24-hour front desk, a well-equipped shared kitchen, and even a currency exchange counter for guests.
If you're staying for over 5 days, you'll be served a wonderful Korean-style breakfast.
Why Guests Love It: It's like an oasis in the middle of a big city. It's quiet, beautiful, and a memorable place to stay. Suni and her family welcome you with open arms and cook the most delicious breakfast.
Book It Now: Hanok Guesthouse Suni
Feel free to also read this article about the 15 most unique hotels in Seoul!
5. Dajayon Hanok Stay
Dajayon Hanok Stay offers premium location and convenience at a wonderfully affordable price. Located right in the middle of the excitement, within moments from many attractions as well as transport, Dajayon Hanok Stay allows you to fully experience hanok living without any compromise.
The guest rooms all come with super comfortable futon bedding, and private bathrooms and some even come with relaxing family rooms. There is Wi-Fi throughout and guests can opt to enjoy a continental breakfast (highly recommended, by the way!).
Why Guests Love It: Breakfast here was the highlight of the stay! It's just a couple of minutes from the station and is the ideal place for anyone visiting Seoul and wanting to stay in traditional accommodation. The rooms weren't the largest but they were clean and comfortable. The host is super friendly.
Book It Now: Dajayon Hanok Stay
For more recommendation in the whole country, check out our selection of the best Hanok stays in South Korea.
6. Hanok Guesthouse Nuha
For those who crave a bit of home-style comfort whilst traveling, the Hanok Guesthouse Nuha is the perfect place to feel like you're back at mum's place, enjoying a home-cooked meal without a worry in the world.
The ambiance here is always relaxed, and the Korean aunty here will look after you as if you were her own. Her meals are second to none, so we highly recommend that you dine on a few of her meals whilst staying here!
Otherwise, the accommodation offers Korean-style bedding, a well-equipped shared kitchen and lounge, and free Wi-Fi throughout. There are guest rooms for individual travelers as well as family rooms for up to 8 guests.
Why Guests Love It: The host is super hospitable and cooks a mean Korean-style breakfast that guests must try. The location is excellent.
Book It Now: Hanok Guesthouse Nuha
All of the above-listed hanok stays have been tried and tested by many travelers, and we're pleased to say that they're essentially the cream-of-the-crop across Seoul. Only stay at them if you want a comfortable, authentic, memorable stay with some of the most welcoming and friendly hosts in Seoul.
If you love hanok houses, make sure you visit the best hanok villages in Seoul. Don't miss Bukchon hanok village but also Seochon, Ikseondong, Eunpyeong and Namsangol.
And if you plan to visit Gyeongju or Jeonju, feel free to check out our selections of the best hanok stays in Gyeongju and the best hanok stays in Jeonju.
For secrets spots to visit in Seoul, feel free to check out our list of 15 hidden gems in Seoul.