Less than two hours from Seoul lies Jeonju, a quaint yet stunning city in western South Korea where you can find an amazing hanok village!
Immersing yourself in Jeonju hanok village is like throwing yourself through a time portal that takes you back a few centuries. This authentic village has impressively stood the test of time and it's renowned as an area full of traditional Korean homes and crafts.
Despite its consistent (and rising!) mentions in articles about topics such as the best places to visit in Korea and the best gastronomical experiences in Korea, Jeonju remains relatively underrated. The lack of crowds, stunning architecture, and traditional cuisine gives way to a unique ambiance not quite like any other city in Korea.
For more detailed info, check out our post about the 20 best things to do in Jeonju!
At the center of the Jeonju experience would have to be a hanok experience.
A hanok is a traditional Korean home comprising timber framing and curved roofs. Its history dates back to the Joseon Dynasty. The uniqueness of a hanok design stems from the idea that it needs to be built in harmony with the elements, considering such things as where the mountains and the rivers lay.
If you're visiting Jeonju, chances are, you're looking for a hanok to reside in. Lucky for you, we've curated a list of the best hanok stays in Jeonju right this moment. Let's have a look!
1. Happiness Full Hanok Guesthouse
Happiness Full Hanok Guesthouse is arguably one of the most conveniently located hanok homes in Jeonju. If you want to walk out of your accommodation and travel mere meters to the first attraction, this is the place.
Aside from its central location, Happiness Full Hanok Guesthouse also boasts an authentic hanok design, complete with timber structures, unique curved roofs, and cobblestone walkways. There is a central garden that displays stunning blooms across different seasons.
Guest rooms include a private bathroom, comfortable sleeping futon, flatscreen TV, and free Wi-Fi. You simply can't beat the convenience and affordability of this hanok guesthouse.
Why Guests Love It: The owners are super friendly, all the rooms are super spacious, and its prime location means that it's situated away from the 'busy' street, and yet allows access to many attractions in Jeonju.
Book It Now: Happiness Full Hanok Guesthouse
2. Laon Hanok Gguljam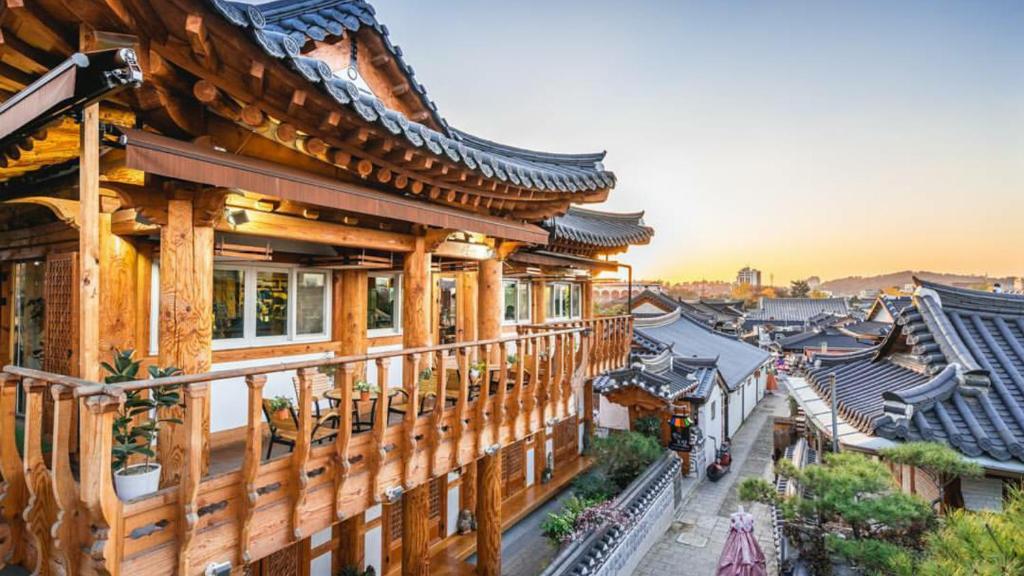 The stunning Laon Hanok Gguljam will have you taken back by its unique exterior – it almost resembles a palace! Its double-story feature, impressive wraparound balcony, and solid location are what draw the public in, but once you're inside, it's another level of beauty.
Wake up early and nab a spot at the restaurant for stunning views over the rooftops of the village. Grab a continental breakfast in the minimalistic restaurant that gives off the perfect ambiance for a slow, languid start to the day. Sleep in on the thick, comfortable futon bedding that feels as soft as clouds.
Laon Hanok Gguljam also boasts air conditioning, a flat-screen TV, private bathrooms, and free Wi-Fi for all guests.
Why Guests Love It: the location was fantastic, as you can walk out the gate of the accommodation and begin exploring immediately. The staff members were super friendly, and the futon bed was so comfortable!
Book It Now: Laon Hanok Gguljam
3. GaEunChae
GaEunChae is a breathtaking hanok for those who are looking for a full authentic hanok experience. Its clean and cozy interior makes it perfect for smaller groups and individual travelers, and yet they also boast larger 'deluxe' rooms for groups.
Although it is a traditional home, nothing about it says 'dated'. It's clean, well-maintained, and still as beautiful as the day it was built. It boasts a stunning, quiet garden that can be enjoyed by all guests.
Rooms all include a private bathroom, free Wi-Fi, Korean futon bedding, and traditional heated floors (the famous ondol system!).
It's authentic, affordable, and convenient.
Why Guests Love It: Its location was close to the village to avoid the noise but still be easily accessible. The hanok was super cozy and warm, and comfortable and clean.
Book It Now: GaEunChae
4. Hanok Story Guesthouse
When lit up at night, this hanok looks like it's come straight out of a sageuk drama. Its simplicity, authenticity, and beauty are all quite unmatched.
Located right in the middle of the village, this guest house surprisingly boasts a quiet, peaceful atmosphere. It also provides a great Korean-style breakfast, comfortable traditional bedding, and clean and comfortable guest rooms.
If you're a large group, we recommend this hanok guesthouse as it has options for up to 8 guests in a room.
Why Guests Love It: this hanok is situated in a perfect location, right in the middle of town, but it's still quiet at night. The traditional Korean breakfast is amazing, as are the kind and knowledgable hosts.
Book It Now: Hanok Story Guesthouse
5. Sarangru
Located in a small alleyway of Jeonju, Sarangru is a refreshingly cozy and clean hanok that is maintained by the sweetest hosts.
Sarangru boasts a great location, super clean guest rooms, and an undeniably authentic feel. Its charming timber structure invites a relaxing atmosphere, and its well-maintained grounds offer a peaceful atmosphere that'll have you pining to head back home to sit around the garden and just take in the beauty.
Sarangru guest rooms offer air conditioning, private bathrooms, free Wi-Fi throughout, and a beautiful shared garden.
Why Guests Love It: this hanok feels super traditional and authentic, adding to the experience of visiting Jeonju. It has all the amenities for a comfortable stay but never feels too 'modern'. The hosts are some of the sweetest people. It's located right by a stream, adding to the ambiance.
Book It Now: Sarangru Hanok Stay
You may also like this article about our 12 Hanok recommendations in South Korea!
6. Taejomaru
When all the guests rave about how gorgeous the garden is, you know you have to make time to spend an idyllic afternoon appreciating it.
Taejomaru is a remarkably authentic hanok located in the middle of Jeonju Hanok Village. Soft lanterns, lush greenery, and year-long blooms give way to an accommodation that invites travelers around the world to experience its traditional grounds.
It sports a cute swing in the common garden area, relatively large traditional guest rooms, and is within walking distance to several attractions.
Why Guests Love It: it's located in one of the best spots in Jeonju. The property is stunning, and the hosts are unbelievably kind and welcoming.
Book It Now: Taejomaru
7. GaeEunChae 2
We've all heard the compliments for GaeEunChae: it's cozy, it's clean, it's convenient.
But what about GaeEunChae 2? This sister accommodation to the original has kept up with the Joneses and is just as spectacular!
A warm and inviting hanok on the outside, this traditional Korean home boasts expansive garden grounds to relax in, huge guest rooms to select from, and a mix of modern and classic amenities. The cobblestone wall surrounding the property gives it that Joseon-era look we've all come to adore.
Why Guests Love It: it's a super comfortable hanok accommodation, with ancient vibes but modern facilities. It is very well maintained, with a clean bathroom and organized hosts. The location is fantastic to explore the village.
Book It Now: GaeEunChae 2
8. Jungdam
You know they're doing something right when some guests have returned to this accommodation not once, not twice, but three times!
Jungdam is an absolute gem. The exterior is a magical mix of blooms, stunning hanok architecture, and fairy lights strung across the open-air garden. The huge guest rooms are super clean and offer private bathrooms equipped with everything you need for a comfortable stay.
The owners are kind and knowledgeable and cook a mean breakfast. There are many points of interest nearby, as it is located right in the middle of the village. This one truly stands out as one of the most beautiful hanoks in Jeonju.
Why Guests Love It: whilst the host barely speaks English, she is very welcoming and goes out of her way to ensure all your needs are met. The location is second to none, and breakfast is highly recommended!
Book It Now: Jungdam
9. Hanok Hyeyum
Hanok Hyeyum is a lovely traditional Korean home with an open, relaxing garden, clean and comfortable guest rooms, and welcoming hosts. What more could you want?
Its prime location just off to the side of Jeonju Hanok Village makes it quiet enough to avoid loud noises at night, but still a stone's throw away from the center of all the action.
The picturesque garden, with a picnic table and garden chairs, will invite you to take photos and sip on a coffee outdoors in the warmer months.
There are private bathrooms provided for all guest rooms, free Wi-Fi for all guests, and even larger rooms to accommodate large groups or families.
Why Guests Love It: the hosts went out of their way to make the stay as comfortable and fun as possible, providing travel information and snacks for their day trips. The location is tucked away in a quiet alleyway, to the side of the city, making it easy to explore the village.
Book It Now: Hanok Hyeyum
We hope you enjoyed us detailing our top 9 hanok stays in Jeonju! Every one of the hanok stay listed above has been vouched for by hundreds of other travelers who have loved their experience staying in a traditional Korean home.
If you're looking for a unique experience, not like any other, we highly recommend booking a few nights at one of these stays and simply taking in the beauty and the ambiance. It will be a welcomed change to the vastly more bustling cities of Seoul and Busan, and the peacefulness will have you falling even more in love with Korea.
For more Korean traditional houses recommendations, check out our selections of the best hanok stays in Seoul and the best hanok stays in Gyeongju.