Exploring Seoul is not one for the faint-hearted. From the frenetic streets of Hongdae to the blaring music of nightclubs in Apgujeong, the visuals and energy levels of Seoul could be described as an attack on all your senses – in the best way possible.
Seoul is a city that conjures up images of brightly-lit billboards, advertising the K-pop artist of the moment endorsing the latest beauty brand. People think of Seoul and immediately imagine streets lined with food stalls, restaurants teeming with Korean BBQ grills, and hoards of people gathering to shop, explore, eat, and party from the early morning until the AMs of the next day.
On the other hand, Seoul is also home to one of the most historical aspects of Korean history: hanok villages.
What Is A Hanok?
A hanok is a traditional Korean home that originated during the Joseon Dynasty. They were originally inhabited by only the upper elites and royalty during their heyday, but as time weathered on, they became the housing option for common class people.
A hanok can vary in size and structure, however, one thing's for certain, and it's that it is made of natural elements, with wood, rock, and earth, making it one of the most eco-friendly styles of homes.
Indeed, a hanok is built under the principle that the place you reside should be built in harmony with nature. Much like the ancient Chinese traditional practice of Feng Shui, a hanok considers the surrounding environment before it's built; such things as where the mountain lays, where the river flows, and where the sun rises all greatly impact the final design of a hanok.
You can get a bit more info about these traditional houses here: Hanok Guide.
What's A Hanok Village? A Little Bit of History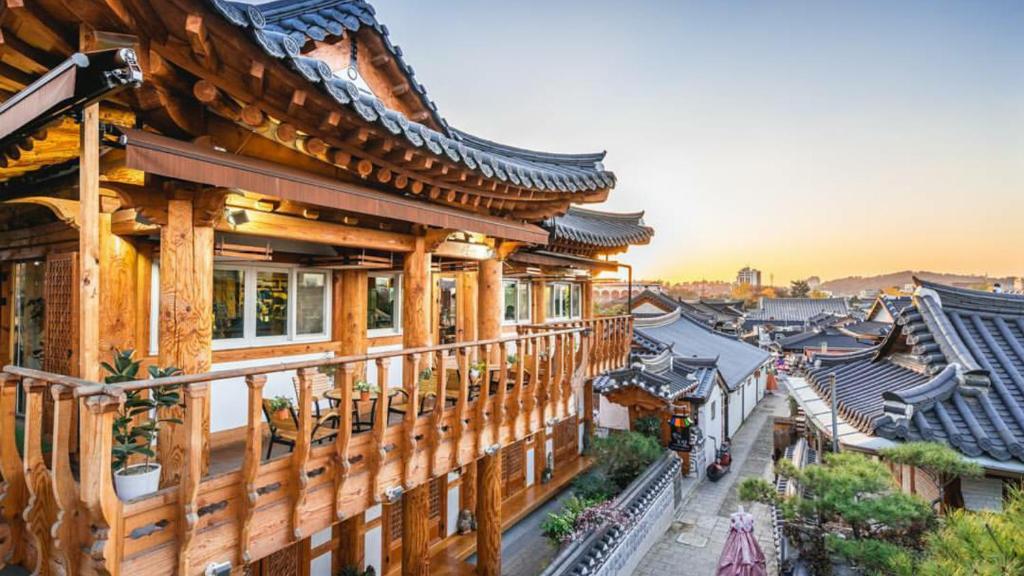 A hanok village comprises a small neighborhood with clusters of hanok homes. During the Joseon Dynasty, many hanok villages were homes to the upper echelon of society. Your neighbor may have been the General or the current Doctor of the royal family.
As time went on, hanok villages became more and more inhabited by people from the working class who, ironically, could not afford more modern-style housing. Rapid capital growth and urbanization followed, and many hanoks were knocked down in favor of high-rise apartment buildings and other high-density blocks.
Of the ones left behind, only a few remain inhabited, with the majority becoming abandoned or left behind.
However, hanok purists banded together in a plight to honor and save this undoubtedly huge aspect of Korean heritage, and through perseverance, managed to save many small hanok villages in and around Seoul.
Soon enough, the revival of hanoks and hanok villages came around, and that brings us to the right where we are now.
Many hanok villages are seemingly picturesque, quiet neighborhoods with unique photo opportunities but not much else. However, under that facade, each hanok village offers its own pizzazz and character.
In Seoul alone, there are many different hanok villages that are as different as night and day. Yet, they all possess the same level of distinct charm and beauty.
If you thought you'd have to travel far and wide to experience a little bit of Korea's history, think again. These hanok villages are located right in Seoul, the capital of Korea.
Build them into part of your itinerary, set aside time to do day trips, or pass through them on your way to other attractions – there are so many ways you can easily catch a glimpse of Korea's history, preserved.
You May Also Like: Best Hanok Villages In South Korea
In this article, we've listed the five best hanok villages in Seoul that you need to visit \. If you want to find out more, click on the links to read a detailed article on how you can effectively and efficiently explore each hanok village.
1. Bukchon Hanok Village
Bukchon Hanok Village is arguably the most popular hanok village in all of Seoul. What makes it so great, you ask? Is it its proximity to one of the biggest historic attractions in Seoul, Gyeongbokgung Palace? Could it be its unmatched architectural beauty? Surely, it's because of its enviable position on elevated grounds where you can catch glimpses of the city at certain vantage points?
The answer is simple: all of the above, and so much more.
Bukchon was the stomping ground of nobility and the elite class back in its heyday. Today, it's home to many common families, as well as sprinkles of adorable cafes, traditional restaurants, arts and crafts stores, and much more.
A day spent exploring Bukchon could include dressing up in a hanbok, drinking tea in a Hanok, taking photos in small, off-the-beaten-path alleyways, and watching the Changing of the Guards ceremony at Gyeongbukchon Palace.
Keen to learn about the best activities you can do at Bukchon Hanok Village? We've got a detailed guide right here which details everything you need to know about this exciting hanok village: Best Things To Do In Bukchon Hanok Village.
2. Ikseondong Hanok Village
Neighbouring Bukchon Hanok Village is Ikseondong Hanok Village, a quaint little hanok village whose vibrant atmosphere has drawn small and eccentric crowds to its grounds.
Ikseondong Hanok Village is the Brooklyn of Seoul's hanok villages. It's hip and it's cool; it's a relatively arty area that survived modernization and was brought back to life by young creatives showcasing their creative endeavors.
These days, there are many cafes and shops tucked away in the small alleyways of Ikseondong Hanok Village that make it perfect for exploring. From a flower market cafe to a cafe located within a hotel, there's no shortage of places to grab a coffee here!
For more info on how to best explore Ikseongdong village, read this: The 12 Best Things To Do In Ikseondong Hanok Village.
3. Eunpyeong Hanok Village
Of all the hanok villages in Seoul, Eunpyeong Hanok Village is the most unique.
Eunpyeong Hanok Village did not descend from centuries of history. Rather, it was built by the district in an attempt to develop a cultural experience for visitors unlike any other.
Here, visitors can explore the alleyways and the hanok homes as though they were a neighborhood existing during the Joseon Dynasty. Because its primary goal was to provide people with an attraction to explore, it does not house as many families in the hanok homes as other villages. However, there are still some families residing in this area.
Eunpyeong Hanok Village is located on the edge of the city, with a stunning backdrop of Mount Bukhansan. With a whopping 158 (and counting) hanok homes to explore, you can bet that there are plenty of stunning photo opportunities here to capture.
Eunpyeong Hanok Village also hosts museums and cafes to explore. With such proximity to Mount Bukhansan, you can squeeze in a hike as well if you'd like!
For more details, make sure you read our travel guide on Eunpyeong Hanok Village.
4. Seochon Hanok Village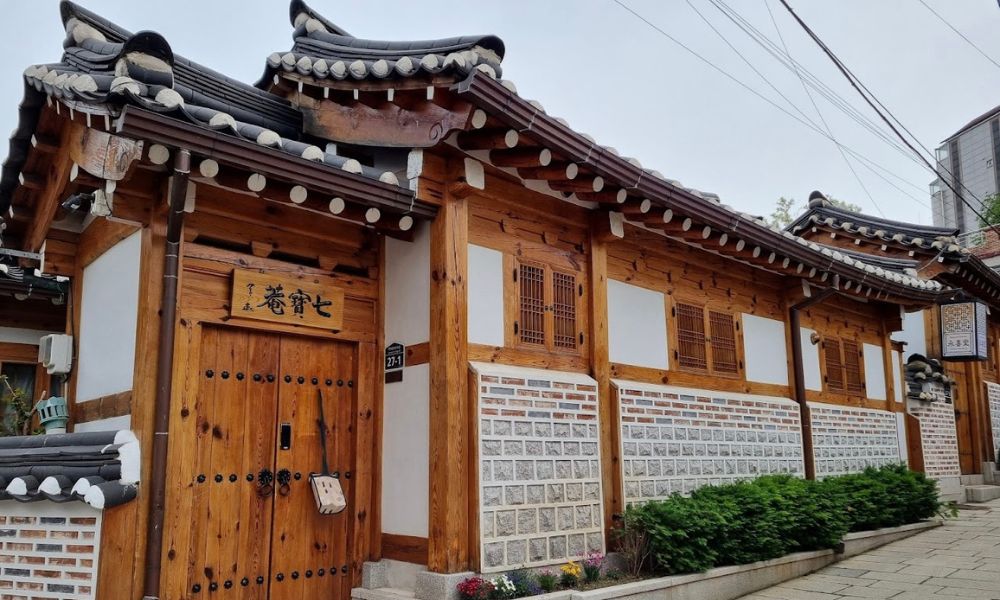 As far as central and convenient hanok villages go, Seochon Hanok Village is a major contender alongside Bukchon Hanok Village.
Located just west of Gyeongbukgung Palace, Seochon Hanok Village is where you'd visit if you want the same magical experience as Bukchon, but want to avoid the crowds.
Although it boasts equally stunning architecture, centuries of history, and vibrant and thriving cafe culture, Seoshon Hanok Village is still flying fairly under the radar. The lack of crowds means that you can take plenty of photos without people in the background, and you won't be fighting as many people to line up for the fares of Seochon Hanok Village.
Discover here the top 10 things to do in Seochon Hanok Village.
5. Namsangol Hanok Village
Last, but definitely not least, is Namsangol Hanok Village! It's an unassuming hanok village located a surprisingly short distance from the vibrant city center of Myeongdong. Amazingly, this hanok village still retains a fairly peaceful and serene atmosphere, despite its location.
During the height of its existence, Namsangol Hanok Village was referred to as 'Cheonhak-dong', or the place where the Gods lived due to its heavenly scenery. Surrounded by greenery, but with the distinct city buildings of Seoul in the background, you can bet that the scenery is heart-stoppingly beautiful here.
Namsangol Hanok Village is more of a cultural experience than the others. Whilst you won't be cafe hopping your way through this village, you may, instead, be enticed to get involved with the activities here.
Watch a traditional performance at the Seoul Namsan Gukakdang theatre, stick around for the taekwondo demonstrations, or fold traditional Korean hanji paper. These are some examples of the types of activities you can participate in whilst visiting this hanok village.
Read here the 10 best things to do in Namsangol Hanok Village.
—
We hope you enjoyed reading about the 5 best hanok villages in Seoul.
As much as exploring the vibrant nightlife, epic food scene, and endless markets of Seoul is so enticing that you want to fill up your entire itinerary with them, hanok villages will add a whole new level of excitement.
There's nothing quite like the feeling of stopping in a middle of a quiet alleyway, surrounded by hanok buildings that people built with their bare hands hundreds of years ago. Your appreciation for Korean culture and history will skyrocket, and you'll be able to pocket this amazing memory with you forever.
Keen to stay in a hanok? We've listed here 6 of the best hanok stays in Seoul!
Make sure you also read our blog posts about the 10 best Hanok cafes in Seoul and the 15 best hidden gems in Seoul.