The holidays are the perfect time to travel somewhere new and exciting. We all know that South Korea is very well-known for its bustling cities and towering skyscrapers. But to get the true Korean experience, visiting these hanok villages is a must!
Hanok villages are the best places to learn about Korean culture. They're filled with traditional Korean houses and architecture, making them the perfect Instagram spot! To really get the full experience, most hanok villages also offer hanbok (traditional Korean clothing) rentals, so you can really feel like you've been transported back in time to the Joseon Era.
The Best Hanok Villages In South Korea
We've compiled a list of the 9 most breathtaking hanok villages in South Korea for you to explore. And for some of them, you won't even have to get out of Seoul! Read on if you want to travel back in time and experience traditional Korean culture.
Bukchon Hanok Village (Seoul)
Eunpyeong Hanok Village (Seoul)
Namsangol Hanok Village (Seoul)
Yongin Korean Folk Village
Jeonju Hanok Village
Andong Hahoe Folk Village
Gyeongju Gyochon Traditional Village
Yangdong Folk Village
Songdo Hanok Village
You will find below a map that includes the locations of these 9 villages:
1. Bukchon Hanok Village (Seoul)
In the middle of modern Seoul, you can find this piece of history. Bukchon Hanok Village is perfect for tourists who want to add that cultural touch to their itinerary. With its location next to Gyeongbokgung Palace, Changdeokgung Palace, and the Jongmyo Royal Shrine, you definitely can't miss visiting this beautiful and historic place!
Back in the Joseon Dynasty, this was where high-ranking government officials and nobilities lived. You can definitely feel like royalty yourself as you explore the many streets and alleyways that have been preserved to look like a 600-year-old village.
The name "Bukchon" literally translates to "Northern Village," since it's located in northern Seoul. Bukchon Hanok Village has become even more famous after being featured in shows such as "1 Night 2 Days" and the classic K-Drama "Personal Taste" starring Lee Min-Ho and Son Ye-Jin. This picturesque village is definitely a must-see–and it's just in Seoul!
You Can Also Read: The Best Things To Do In Bukchon Hanok Village
2. Eunpyeong Hanok Village (Seoul)
Another hidden gem in Seoul is the Eunpyeong Hanok Village. This was specially designed and developed to be a historical and cultural tourist site. But even locals love this place–it's the perfect spot to get away from the bustling city and relax!
Located at the foot of the beautiful Bukhansan Mountain, Eunpyeong Hanok Village will definitely serve as the perfect spot for your Instagram feed. But aside from the picturesque spots, there are also plenty of cafes, temples, and other sites to visit to get the full hanok experience.
To enrich your visit even more, you can check out the three-story Eunpyeong History & Hanok Museum. It's a good place to unwind after a full day of walking and sightseeing. It has all the facilities you need: from a toy library, a resting lounge, and a rooftop area that offers a great view of the whole village.
Read More: Must-Visit Hanok Cafes in Seoul
3. Namsangol Hanok Village (Seoul)
This beautiful village is well-known for its picturesque sights. Even back in ancient times, it was known as the "land of the fairies" because of its beautiful landscapes. The mesmerizing waters and the lush greenery will definitely make you feel like you've been transported to the deep countryside–even though you're still in Seoul!
Its highlights are definitely the Korean traditional garden, complete with a pavilion and an eye-catching pond. This is the perfect place to relax and clear your mind–all while taking the most beautiful pictures!
But the Namsangol Hanok Village offers more than just sightseeing opportunities. The village is also well-known for its period accuracy. Each dwelling and structure has been furnished with era-appropriate furniture. Here, you can also learn a lot about Korean history by noticing how each home is different based on the owner's social status.
You May Also Like: Best Hanok Stays In Seoul
4. Yongin Korean Folk Village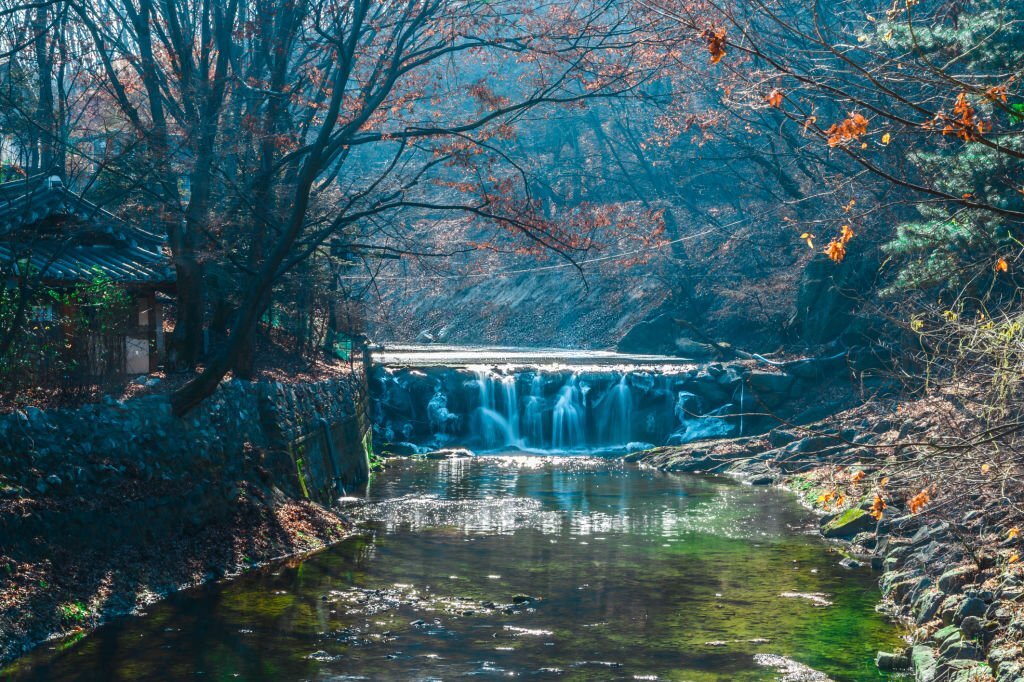 Also known as "Minsok Village," the Yongin Korean Folk Village is unique for being a living museum! Here, there are staff members dressed up in Joseon-style costumes. You can find all kinds of Joseon-era characters era: from royals, governors, businessmen, and even mythical creatures like the Gumiho!
You'll never get bored when you visit because Yongin Korean Folk Village offers many workshops and activities for tourists to experience authentic Joseon life. You can watch exhilarating tightrope performances, marvel at horseback martial arts, and even witness a traditional wedding.
Tourists can also participate in ferry rides, ride on horseback, and even take workshops on natural dyes and traditional life. Visiting Yongin Korean Folk Village will definitely be an enriching experience that will make your trip to Korea even more memorable!
5. Jeonju Hanok Village
Jeonju Hanok Village is famous even for the locals! This place is a must-visit because of its relaxing atmosphere that just draws you in. It was even designated as an "International Slow City" because of its relaxed pace of life that blends tradition and modernity seamlessly.
It's also well-known for its historical landmarks such as the Omokdae. This is where Lee Seong-Gae, founder of the Joseon Dynasty, celebrated his victory over Japanese coastal invaders. Because of its high elevation which overlooks the entire village, many tourists also start their Jeonju Hanok Village journey here.
You can visit over 800 traditional houses in this village. There are also plenty of galleries, tea houses, and restaurants that are very popular with tourists. Jeonju is especially known for being the food capital of Korea, so don't miss out on the traditional cuisine!
Want to stay overnight in this village? Check out our selection of the 9 best Hanok stays in Jeonju.
You can also read our travel guide on what to do in Jeonju here.
6. Andong Hahoe Folk Village
If you like historical structures, you can't miss Andong Hahoe Folk Village. Aside from its traditional houses, it has also preserved Confucian schools and structures which are definitely a must-visit. Because of how well-preserved it is, it's become one of the coveted UNESCO World Heritage sites.
Andong Hahoe Folk Village is overflowing with history. It's very well-known for preserving the old Korean tradition of having clan-based villages. Built way back in the 15th Century by the Ryu clan, this hanok has been a one-clan community ever since.
If you visit this village, you can't miss watching the Hahoe Mask Dance Drama! This performance is just one of the pieces of folk art that the village has preserved. It's part ritual, folk opera, dance, and pantomime. Catching this show will definitely give you a unique travel experience!
For more info about these Korean traditional houses, feel free to read our Ultimate Guide to Hanok!
7. Gyeongju Gyochon Traditional Village
The Gyeongju Gyochon Traditional Village is famous for being the seat of the Gyeongju Choi Clan, a very affluent family who maintained their wealth for over 12 generations. Tourists will be fascinated to learn the secrets behind how this family was able to stay so wealthy and influential for so long.
This village is also home to many historical sites such as the Naemulwangneung Royal Tomb, the Gyeongjuhyanggyo Local Confucian School, and the Yoseokgung, where Silla Princess Yoseok used to live.
The Gyeongju Gyochon Traditional Village Experience won't be complete without visiting the experience centers! Here, tourists can learn about various skills like quilt-making, traditional sauce-making, crockery-making, and many more.
If you want to spend the night in this village, check out our list of the best Hanok stays in Gyeongju.
8. Yangdong Folk Village
Tourists will definitely feel majestic as soon as they step into Yangdong Folk Village. Nestled between lush and imposing mountains, visiting this village will feel like discovering a hidden gem. Its exceptional beauty and rich history are just some of the reasons why it's also one of UNESCO's Cultural Heritage sites.
Yangdong Folk Village is well-known for being the home of the aristocracy during the Joseon dynasty. You can relive the life of the royals because of how well-preserved the houses and structures are. There are also plenty of activities you can watch or even participate in to truly enjoy the high-class lifestyle.

What's interesting about the Yangdong Folk Village is how it's shaped like a lucky Hanja character. This was deliberately done in order to give good fortune to its residents in the past. Centuries later, this lucky arrangement is still carefully preserved to this day.
9. Songdo Hanok Village
Finally we have this beautiful village that's located in Incheon, just outside of Seoul. Songdo Hanok Village puts a modern twist on traditional hanok villages. Even though it has the traditional houses and structures you can find in every hanok village, Songdo Hanok Village is unique because it also has a lot of modern establishments.
Here you can find many Hanok-style cafes, stores, restaurants, and even luxurious hotels. That definitely makes it more convenient for tourists!
Located next to the Central Park, the Songdo Hanok Village is the perfect place to walk around in and really appreciate the wood-built traditional homes. With it being one of the more modern hanok villages on this list, it's definitely a must-visit for its unique blend of past and present!
Before we finish this article, feel free to also read our list of the best Hanok stays in Korea!
—
What did you think of our list? Make sure to tell us which hanok village you're most excited to visit in the comments!
Your trip to Korea won't be complete without visiting at least one of these hanok villages. They are the perfect place to learn about Korean history and culture, all while taking in amazing sights and scenery that will definitely help you relax and unwind.
If you liked our post, make sure to check out our other articles on Korean travel like the 15 most beautiful hidden gems in Korea, Korea Travel Budget and the 15 most underrated travel spots in Seoul.