The Korean skincare routine is not like your typical skincare routine. With an all-inclusive 10-steps that cover every aspect of your face, it's one of the most thorough and increasingly common skincare routines in the world today.
The first step in most skincare routines is the cleanser. This is no different from the Korean skincare routine. However, the thing that might throw you off is double cleansing action. 
Instead of reaching straight for the cleansing cream, you'd first reach for the cleansing oil.
Why You Should Use Cleansing Oil?
Dirt, sunscreen, face oil, make-up – after a long day, everyone will have a layer of grime gathered on their face.
Korean cleansing oils aim to break down the surface layer of impurities on your face. It does this by starting as an oil, but once it touches the water, it emulsifies into a regular cleanser.
Cleansing oils are becoming increasingly common, but Korean varieties still dominate the market. They're some of the most versatile and cater to every skin type.
If you've been afraid to try cleansing oils because you have oily or acne-prone skin, don't worry. There are oil cleansers out there that have been specifically formulated with that skin type in mind and won't aggravate it further.
Haven't introduced cleansing oils into your routine yet? This is your sign to shop for some of the best Korean cleansing oils and balms on the market right now. Let's have a look at our list!
1. Klair's Gentle Black Deep Cleansing Oil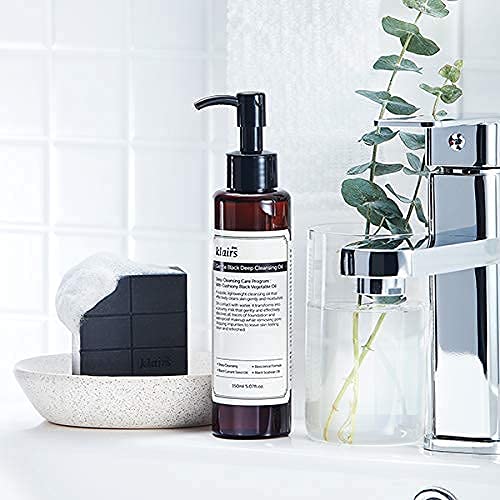 Klairs has always been a cult favorite in Korea, and today more and more people are jumping on board with this clean, minimalistic brand.
The Klairs Gentle Black Deep Cleansing Oil is one of the gentlest yet most effective Korean oil cleansers on the market. It's made with a hypoallergenic formula but is packed with ingredients to immediately break down the barrier of impurities. It's perfect for sensitive skin but is great for most skin types.
It contains jojoba oil to help moisturize and hydrate the skin. However, its key ingredient is black sesame oil, with its antioxidant-rich and anti-inflammatory effects.
Initially, it will feel like a light oil. Once in contact with water, it will transform into a creamy milk-type cleanser that works to dissolve layers of dirt, make-up, and sunscreen on your skin.
Summary
Gentle formula suitable for those with sensitive skin
Contains jojoba oil to moisturize and hydrate the skin
Contains black sesame oil, which is antioxidant-rich and anti-inflammatory
2. Heimish All Clean Balm
The Heimish All Clean Calm is unlike most cleansers you've used before! It comes in a small tub where you use a spatula or your finger to remove a small portion. You then gently rub it onto your face like a scrub.
Once it comes into contact with your moist skin, it will quickly dissolve into an oil, and remove make-up, dirt, and sunscreen immediately. Once you wash off the balm with water, your skin will be left feeling soft, supple, and super smooth.
It contains a white flower complex as well as coconut extract and shea butter, which works to inject moisture into your skin. Other cleansers may leave your skin feeling tight, but not this cleansing balm.
Summary
Paraben-free and hypoallergenic
Lightly fragranced (citrus)
Contains white flower complex, coconut extract, and shea butter
3. Shiseido Perfect Cleansing Oil
Shiseido is a beauty brand that needs no introduction. The Shiseido Perfect Pore Cleansing Oil is the perfect perfectly represents the reliable, and powerful standards that Shiseido products are known for.
Even though it's a Japanese brand, Shiseido Perfect Pore is extremely popular in South Korea. This cleansing oil is made of a lightweight formula and effectively removes all impurities and make-up layers on your face – yep, even waterproof products.
It lathers beautifully on the face once you start rubbing it on, and the best thing about it is that it works on both dry and wet skin. No harsh rubbing is required, as it immediately gets to work once in contact with your face.
After you wash it off with water, it leaves no sticky or oily residue, leaving your skin feeling dewy and plump.
Summary
Removes waterproof make-up
Works on dry and wet skin
4. Sulwhasoo Gentle Cleansing Oil
Sulwhasoo is a beauty brand that's considered one of the most luxurious in South Korea, and the Sulwhasoo gentle cleansing oil is one of its most popular products.
Despite its heftier price tag, this product still flies off the shelf. Its star ingredients are what help it stand out from the crowd. Tangerine peel extract helps break down impurities, and apricot kernel oil nourishes the skin at a deeper level.
Summary
Contains tangerine peel to break down impurities
Contains apricot kernel oil to nourish the skin
Pairs well with the Sulwhasoo gentle cleansing foam
5. BANILA CO Clean It Zero Original Cleansing Balm
BANILA CO's Clean It Zero Original Cleansing Balm has been on the radar of international skincare enthusiasts for a while. Ever since the brand made the super smart decision to appoint Girls Generation's Taeyeon as an ambassador years ago (at the peak of her popularity), Banila Co has been making waves.
The Original Cleansing Balm is easily one of its most successful and popular products. It's a balm that offers the sensation of rubbing soft sherbet on your skin. It's designed to be gentle enough for all skin types whilst still offering premium cleansing ability.
This oil is formulated with Active botanicals, hot spring water, vitamin E, and vitamin C. It completely cleanses and nourishes your skin at the same time.
Its popularity stems from its ingredients list: no harmful substances are included, and it's super rich in antioxidants and natural ingredients.
Summary
Contains no harmful substances; free from sulfates, parabens, phthalates, polyethylene, alcohol, artificial coloring, mineral oil
Contains natural herbs, royal jelly, and ginseng berry
Suitable for all skin types
6. Neogen Dermalogy Calming Cica Micellar Cleansing Oil
The Micellar Technology infused in this Neogen cleansing oil makes it a far superior product to most in the market. Micellar technology allows the product to deeply penetrate the surface layers of the skin to effectively break down and get rid of dirt and oil on your skin.
This cleansing oil also boasts cica (Centella Asiatica extract), an ingredient that offers a calming and soothing effect. It is suitable for all skin types, but especially sensitive skin!
Cica is also a wonderful ingredient that encourages cellular repair and collagen production, which generally results in glowing, healthy skin.
Summary
Contains Micellar Technology to deeply penetrate through impurity levels on the skin
Contains cica (calming and soothing effect, cellular repair, collagen production, hydrates and brightens skin)
7. The Face Shop Rice Water Bright Light Cleansing Oil
The Face Shop's Rice Water Bright Light had to be part of our list of the best Korean cleansing oils!
This product is considered an 'original' in the field of Korean cleansing oils. It's been around for many years and still has a cult-like following.
It contains vitamins A, B, and E, jojoba oil, and rice bran oil, all of which work together to ultra-hydrate your skin and leave it feeling soft and supple. Rice bran oil is a key ingredient in Korean skincare. It is believed to assist in multiple actions, including shrinking pores, reducing fine lines, tightening your skin, and brightening your complexion.
Summary
Gentle, non-greasy formula
Suitable for normal to (very) dry skin
Contains rice bran oil
Contains vitamins A, B, and E
Packed with nutrients and antioxidants
8. Nature Republic Forest Garden Chamomile Cleansing Oil
A Chamomile Cleansing Oil…doesn't that already sound nice?
Nature Republic always puts its foot where its mouth is, and this cleansing oil is certainly made with Chamomile flower water. It is a key ingredient that helps protect the skin barrier from stress and environmental factors.
It works to effectively remove makeup, dead skin cells, and other impurities; overall it works to improve the texture of your skin.
It's mildly fragranced and the feminine scent lingers throughout the day.
Summary
Effectively removes makeup, dead skin cells, and other impurities
Contains Chamomile flower water, which helps to protect the skin barrier from stress and environmental factors
Mildly fragranced
9. Beauty Of Joseon Radiance Cleansing Balm
Beauty of Joseon's Radiance Cleansing Balm is another super popular sherbet-textured cleansing calm in the market. It's quite similar to the BANILA CO Original Cleansing Balm.
Rubbing it gently onto your skin will melt it into a cleansing oil, resulting in the thorough removal of dirt, oil, and makeup.
Its star ingredient is a traditional Korean medicine called hanbang. Combined with rice water, these two ingredients effectively moisturize your skin and brighten your complexion at the same time as it is being cleansed.
With lavender included in the ingredients list, you know that sensitive skin will be soothed. Its anti-inflammatory and antiseptic properties mean that it's gentle and mild, and even dry and mature skin will be able to handle it.
For those who worry about fragranced products, this one has a barely-there scent that is quite pleasant.
Summary
Contains 2% niacinamide and 2% squalene
Contains high levels of moisture for hydrated and radiant skin
Contains traditional Korean herbal medicine hanbang
Suitable for sensitive skin and dry and mature skin
10. Hanskin PHA Pore Cleansing Balm
The Hanskin Por Cleansing Oil is last on the list, but it's most certainly not the least. Formulated with polyhydroxy acids (PHAs), this cleansing balm impressively removes makeup, impurities, and dead skin cells, and even contains exfoliating properties to help blackheads management.
It also contains tea tree leaf oil and jojoba oil. It offers antiseptic and moisturizing abilities and is perfectly safe to use on sensitive skin.
For a more youthful, vibrance complexion that just feels clean, give this cleaning balm a try.
Summary
Contains polyhydroxy acids (PHAs)
Breaks down impurity layers and also exfoliates
Contains tea tree leaf oil and jojoba oil
Suitable for sensitive skin
We hope our extensive list of the best Korean cleansing oils and balms on the market right now has helped you figure out which one works best for you!
From straight-up cleansing oils to sherbet-like balms which melt into a soft cleansing oil, we wholeheartedly believe that there is a product out there for all skin types.
Regardless of whether or not you have dry, oily, sensitive, or combination skin, Korean skincare technology is so far advanced that they know precisely how to target those skin concerns.
Double cleansing is one of the most effective ways to give your skin a proper clean after a long day of exposing it to the elements. Double cleansing with one of the above-mentioned products and you'll instantly feel a lift in your skin!
Let us know if any of these products tickle your fancy!
For more Korean beauty tips, make sure you also read our blog posts about Korean nighttime skincare routine. It's a 10-step guide to follow before you sleep in order to make your skin bright and healthy.
You can also check out our lists of the best Korean foam cleansers and our top 10 Korean exfoliators!