The Korean skincare routine took the world by storm a few years ago, and it's absolutely changed the way that people approach how they take care of their skin.
Gone are the days when cleanser, toner, and moisturizer were the only staples. Nowadays, a decent exfoliator is a necessity, double cleansing is the norm, and a suitable AHA is a holy grail for many.
When you're first looking into the Korean skincare routine, the 10 steps listed would overwhelm just about anybody. We get it, sometimes it's hard to even find time to cleanse and moisturize, let alone include a heap of additional steps in between. However, when you consider that your face is home to some of the most delicate skin around your body, the time and effort are a small price to pay.
It is also the part of you that distinctly shows when you're aging as well, which is something most people want to avoid.
When delving into the Korean multi-step skincare routine, some might be confused as to how it differentiates from morning to night. Most people will only talk about one routine but specific steps like exfoliating shouldn't be happening every day. Additionally, sunscreen should only be applied during the day.
Let's dig deeper into the Korean nighttime skincare routine so that you can work out the best way to keep your skin healthy at night.
Why Is There A Korean Daytime & Nighttime Routine?
Consider that during the day you're likely walking around outside and exposing your face to the elements. You're therefore vulnerable to radicals, environmental factors, stress, and various other airborne particles.
With this in mind, a simple water cleanser at night is not enough to completely rid you from all the dust that's settled on your face. The Korean nighttime skincare routine will introduce you to the world of double cleansing which aims to break down all the layers of dirt and grime accumulated on your face throughout the day.
You'll definitely be adding SPF+ to your daytime routine as well, whereas it's not necessary for nighttime.
Whilst you're sleeping, your skin is much more relaxed and will automatically repair itself.
Main Differences Between Daytime & Nighttime For Skincare
Here are the main differences between skincare by day and by night.
Double cleanse at night – You only need to double cleanse at night to get rid of the layer of impurities that accumulates during the day. When you wake up after a good night's rest, simply wash your face with a gentle water-based cleanser.
Use active ingredients at night – Treat your face with products containing active ingredients at night. When you're sleeping, your skincare will work without interruption to repair and regenerate your face and active ingredients will enhance this dramatically. Night time is a great time to target any specific skincare concerns.
Your water levels are at their lowest during nighttime. Therefore, you may want to switch up your daytime and nighttime skincare moisturizers. For the latter, a richer cream will lock in the moisture and previous skincare products.
Use SPF in the morning every day – This is the ultimate key to preventing premature aging, pigmentation, and further skin damage.
Korean Nighttime Skincare Routine In 10 Steps
To get the best results on your skin, follow these 10 beauty steps before to sleep:
Cleansing Oil
Foam Cleanser (Double Cleanse)

Exfoliate (1-3 times a week)
Toner
Essence
Ampoule
Serum
Sheet Mask
Eye Cream
Moisturizer
1. Cleansing Oil
The initial cleansing oil is the key step that differentiates the Korean skincare routine from any other regular skincare routine. Most people would normally reach for the foam or gel cleanser without thinking, but adding the step of an oil cleanser beforehand works wonders.
The oil cleanser aims to break down the surface-level layer of impurities accumulated on your face throughout the day. This includes sweat, dirt, sebum, and so on. Massage the oil cleansing thoroughly on your face and then wipe it off with a cotton wipe.
Check out our list of the 10 best Korean cleansing oils here!
2. Foam Cleanser (Double Cleanse)
One of the quintessential parts of the Korean skincare routine is the idea of double cleansing to ensure you thoroughly get rid of all impurities. This will allow your skin to essentially become a blank canvas that effectively absorbs subsequent skincare products. 

The second step of cleansing is the foam (or gel) cleanser. Once the surface-level impurities are removed, you will need to target everything that's underneath the surface as well as cleanse any remaining dirt on your face.
Add some water to your foam cleanser and gently massage it onto your face. Simply wash it off with some water, towel your face dry, and you're ready for the next step.
To choose the right products for you, make sure you check out our selection of the 12 best Korean foam cleansers.
3. Exfoliate (1-3 times a week)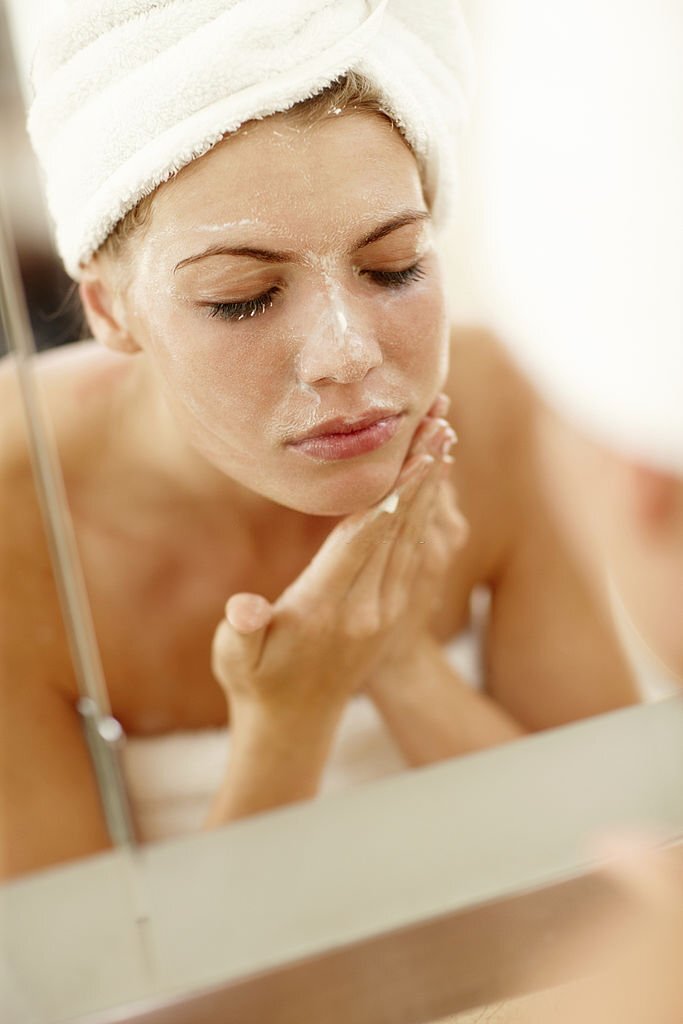 Exfoliating is the process of scraping the dead skin cells from your face using a chemical exfoliant or physical exfoliator on your skin. It essentially helps to even out your skin tone, promote cell regeneration, and encourage smooth skin.
People often get confused when reading about exfoliating regularly. Yes, it is an important and essential step in the Korean skincare routine; however, it should not be done every day.
Instead, depending on your skin's sensitivity, aim to exfoliate between 1-3 times a week. Any more than that and you might cause damage to the surface level of your skin.
Make sure you read our selection of the best Korean exfoliators!
4. Toner
Toner is an essential part of all skincare routines. It is the last step in removing residue on your face as well as the first step in rejuvenating your skin after giving it a good cleanse.
Toner works to hydrate, balance, and prepare your skin for the upcoming layers of skincare products. When applied by patting on with a cotton pad, it will also wipe away any remnants of impurities on your skin.
If you are looking for products recommendations, we listed here the 10 best Korean toners you should try!
5. Essence
Now the fun begins! Once your skin is cleansed, primed, and prepped, it should easily and effectively absorb the rest of the skincare products.
First up is an essence. Essence products are typically on the lighter, more watery consistency end of skincare products. However, they're still jam-packed with ingredients such as collagen cream, snail, rice extract, and hyaluronic acid.
Begin by pouring some essence onto your hand and pat it gently on your face for better absorption.
For more information, you can find here our selection of the best Korean essences.
6. Ampoule
Ampoules are typically applied after using an essence product. These products are heavier in consistency but are still considered quite light. They usually contain powerhouse ingredients and active agents that will assist your skin in regenerating and recharging its layers throughout the night.
Some of the general key skin concerns that are targeted by ampoule products include acne and hyperpigmentation.
When applying ampoule, gentle tap and massage onto your face whilst focusing on areas of concern.
If you want to try, we listed here the 10 best Korean ampoule!
7. Serum
Serum products are quite similar to ampoule products except they contain an even higher amount of supercharged ingredients. They're also typically thicker in consistency and target quite specific skin concerns.
For example, concentrated products such as AHA, BHA, vitamin C, and retinol are some of the more common serums. They're used to target such concerns as dull skin tone, lackluster skin, and fine lines.
Products such as ampoule and serums are best used at night so that they can work undisturbed whilst you're getting a good night's rest.
The application of serums is similar to ampoule products. Gently tap and massage this product onto your face and let it dry before applying the next product.
Read here our selection of the best Korean serums.
8. Sheet Mask
The sheet (or face) mask is the most lavish step in the Korean skincare routine. It's definitely a 'treat yourself' step, so whilst it's absolutely beneficial if you have time to do it every night, it's not completely necessary like other products.
For those who want to give their skin the five-star treatment, simply apply your sheet mask and relax for 15-20 minutes. The extra boost of hydration from sheet masks will do wonders.
Do not wash it off afterward! Simply remove the sheet mask and pat the moisture on your skin.
For more info, make sure you check out our selection of the best Korean face masks!
9. Eye Cream
We cannot stress how important using eye cream is. The Korean nighttime skincare routine simply wouldn't be complete without showing the most delicate part of your face some love.
Eye creams contain some of the most powerful ingredients in skincare. Not only are they formulated to inject intense hydration to the areas around your eyes, but they will also assist with puffiness, brightening, and targeting fine lines.
Using eye creams now will make the difference between looking like how you do now in 10 years' time, and looking your age in 10 years' time.
Tip: do not apply eye cream as you would on the rest of your face. The area is extremely delicate and requires very light massaging motions and tapping.
You May Also Like: Best Korean Eye Creams & Best Korean Eye Patches
10. Moisturizer
The last step to the Korean skincare routine is, of course, moisturizer. Most of you guys would know that moisturizer is the end product of any skincare routine.
Its importance lies in the fact that it aims to lock in all the previous skincare products on your face so that it can achieve optimum progress overnight.
It also provides a protective level of hydration so that your skin does not dry out overnight. You will wake up feeling smoother, plumper, and more hydrated after using a moisturizer at night.
Note that during different seasons, some people change up their moisturizers, paying specific attention to how thick the consistency is. For some people, using a thick moisturizer at night helps them lock in the moisture better, especially during winter.
We listed here amazing Korean moisturizers for dry skin and Korean moisturizers for oily skin.
—
When it comes to the 10-step Korean nighttime skincare routine, we definitely think that changing your mentality towards skincare is important.
Many people might feel like they won't have time to commit to this routine every night.
However, just as drinking water and exercising is a form of caring for oneself, so too, is having a regular skincare routine to look after which is arguably a very important asset!
The multi-step routine sounds like a handful but when broken down, every step makes sense and is necessary for the journey to achieving beautiful, healthy skin.
Curious to know what the ideal woman looks like in Korea? Check out this interesting post about Korean female beauty standards.