At some point, we've all fallen in love with a K-pop idol or Korean celebrity. There's something about their perfectly coifed hair, bold and eye-capturing fashion sense, and red carpet/music clip/variety show confidence that just screams 'LOOK AT ME AND LOVE ME!'.
You may also notice that Korean celebrities are also all incredibly good-looking. Now, this may or may not be a gene thing, however, it most definitely is a makeup thing.
The Korean make-up style is incredibly unique and serves to highlight the natural beauty and look of a person without overshadowing them. Korean make-up artists have time and time again stunned the world with make-up looks that just serve without being over the top distracting. 
When compared to Western-style make-up, Korean make-up always results in looking softer, dewier, and generally more natural and feminine. This is part and parcel of the beauty standards of Korea, which include such things as having a sharp jawline, a small face, plump limps, and big, doe eyes.
The first few, well, there's not much really that we can do about it.
However, what if we said that with the power of make-up, you can make your eyes look rounder, bigger, and brighter than ever before?
Korean eyeshadow palettes have been around for a long time, and they've been developed to allow regular people like you and me to achieve looks we can only dream of.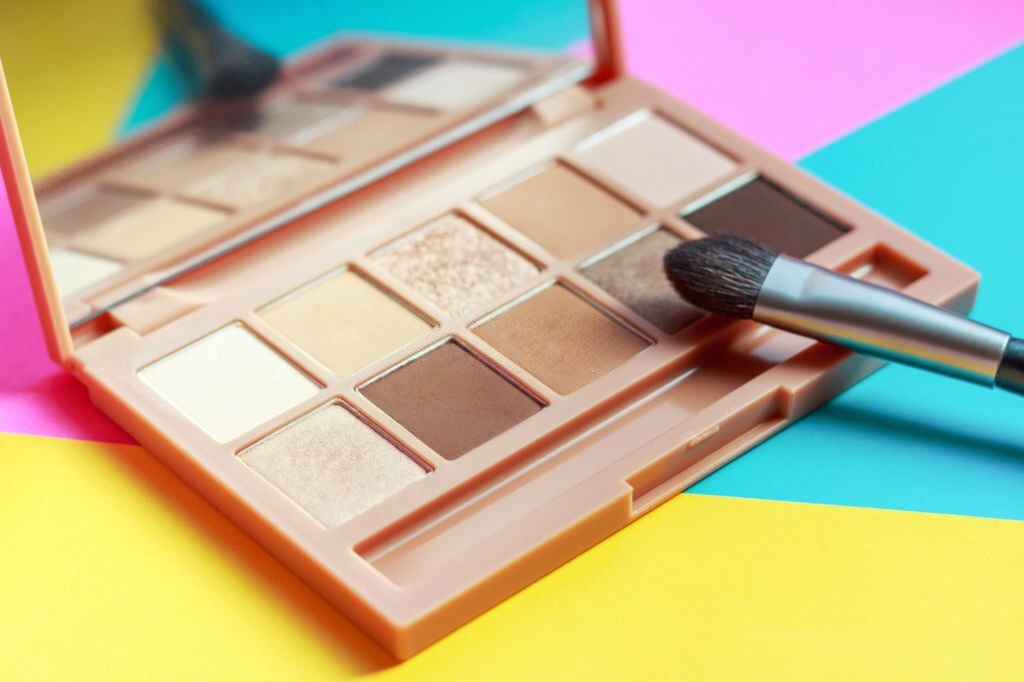 Korean beauty companies know that the specific Korean beauty look can't exactly be achieved with just any eyeshadow palette. The color must be the right shade, the pigmentation at just the right level, and the staying power must be tough.
Are you interested in learning more about Korean eyeshadow palettes? Below we've listed some of the most popular products in the market. Have a read and decide if you want to drive right into some of the best Korean eyeshadow palettes now!
1. ETUDE HOUSE Play Color Eyes 'Caffeine Holic'
This coffee-inspired eye shadow palette is full of nudes, mochas, and shimmery browns. With this versatile range, you can achieve anything from a completely natural, feminine look for the daytime to more dreamy, bold looks for nighttime.
The colors are pigmented enough so that you won't need to continue building it up, and the texture of them has been described as super creamy.
Summary:
Deep pigmentation
Long-lasting
Creamy and silky texture
10 different colors
2. Holika Holika Lazy & Joy Gudetama Cupcake Eye Shadow Palette
If you're a simple gal and just want a simple, practical, and effective eyeshadow palette, the Gudetama eyeshadow palette by Holika Holika is the perfect little addition to your stash!
Not only does it have adorable packaging, but it boasts four nude and chocolate shades that all simply work. They come in matte, glitter, and shimmer, and their versatility is out of this world. Create soft romantic looks, or deepen your make-up for a deep shimmery look – it's up to you.
Summary:
Highly pigmented
Whopping 3 different textures across 4 colors
Long-lasting
Easy to blend
3. CLIO Pro Eye Shadow Palette
The popularity of the CLIO Pro Eye Shadow Palettes is similar to the likes of Too Face Born This Way and Tarte Tartelette palettes. Simply put, they're the cream of the crop, the creme de la creme, the golden standard for eyeshadow palettes.
These eyeshadow palettes come in a satisfying matte texture, each with a different gorgeous glitter eyeshade. They're highly pigmented, offer complementary colors to create various types of looks, and are easy to apply.
Simply Pink and Coral Talk are amongst the more popular palettes with young women.
Summary:
Highly pigmented
Creamy matte texture
Various color palettes to choose from
4. 3CE Mood Recipe Multi Eye Color Palette
This Mood Recipe Color Palette by 3CE is the perfect example of how a Korean neutral color palette comes out much lighter in tone than most western palettes.
This eyeshadow palette is one of 3CE's most popular products for many reasons. It is beautifully pigmented, is made from synthetic Mica pearl which keeps it intact and long-lasting, and comes in nine impressive shades.
Summary:
Natural-looking nude colors
Highly pigmented
Made with synthetic Mica pearl pigments
5. ETUDE HOUSE Play Color Eyes 'Juice Bar'
ETUDE HOUSE Play Color Eyes 'Juice Bar' is definitely part of the best Korean eyeshadow palettes
True to its name, this fun and flirty 'Juice Bar' themed eye color palette is full of shades that are reminiscent of a tropical holiday! From soft peach to bright shimmery orange, there are hues to suit every exciting event you go to.
Like all other ETUDE HOUSE Play Color Eyes palettes, it is deeply pigmented with a soft and creamy texture. This palette is ideal for gradation, eye edges, and enhancing the lash line.
Summary:
Soft and creamy texture
Matte, sheer, and shimmer shades
Easy to apply
6. I'M MEME I'm Multi Cube
This versatile eyeshadow palette doubles as a blush as well, so if you're the type to love compact products, give this one a go!
It comes in a tiny cube packaging but offers so much to the table. All four colors offered, when blended, can create a completely natural barely-there look as well as a lightly-toned professional look – it depends on what you're after.
There are four different palettes to choose from, but they all do just as good a job as each other.
Summary:
Four different palettes to choose from
Can produce both a natural and a professional look
Doubles as an eyeshadow palette and a blush
7. Rom&nd Better Than Eyes in 'Dry Buckwheat Flower'
Forget about fun and flirty, what about cool neutrals for a sophisticated, barely-there look?
The rom&nd Better Than Eyes in Dry Buckwheat Flower is a company palette that offers the most complete quarter of nude colors ever. You're spoilt for choice, with a color range of ivory, creamy light mocha brown, dark brown, and nude glitter to select from.
If you have a cooler skin tone, this is the perfect palette for you. 
Soft and neutral – it's the perfect daily wear eyeshadow.
Summary:
Suitable for cooler skin tones
4 nude brown colors
Matte and shimmer finish
8. KEEP IN TOUCH Ice Jelly Eye Palette
This fun and funky eyeshadow palette from KEEP IN TOUCH is the perfect one to reach for when getting ready for the night out with the girls. The various pink and brown shades offer everything you need for a flirty eyeshadow look, but mix in that pop of red and you'll stand out like a rose amongst thorns.
The unique sheer white glitter can be lightly brushed over your eyeshadow for a bit of glimmer, but hey, why not also brush it over your cheekbones as a highlighter as well?
Summary:
Minimalistic packaging
9 cute and funky shades
Matte, shimmer, and glitter finish
8. Rom&nd Better Than Eyes in 'Dry Mango Tulip'
If you're after the specific ultra-feminine look with pink and peach hues, this Dry Mango Tulip palette by rom&nd is all you need.
The lovely coral shades in this palette will serve to give you the soft, shimmery eyeshadow look of your dreams. It includes two soft peach colors, a light orange glitter, and a warm brown. Build up the look with all four, or simply utilize the lighter shades for a barely-there look.
The soft texture makes it easy to apply over the eyes, and it's fairly long-lasting. It's 100% suitable for those with warm skin tones.
Summary:
Four soft coral shades
Soft texture
Matte and shimmer finish
10. I'M MEME I'm Hidden Card Palette
I'M MEME is one of the best in the game for funky, attention-grabbing packaging – just take a look at this Hidden Card Palette, with its design reminiscent of a stunning playing card!
Looks aside, this eye shadow palette is an absolute gem; it's like we saved the best for last. 
Its pigmented and neutral colors make it not just suitable for applying over your eyes, but it can also be used as a highlighter and contour!
With nine different shades in matte, shimmer, and metallic as well as a blush, this compact palette is pretty much all you need for the ultimate Korean makeup look!
Summary:
Smooth texture
Easily blendable
Includes a mirror
Matte, shimmer, and metallic finish
Now that you've got a comprehensive list of the best Korean eyeshadow palettes to choose from, which one will you pick?
From stunning nudes to flirty peaches, there's a huge variety out there to achieve any look you want in the world. With the help of these palettes, though, with just a flick of your wrist, you'll be working that soft, dewy, innocent, and doe-eyed Korean look in no time.
Which Korean eyeshadow palette mentioned above excites you the most? Let's discuss this in the comments section!
For more make-up products from Korea, make sure you also read our post about the best Korean eyeliners and the best Korean concealers.