The best cleansers are the ones that thoroughly deep clean your face without stripping it of its essential oils. However, in the world of cleansers, foam ones have the worst rep. From drying out the skin to causing irritation, foam cleansers are often quite harsh in comparison to other types of cleansers.
This is not the case with Korean foam cleansers.
Like most, if not all, Korean skincare products, Korean foam cleansers are formulated with only the gentlest, most nourishing ingredients in mind. That's not to say that their performance is mild. In many cases, users have claimed that Korean foam cleansers are indeed one of the best cleansers that they've ever used!
One of the biggest reasons Korean foam cleansers are generally favored is their lack of harsh sulfates, notably SLS, which causes the majority of the irritation in many cleansers.
Instead, the selection of ingredients is careful and moderated, using only those that help cleanse and hydrate whilst simulatenously soothing and calming.
Foam cleansers are known to be the go-to option for people with oily skin, however, Korean foam cleansers are suitable for most skin types. With the inclusion of ingredients such as egg extract, aloe vera, green tea, and even snail mucin, even those with super sensitive skin can find an option suitable for them.
Whether you're looking for a hydrating cleanser, acne-fighting cleanser, hypoallergenic cleanser, or just a cleanser to make sure your face is nice and clean, we've got one listed below for you.
Read on to find out the 12 best Korean foam cleansers we selected for you.
1. Innisfree Green Tea Foam Cleanser
The Innisfree Green Tea Cleansing foaming cleanser is a popular choice for those looking for a mild cleansing foam that uses natural ingredients and feels gentle on the skin.
It is enriched with 16 amino acids and Jeju green tea root extract to pump hydration into the skin. The foam is dense with this one, only requiring a small number of circular motions on the skin to deep clean and remove impurities from the pores.
It will leave your skin feeling fresh, clean, dewy, and moisturized. You will never feel stripped of essential oils or left out to dry with this cleanser.
Summary
Suitable for most skin types
Removes impurities and minimizes pores
Naturally-derived surfactant
Rich in amino acids and antioxidants
2. Etude House Soon Jung 5.5 Foam Cleanser
This super creamy foam cleanser is a fantastic choice for those with dry skin. Whilst it's still very gentle when lathered onto the skin, it works well to remove impurities from the surface level of your skin, leaving you feeling clean and refreshed.
Panthenol is evident in this cleanser, an ingredient that acts as a protective layer on your skin to seal in moisture and keep your skin hydrated for longer.
Summary
Lightweight and non-comedogenic
Free of mineral oil, silicone, paraben, sulfate, and synthetic fragrances
Dermatologically tested
3. Nature Republic Snail Solution Foam Cleanser
If you don't know by now, then you better prepare for just how much snail mucin filtrate is evident in Korean skincare. For the uninitiated, it is exactly what it sounds like.
However, don't be turned away!
Snail mucin is an ingredient that is surprisingly rich in many things, such as copper enzymes, peptides, and hyaluronic acid. It also possesses anti-inflammatory properties and is great for all types of skin.
This particular snail solution foam cleanser is known to calm down any major skin flare-ups, help with cell regeneration, and repair damaged skin. It also boosts moisture and locks hydration into the skin.
Summary
Possesses anti-inflammatory properties
Hydrates and moisturizes
Reduces scarring and pigmentation
4. Klairs Rich Moist Foaming Cleanser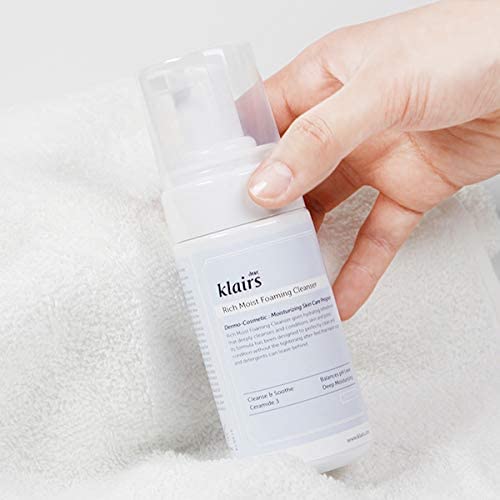 If you've got sensitive skin and want something that feels like a breath of fresh, the gentle, mild formula of the Klairs Rich Moist Foaming Cleanser is exactly what you need.
Say goodbye to oil-stripping cleansers that dry out your skin. This cleanser uses a unique amino acid formula that effectively cleans your face, gently unclogs your pores, and washes away excess sebum whilst keeping your face hydrated.
Ingredients such as houttuynia cordata extract and tea tree oil contain acne-fighting properties that will keep your skin ailments at bay.
Summary
Free of ethanol, steroids, artificial colors, and parabens
Mild, gentle formula
You May Also Like: How Do K-pop Idols Deal With Acne
5. Holika Holika Aloe Facial Cleansing Foam
We all know that aloe vera makes for the perfect ingredient to soothe irritated skin, but did you know that it also makes for a fantastic cleansing ingredient?
The Holika Holika cleansing foam contains extracts from aloe vera leaves that are aged three years or more only. These mature-leaf extracts work to effectively remove impurities on the face, provide superior hydration, and enhance your overall skin tone.
Summary
Contains aloe juice extract and cucumber extracts
Hydrating formula
Non-sticky
Dermatologically tested
Free of aloin and sulfate
6. The Face Shop Rice Water Bright Foam Cleanser
The Face Shop is known globally for its naturally derived ingredients and gentle skincare products. Their Rice Water Bright line, in particular, places heavy emphasis on rice water as an ingredient that tones, tighten and brightens your skin.
This foam cleanser is enriched with said rice water to deep clean your face whilst moisturizing it. Rice water contains an abundance of vitamins A, B, and E, which nourishes dry skin, leaving it soft and supple.
Summary
Free of sulfates, silicone, and paraben
Contains rice water extracts
Contains moringa oil, jojoba seed oil, and soapwort extract
7. ATOMY Foam Cleanser
Atomy is a well-respected Korean brand that believes minimalism is key to great skincare. This evening foam cleanser is typically used as a daily cleanser to help maintain clean and healthy skin by effectively washing off excess sebum from your pores.
It contains trichloro acid, which is a fantastic ingredient to cleanse the skin, and beta-glucan, which assists in nourishing the skin afterward.
This cleanser also boasts rice water extracts to tone, tighten, hydrate, and brighten the skin.
Summary
Suitable for oily skin types
Free of alcohol, allergen, gluten, sulfate, paraben, and silicone
May not be suitable for dry skin types
8. SKINFOOD Egg White Pore Foam Cleanser
Are clogged pores a huge problem for you? Look no further than SKINFOOD's egg white foam cleanser!
Containing fresh fruit and plant extracts as well as a plethora of amino acids and vitamins B3 and B2, this cleanser works hard to cleanse your skin but works harder to treat your pores.
Regular use will ensure that your skin becomes firmer, your pores become minimized, and your overall complexion is smoother and brighter. It works to penetrate deep into the skin to remove all excess sebum, dead skin cells, and impurities.
Summary
Suitable for oily skin types
Deep cleanse to get rid of excess impurities on the skin
Minimizes pores
9. Nooni Snowflake Whipping Cleanser
Nooni is a minimalistic Korean skincare brand with the philosophy that less is more. This gentle whipping foam cleanser is effective in removing impurities, sebum, and makeup from the face without drying it out.
In a unique twist, it's a plant-based cleanser that contains extracts from 7 florals: jasmine, rose, lotus, edelweiss, lily, daffodil, and freesia. These extracts offer a refreshing and rejuvenating feeling and give your skin a fresh complexion.
Summary
Improves skin tone
Free of paraben, silicone, sulfate, and phthalate
Contains extracts from 7 flowers
10. Missha Super Aqua Ultra Hyalrun Foaming Cleanser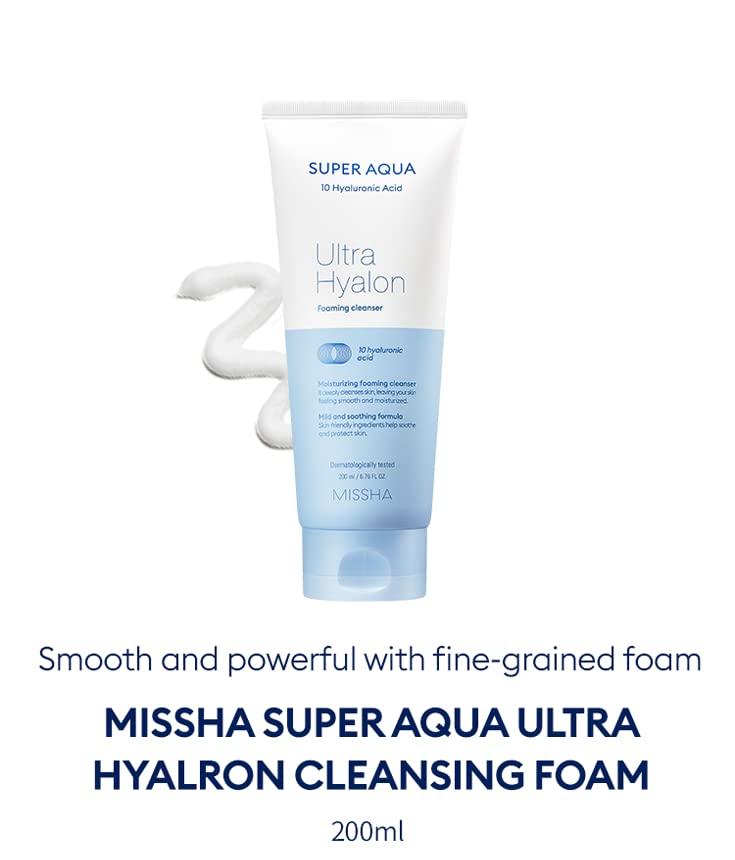 Missha's Super Aqua Ultra Hyalrun foaming cleanser boasts a whopping 10 different kinds of hyaluronic acid compounds and glycerin. This effectively means that it is the ultimate hydrating cleanser if you have dry skin or have found other foaming cleansers to dry out your skin.
This works great if you're looking for a one-step cleanser that will remove all dirt and impurities from your face without stripping the oils from your skin. It also contains lauric acid, an ingredient with anti-microbial properties that can be effective against inflammatory acne.
Summary
Suitable for sensitive, dry skin; also suitable for oily, acne-prone skin
Contains 10 types of hyaluronic acid compounds
Note: contains essential oils
11. MIZON Snail Repairing Foam Cleanser
For those with dry skin, this snail-repairing foam cleanser should become your holy grail. Containing snail mucus extract, it cleanses thoroughly and then forms a protective layer over your skin to ensure no further moisture is lost.
Ingredients such as hyaluronic acid work to enhance skin hydration levels, and papaya is there to brighten up lackluster skin. The Centella Asiatic extracts in this foaming cleanser soothe any skin irritation.
Summary
Improves skin elasticity
Boosts hydration
Fades acne scarring
Dermatologically tested
12. Some By Mi AHA, BHA, PHA 20 Days Miracle Acne Clear Foam
For those with sensitive, acne-prone skin, the Miracle range by Some By Mi boasts this foam cleanser that is heaven-sent. 
Many acne-affected individuals will find that many foam cleansers contain harsh chemicals that exacerbate their skin condition and cause them to break out even further.
This foam cleanser does the opposite. Formulated with AHA, BHA, and PHA, it works to gently but effectively purify pores, exfoliate the skin, and, most importantly, soothe the skin.
Centella Asiatica extract and dipotassium glycyrrhizate are also included as anti-inflammatory ingredients to help calm the skin.
Summary
Contains a naturally-derived surfactant for mild use
Contains AHA, BHA, and PHA
Suitable for acne-prone and sensitive skin
As you can tell, Korean skincare dominates the beauty industry in many more ways than one. From the listed ingredients and formulas mentioned above, you can probably already tell that Korean foam cleansers are leagues above others, and Korean skincare companies truly care about the experience of their users.
From naturally-derived ingredients to fresh extracts, there's nothing like the feeling of Mother Nature enhancing the health of your skin.
We hope you found this list to be useful in your endeavor to delve deeper into Korean skincare.
If you're looking to learn more about Korean skincare, make sure you also read our blog posts about the Korean nighttime skincare routine, the best Korean cleansing oils and 15 secret tips about how Koreans look so young.