Many people starting in skincare will know that cleansing and moisturizing are two very important steps to consider. However, toning is the 'other' important part of the routine that is always mentioned to be the bare minimum and yet it's sometimes confusing as to what it exactly does.
The basis of toning is essentially to rebalance your skin after you've given it a proper cleanse. A good toner will work to purify the skin and minimize the appearance of your skin pores, and overall prep and prime your skin for the rest of the skincare that's about to follow.
Many western toners have a bad rep for drying out the skin and causing irritation, however, Korean toners are made differently. 
Whilst at the end of the day, they're there to make sure your skin is primed to absorb subsequent products, they're also a lot more than that.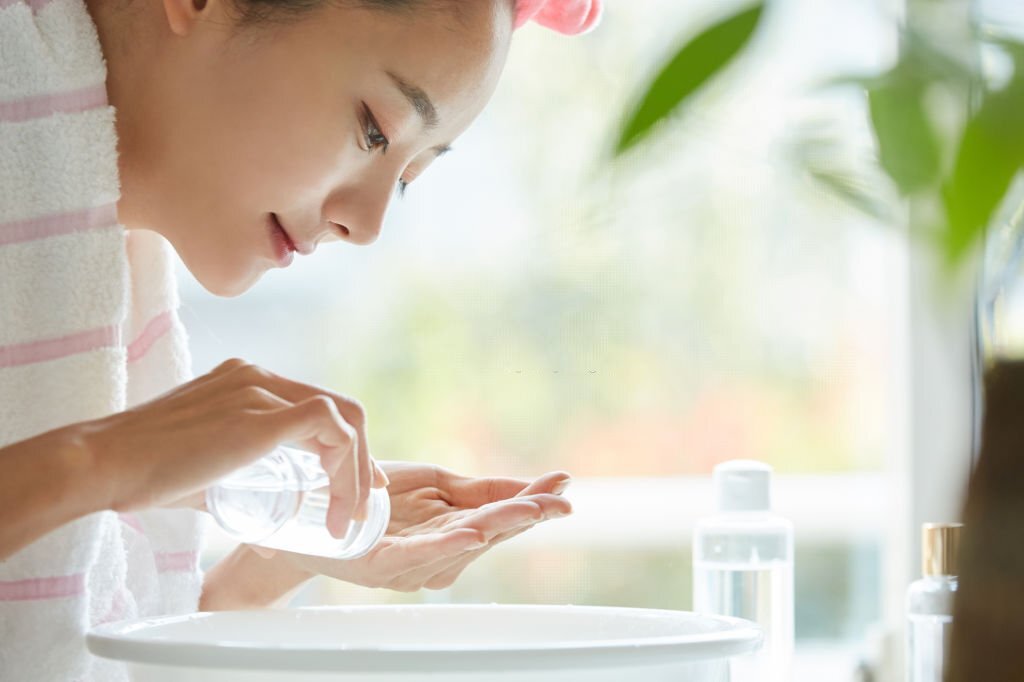 Many Korean toners will be formulated to hydrate and balance your skin's pH level, and thoroughly cleanse it if your cleanser had missed some spots.
Ingredients used in Korean toners also differ vastly, as they include the likes of mineral water, chamomile extracts, grapeseed oil, and other plant-derived ingredients.
If you've been burned before by toner that's been too harsh for your skin, has dried out your skin, or caused irritation, don't be afraid to give Korean toners a shot. They're worth it!
We've listed below the 10 best Korean toners in the market that you should try right now.
1. N.M.F Intensive Hydrating Toner
N.M.F hasn't made a splash worldwide yet, but it is considered one of the best toners in the Korean market right now. It was developed and is backed by a team of top dermatologists and aestheticians – that's when you know this toner means business.
It's packed with hydrating ingredients such as hyaluronic acid, marine minerals, and fatty acids, all of which absorb into your skin to make it look dewy and supple. It targets skin concerns such as dryness, dullness, and uneven skin texture, and seeks to strengthen and brighten your skin.
Summary
Rose water, honey, and tiger grass work together to hydrate the skin
Reduces dullness and lackluster skin tones
Suitable for all skin types
2. Secret Key Aloe Soothing Moist Toner
The Secret Key Aloe Soothing Moist toner is a super lightweight and refreshing toner that immediately hydrates and moisturizes the skin upon contact. It contains a whopping 13 botanical ingredient extracts, including snail mucus filtrate, guava extract, zanthoxylum fruit extract, and pasqueflower extract, to cleanse, soothe, and brighten the skin.
Green tea extract is also included in this toner, providing it with antioxidant and anti-inflammatory properties. It's ideal for sensitive skin due to its lightweight and non-irritating formula.
Summary
Hypoallergenic
Moisturizing and soothing toner
Suitable for sensitive skin
Contains aloe vera water, snail mucus filtrate, guava extract
Contains allantoin to boost soothing effect
3. THANKYOU Farmer Rice Pure Essential Toner
Rice has been a powerhouse ingredient in Korean skincare for many generations, and this Pure Essential Toner by THANKYOU Farmer utilizes rice extract to its optimum potential.
The combination of rice extracts and other essential ingredients in this toner work together to reduce dullness and uneven skin tone, as well as balance the oil production levels after you cleanse your skin.
The lotus flower extract rejuvenates the overall health of your skin, whilst Centella Asiatica extract offers a soothing effect on the skin
Summary
Brightening toner that improves the skin complexion
Contains rice extract and lotus flower extract
Suitable for all skin types
4. AHC Aqualuronic Toner
This lightweight toner is formulated with a unique blend of hyaluronic acid, ceramides, and French seawater. There are three types of hyaluronic acid that combine to offer a refreshing and superior boost of hydration for your skin.
Many enthusiasts of this particular toner love it for its super lightweight, non-greasy gel-like formula that spreads smoothly and evenly.
Summary
Lightweight, refreshing texture
Improves skin texture
Dermatologically-tested
5. COSRX AHA/BHA Clarifying Treatment Toner
For those looking for an active toner, the COSRX AHA/BHA concentrated toner is the perfect one. It's often used as a daily exfoliating toner that gently but effectively eliminates dead skin cells and debris, keeping your pores clear and clean.
It boasts quick absorption into the skin, and you'll immediately feel as though your skin is smoother and the texture is more refined. You'll also notice how surprisingly smaller your pores look after a few uses.
Summary
Controls excess oils on the skin
Exfoliating toner that eliminates dead skin cells
Smooths and softens your skin texture
Note: contains AHA/BHA so may not be suitable for sensitive skin types
6. Klairs Supple Preparation Facial Toner
Klairs is a Korean skincare brand known for its no-fuss, minimalist approach to providing products for people of all skin types. Their supple preparation facial toner is one of the most hydrating toners out there, due to the Phyto-Oligo evident in their formula. This ingredient is extremely hydrating and effectively protects against skin dryness.
This toner also contains amino acids and plant extracts that work to calm and soothe inflamed or irritated skin. It's great on gentle skin, with the ability to balance out your skin's pH level quickly and effectively.
Summary
Free of sulfate, parabens, and any harmful chemicals
pH-balanced formula
Calming and soothing
7. The Face Shop Rice Ceramide Moisturizing Toner
This gentle essential toner contains a traditional Korean beauty recipe for whitening, antioxidant, and anti-aging effects on the skin.
It contains various compounds such as ceramide, rice bran oil, and rice extracts that work together to exfoliate the surface level as well as absorb quickly into your skin.
The result? Softer, smoother, dewy skin with a strong protective layer that retains its moisture level.
It is considered the best Korean toner for dry skin.
Summary
Absorbs quickly
Free of paraben, mineral oils, and artificial color
Contains naturally grown vegetable ceramides
8. Etude House Soon Jung pH5.5 Relief Toner
This gentle relief toner is definitely on the milder side of toners, and thus makes a great one for all skin types, especially those with sensitive or dry skin. Its main feature is that it effectively helps the skin maintain its normal pH balance, so once absorbed, it'll feel immediately refreshed.
It contains glycerine, known to help protect the skin's moisture barrier, relieve stress, and combat skin dryness and irritation. It's also one of the few non-comedogenic toners that's suitable for most skin types.
Summary
Non-comedogenic
Hypoallergenic
Low pH level of 5.5
Dermatologically tested
Free of mineral oil, paraben, and synthetic fragrances
9. Benton Aloe BHA Skin Toner
If you've got oily or acne-prone skin, you may want to check out the Benton Aloe BHA toner. This toner has been formulated with salicylic acid to specifically target clogged pores to cleanse and reduce the occurrence of breakouts.
It contains a substantial amount of aloe vera, an anti-inflammatory ingredient that helps with soothing skin irritation. It also contains snail secretion filtrate to help repair, moisturize, and rejuvenate the skin.
Although the toner is aimed at oily and acne-prone skin types, it is suitable for most skin types. If you're concerned about skin congestion, the salicylic acid evident in this toner can help with that!
Summary
Refreshing and cooling facial toner
Contains 80% aloe
Suitable for sensitive, acne-prone skin; great for moisturizing dry, dull skin
Regulates excess sebum excretion
Soothes and moisturizes
Read More: How K-pop Idols Deal With Acne
10. Pyunkang Yul Facial Essence Toner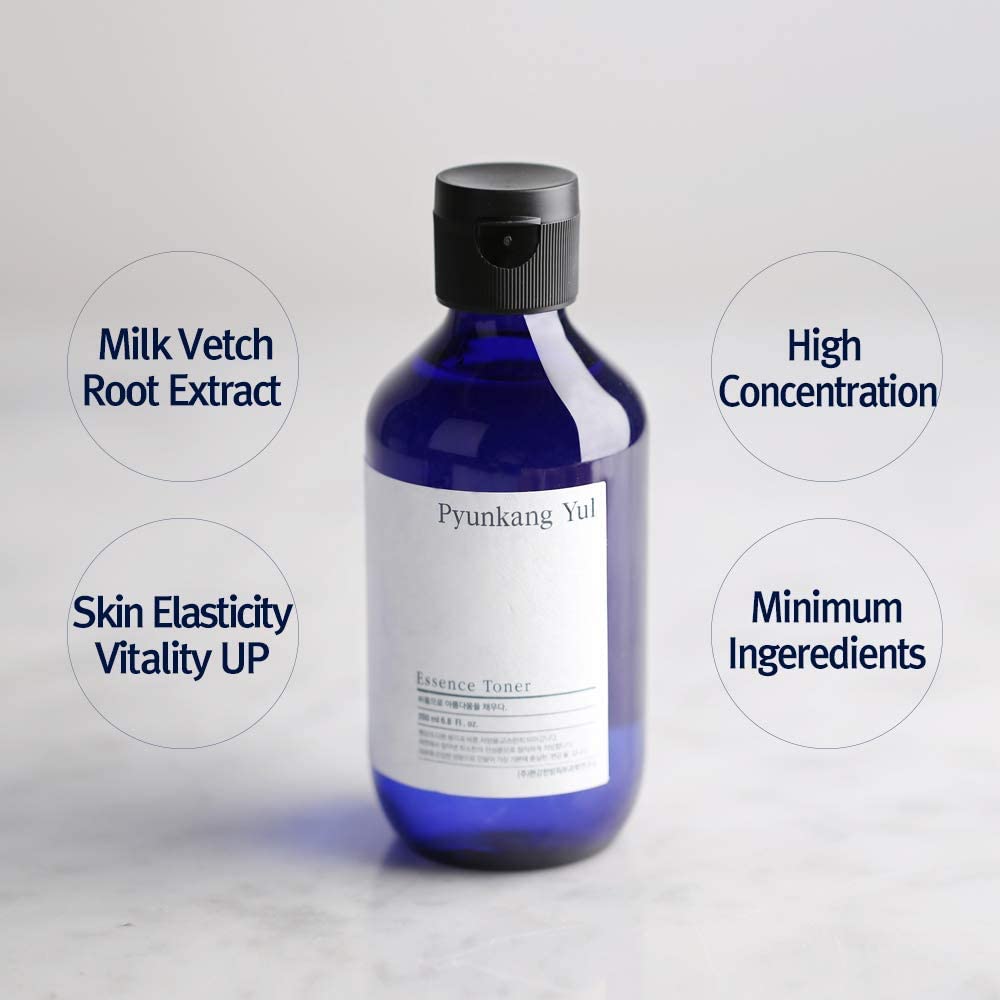 Pyunkang Yul is a well-respected brand in Korea that excels in producing skincare products that contain no harmful ingredients whilst providing remarkable effects.
The Pyunkang Yul essence toner is a beautifully lightweight toner that soothes and moisturizes the skin from the get-go. Once applied, it will get work immediately to balance the skin's pH levels, hydrate the skin, target acne-scarring, and absorb quickly to leave the skin feeling toned, soft, and smooth.
You May Also Like: Best Korean Essence
It is formulated with 91.3% milk vecht root extract, is rich in minerals, and contains an abundance of antioxidants. It is applauded for its ability to improve skin elasticity and repair damaged skin.
Summary
It has an essence-like texture, which is slightly thicker than most watery-type toners
Suitable for oily, combination, or acne-prone skin
Free of fragrance, color, alcohol, paraben
Hypoallergenic
If you're looking for a reason to use toner, simply look at the above. There are so many benefits to introducing toner into your skin routine that it'd be crazy not to. From giving your skin the extra boost of cleansing to hydrating and restoring your skin's pH level, a decent toner will do wonders for your skin.
One of the most important things to consider when selecting a toner is your skin type. Many people will find that using the incorrect toner for their skin will result in dry, irritated skin.
We hope we've covered a decent selection of Korean toners above for you. As you can see, naturally-derived ingredients dominate the make-up of these products, which is one of the best things about Korean skincare products.
If you're keen to read more about Korean skincare, have a look at our selection of articles detailing the various reasons why you should invest in a proper Korean skincare routine: