Nestled in the heart of South Korea, Jeonju is a city that effortlessly combines tradition and modernity. With its charming and well-preserved hanok village, delicious local cuisine, and fascinating museums, Jeonju is a must-visit destination for anyone looking to experience the rich cultural heritage of South Korea.
From strolling along the historic streets to trying on a traditional hanbok, there is something for everyone in this vibrant city. Whether you're a history buff, a foodie, or simply seeking a unique travel experience, Jeonju is sure to leave a lasting impression on you.
Is Jeonju worth visiting?
Yes, absolutely! Jeonju is known for many things, but it's especially famous in Korea for being the nation's "Food Capital." That means the local cuisine alone is enough reason to visit.
From savory bibimbap to tasty chicken skewers, a "food crawl" through Jeonju is surely worth the trip! In fact, Jeonju was even named a "UNESCO City of Gastronomy" back in 2012.
But aside from the local dishes, Jeonju has so much to offer. It's a city full of culture and history. From attending local festivals to visiting historical sites, going to Jeonju will not just be fun–it will be educational, too!
If that sounds right up your alley, then look no further. We've compiled a list of just 20 of the activities you can do when you visit Jeonju.
The 20 best things to do in Jeonju
Jeonju has everything you need–from beautiful sights to cultural landscapes! Here we've compiled the 20 best things to in Jeonju that you should not miss during your trip!
1. Explore Jeonju Hanok Village
Of course, Jeonju is well known for its eye-catching traditional hanok village. This hanok village has been around for hundreds of years. It gives us a glimpse into ancient Korean life and culture.
One way to explore Jeonju Hanok Village is by availing a guided tour. Local tour guides would surely be able to tell you about the history of the place–as well as give you local know-how on the best spots to eat or take photos in.
On the other hand, you could also opt to roam free on your own. You can visit local markets and even participate in activities and workshops like cooking classes or traditional tea ceremonies!
The Jeonju Hanok Village is a huge complex that also houses a lot of museums, palaces, and temples. You surely won't run out of places to explore!
Read More: Best Hanok Villages In Korea
2. Check out the Gyeonggijeon Shrine
The Gyeonggijeon Shrine is one of the most popular tourist destinations in Jeonju. Surrounded by lovely landscapes and important historical buildings, Gyeonggijeon Shrine can educate as well as enchant you.
Built in honor of King Taejo, founder of the Joseon Dynasty, Gyeonggijeon Shrine has many important historical artifacts. One of these is a royal portrait of King Taejo himself!
The surrounding areas of the shrine also have many traditional Korean restaurants, shops, and even museums. Visiting the Gyeonggijeon Shrine is a great way to learn about local and national history.
We recommend taking a guided tour so you can really learn and appreciate all the aspects of the Gyeonggijeon Shrine.
3. Visit the Royal Portrait Museum
Right next to Gyeonggijeon Shrine is the Royal Portrait Museum! This is another important historical landscape in Jeonju.
Travel back in time as you go through the portraits of past Korean royals–from kings and queens, to close advisors and members of the royal court.
Entry costs only 3000 won ($2.50 USD)! This fee covers entry to both the Gyeonggijeon Shrine and the Royal Portrait Museum.
4. Tour the Jeonju Hyanggyo Local Confucian School

Have you ever wondered what it was like to be a student thousands of years ago?
Well in Jeonju, you can experience just that! The Hyanggyo Local Confucian School is one of the oldest Confucian schools in South Korea, dating all the way back to the Joseon dynasty.
Take your time in exploring the centuries-old school grounds and picture what it must have been like to study there back then. The ancient buildings and historical artifacts and documents will definitely provide an immersive experience.
We advise you to check out the school's schedule before visiting. If you time your visit right, then you can even take part in traditional rituals and ceremonies!
5. Explore the Jeondong Catholic Cathedral
From Confucian temples to Catholic churches, Jeonju has it all. The Jeondong Catholic Cathedral was built in 1883 and remains a functioning church to this day.
Aside from being a place of worship, it's also a popular tourist attraction due to its impressive façade and striking bell tower. The inside is even more beautiful, with stained glass windows and beautiful murals.
Whether you're religious or not, visiting the Jeondong Catholic Cathedral will definitely be a relaxing and enlightening experience!
6. Discover Cultural Museums
Of course, we can't miss out on museums when visiting Jeonju! Museums can be found all over the city, with most of them offering free admission and unique activities you can take part in.
Take a trip to the Traditional Wine Museum to try unique liquors while learning all about the history of traditional wine-making.
There's also the Jeonju Crafts Exhibition Hall which offers a wide selection of traditional Korean crafts. Marvel at the display of traditional craftsmanship and creativity, all while learning about Korean history and culture.
Museums are a great way to make your trip more insightful. Aside from taking pretty pictures and making memories, maybe you'll even learn a thing or two!
7. Wander Through Jaman Mural Village
The Jaman Mural Village is another tourist spot you just can't miss out on. It's the perfect blend of past and present, and of traditional and modern.
While Jaman Mural Village has traditional hanok houses, these houses are also painted with amazing and vibrant murals! Famous characters from Studio Ghibli movies, anime, and even Western movies adorn the walls and make Jaman Mural Village the perfect photo spot.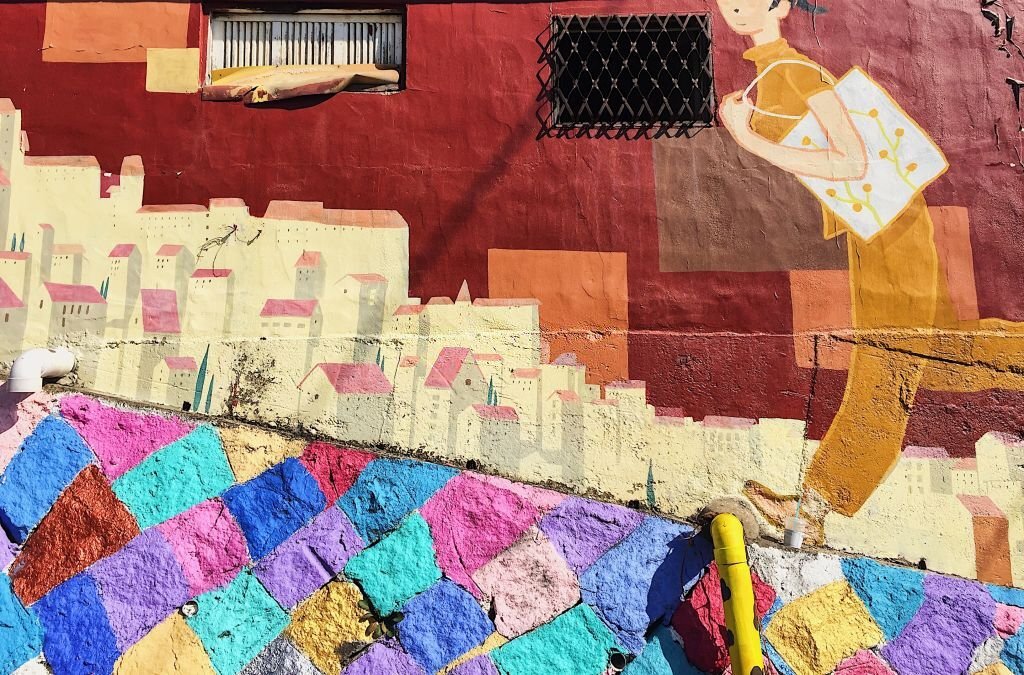 Made by a group of talented local artists, the bright paintings will surely lift your mood while you stroll through the cobblestone streets!
8. Feast on Local Food
Of all the things Jeonju is famous for, food has to take the number one. Jeonju is most well known as the birthplace of bibimbap! The main ingredients include rice, vegetables, beef, spicy gochujang paste, sesame oil, and a fried egg all mixed into one mouth-watering bowl!
Read More: What Gochujang Tastes Like?
To eat Bibimbap in Jeonju, we highly recommend you Hanguk-jip restaurant that is located here.
Jeonju also has a unique take on the well-known Korean snack gimbap. In Jeonju, gimbap (or rice seaweed rolls) uses aged kimchi and carrots, as well as other ingredients, to create savory and layered flavors.
Aside from traditional Korean dishes, Jeonju also has fusion dishes! Their famous waffles are quite popular: savory waffles with bibimbap ingredients inside! For those with a sweet tooth, Jeonju also has delectable churros served with a chocolate dipping sauce.
Visiting Jeonju won't just be good for your heart and mind–but for your stomach, too!
9. Drink Traditional Makgeolli
In Jeonju, you can also sample a traditional Korean drink called makgeolli! It's a rice wine that's been around for thousands upon thousands of years. There are three types of makgeolli: clear, dark, and chestnut.
You can enjoy trying out each variety right here in Jeonju. If you want to try this drink, make sure to visit Samchundong and Seosindong in Jeonju because these are the famous "makgeolli alleys." Here you have a wide variety of shops to choose from!
We recommend ordering a makgeolli kettle which already comes with a lot of appetizers and dishes to accompany your drink. While makgeolli is an alcoholic beverage, it's also quite nutritious! Makgeolli has a lot of probiotics and fibers to aid your digestion.
You May Also Like: Popular Alcoholic Drinks In Korea
10. Sip Tea in a Traditional Teahouse
Aside from makgeolli, Jeonju has a lot of other beverages for you to try. The city has a lot of popular teahouses where you can sample traditional tea paired with delicious desserts.
These teahouses are usually located in and around hanok villages to give you the full authentic experience. Aside from a tasty snack, tea is also important culturally as it's usually accompanied with a tea ceremony.
Gyodong Tea Garden is just one of the locals' and tourists' favorites when it comes to an authentic tea drinking experience.
11. Rent a Hanbok
To really get the full Korean experience, you have to rent a hanbok! A hanbok is basically a Korean traditional dress. It has long billowy skirts and jackets in vibrant colors, all finished with detailed embroidery. Styles also vary between men and women.
In Jeonju, there are several stores that rent out hanbok–in every style, size, and color! Prices range from 10,000 to 50,000 won (~$8 to ~$40). Aside from the hanbok itself, tourists can also rent hats, shoes, and even jewelry to complete their looks.
You can visit this website to look at the various hanbok rental packages offered in Jeonju. Some even come with hair and makeup services so you can really feel like you've been transported back to the Joseon era!
Renting a hanbok will definitely take your pictures to the next level!
12. PNB Bakery Shop
PNB Bakery (location here) is a hidden gem in Jeonju's bustling food scene, offering some of the city's most delectable baked goods. With a charming and cozy atmosphere, this bakery is the perfect spot to grab a quick breakfast or afternoon snack.
From artisanal bread to savory pastries, PNB Bakery offers a wide variety of baked treats that are freshly made with high-quality ingredients. Their signature item is the "Jeonju Ssal-ppang," a soft and fluffy steamed bread made with local rice flour.
Whether you're a bread lover or just looking for a tasty bite to eat, PNB Bakery is a must-visit spot that won't disappoint.
13. Shop 'Til You Drop At Nambu Market
Another popular shopping spot is the Nambu Market, where you can find just about anything you're looking for. From fresh seafood to comfy pajamas and fun souvenirs, Nambu Market surely has something for everyone.
We especially recommend visiting at night on Fridays and Saturdays. That's when the market truly comes alive; more stalls are set up and both tourists and locals alike visit the bustling market.
14. Do Some Retail Therapy on Taijo-ro, Hyangoyogil, and Jeonju Cheonseo-ro Streets
Jeonju has so many shopping districts to choose from!
If you want the full tourist experience, then visiting Taiji-ro Street is a must. Here you can rent a hanbok, munch on delicious street food, and get your souvenir shopping done all in one. We also recommend visiting at night so you can see the beautiful lanterns and street signs all lit up!
But if you want something a little more quiet and intimate, then head on over to the Hyangyogil and Chenseo-ro Streets. They're located near the Jeonjuchun River and are more catered to locals than tourists.
Here you can dine in cute cafes and buy local handmade goods–all while admiring the riverside view and the surrounding hanok houses!
15. Cross the Pungnammun Gate
The Pungnammun Gate is undoubtedly one of the most iconic symbols of Jeonju. The incredible gate is a symbol of resilience and survival despite being damaged during fires and wars in the past.
Built in 1734, the Punganammun Gate still stands as a remarkable historical site. We recommend visiting at night to see the Punganammun Gate lit up in all its glory.
16. Hike to Omokdae and Imokdae
Looking for something more adventurous? Don't worry, Jeonju also has something for you!
To get the best scenic sights, you must hike up a hill to Jeonju Omokdae and Imokdae. These two places boast the best views of the city, and so have become quite popular tourist spots as well.
When you reach the summit, you are greeted with a spectacular view of the Jeonju Hanok Village below. This bird's eye view will definitely make you appreciate Joseon-era architecture and design even more.
17. Unwind in Deokjin Park
After a long day of walking and sightseeing, what better way to unwind than taking a leisurely stroll through a scenic park?
Located right in the center of Jeonju, Deokjin Park is a beautiful little oasis with alluring floating lotuses and of course, traditional Korean architecture. You can opt to try out activities like boating, cafe-hopping, or even visiting a zoo!
The peaceful atmosphere of Deokjin Park will definitely rejuvenate you. We especially recommend visiting during spring to catch a glimpse of the vibrant cherry blossoms that bloom during that time.
18. Relax in Hanbyeokdang Pavillion
If you're looking for a good place to relax, then Hanbyeokdang Pavillion is the perfect place for you. Sitting just at the edge of Jeonju is this gorgeous pavilion overlooking a tranquil lake and lush forested hills.
This quaint little place is the perfect place to rest and regroup. The traditional architecture and overwhelming natural beauty will make you feel like you've been transported back to Korea hundreds of years ago.
The picturesque sights and calming atmosphere make the Hanbyeokdang Pavilion a place you just have to visit!
19. Roam Along Jeonju River
Finally, a trip to Jeonju would be incomplete without visiting its beautiful river. Jeonjuchun River is the perfect place for sightseeing or even getting a little exercise. Right next to the river is a wide trail you can cross on foot or on bicycle.
One of the most photogenic spot is probably Namcheon bridge that you can see in the picture above.
To make a truly magical experience, we recommend visiting during sunrise or sunset to really see the Jeonjuchun River in all its glory.
20. Embrace Your Inner Fanboy/Fangirl
Calling all ARMYs! Do you want a trip especially catered for BTS fans?
Then look no further, because Jeonju offers a one-of-a-kind "BTS Tour"! Go visit the same sites they did–from the Dreamland amusement park, Wibongsansung Wall, historical landmarks, and more!
Recreate their iconic photoshoots and stand where they once stood all over Jeonju.
To maximize your "BTS Trip" make sure to drop by the Awon Traditional House located just 40 minutes outside of Jeonju. This is where BTS stayed for more than five nights! By entering the hotel, you're also gifted a free drink and access to the art gallery full of shots from the BTS photobook.
You can even choose to stay at the same hotel room as BTS! ARMYs all over the world won't want to miss this once-in-a-lifetime opportunity to stay where their idols once stayed.
Where to stay in Jeonju?
One of the highlights of any trip is having a special and relaxing place to stay after a long day of sightseeing. In Jeonju, you can take your pick between traditional hanoks or hotels!
Both have their own perks. In a hanok, you can have an authentic Korean experience by living in a traditional house. The beautiful hanok guesthouses of Jeonju have curved tiled roofs, central courtyards, and centuries-old structures that are still magnificent to this day.
In a hanok you can unwind, connect with mother nature, and learn about traditional Korean culture all in one.
Check out in this article where we selected for you the best Hanok stays in Jeonju!
How to get to Jeonju?
Another reason why Jeonju makes such a good tourist spot is how easily accessible it is if you're in Seoul!
Just take the KTX (Korean Train Express) from Seoul which goes straight to Jeonju. The trip takes about one and a half hours and costs around 30$.
Another option would be to take the express bus route down to Jeonju. This option is a little slower but more affordable. You can buy tickets directly at the bus stations in Seoul.
—
From amazing cultural sights to mouthwatering food, Jeonju has it all! What part of Jeonju are you most excited to visit? Don't forget to tell us in the comment section!
If you liked this article, go check out our other travel posts like the best things to do in Yeosu and 15 hidden gems in Busan.