Busan is South Korea's second biggest metropolis. It's a port city known for its pristine beaches, grand mountains and temples.
We're sure you've heard of great destinations like Busan Tower and Haeundae Beach. But Busan has many hidden treasures usually unknown to visitors.
We've compiled some of Busan's best-kept secrets for you to discover. Keep reading to know more about them!
15 Hidden Gems in Busan You Have to Know About
Discover below our selection of the best things to do in Busan off the beaten track!
Jeoryeong Coastal Trail
Huinnyeoul Culture Village
Jangsan Mountain
Amnam Park
Dadaepo Beach
Cheongsapo Daritdol Observatory
Seokbulsa Temple
Ahopsan Forest
Munhwa Gonggam Sujeong
Jeonpo Café Street
Yong-so Wellbeing Park
Jukseong Church
Dongnaeeupseong Fortress
Suyeong Historical Park
Mandeok Pass Trail
1. Jeoryeong Coastal Trail
At this trail, you can experience the full beauty of Busan's coastline. Mural paintings line the walls of the trail. The light blue tiled paths blend with the surrounding horizon.
There are also different destinations to see while you walk. Right at the end of the trail is the Huinnyeoul Observatory. There's also a direct path to the nearby cultural village.
One of the main attractions is the coastal tunnel, with different photo zones inside the cave. You'll see different restaurants, rocky beaches, and even a long suspension bridge. There's definitely a lot to get hooked on as you go on this trail.
2. Huinnyeoul Culture Village
If you're looking to enjoy Busan's culture, this village is a must-visit. It may be lesser known compared to Gamcheon Cultural Village, but it's not any less charming!
Once abandoned after the war, this village transformed to become a lively, cultural center. Different artists came together to paint the town (literally!) with unique and eye-catching murals. Here, charming houses and restaurants stand along the cliff, facing the Jeoryeong coast.
3. Jangsan Mountain
For those who are looking to get in touch with their adventurous side, a visit to Jangsan Mountain is what you need! This natural wonder offers a range of hiking trails that stand over Busan's landscape.
You don't even have to reach the mountain peak to appreciate the scenery. On the way to the top, you can find a sparkling waterfall, and a wide field of silver grass. Make sure to wear comfortable shoes and have a water bottle ready for a relaxing hike.
4. Amnam Park
In this park, the dazzling ocean and dense forest unite to create the perfect landscape. There's an observatory, and even a suspended bridge! Here, you'll see the crashing waves and unique rock formations by the Amnam coastline.
At the observatory, you can see Dudo Island, an uninhabited natural sanctuary. At the end of the park is the coastal trail to Songdo beach, where you can take a quick dip in the clear waters. The views in Annam park can definitely "heal" as you enjoy a brief and calm journey along the coast.
5. Dadaepo Beach
Visiting Busan means going to see its beaches at least once. At Dadaepo beach, you can enjoy a peaceful beach day without worrying about the crowds. This hidden beach features clear, shallow waters uniting with white sands.
You can also enjoy water activities and even a musical fountain show at a nearby plaza. There's also a big park with wooden bridges that are perfect for taking pictures. The beach is usually empty on weekdays, so it'd be best to schedule your trip.
6. Cheongsapo Daritdol Observatory
This marine skywalk is the newest addition to Busan's over-the-sea walkways. Cheongsapo means "blue snake". The observatory does look like it's slithering over the coast like a big snake.
The observatory is about 72 meters long and stands 20 meters above sea level. Below your feet, you'll see the waves crashing against the rocky beach. Above, you'll catch a magnificent view of the East Sea.
7. Seokbulsa Temple
Found in a ridge between two mountains, this temple is one of the most interesting temples in Busan. Stone buddhas tower over the temple spaces. Rock walls surround the temple, a sign of the harmony between the temple and the mountain.
The temple is reachable by cable car, although you would still need to walk on foot. For those looking to appreciate Korean beliefs, this sacred temple is a must-visit.
You May Also Like: Best Things To Do In Jeju City
8. Ahopsan Forest
Would you believe us if we told you that Ahopsan Forest is more than 400 years old? This natural treasure has a splendid bamboo habitat, and cypress, pine, and other trees. Different animals like elks, pheasants, and wild rabbits also call the forest home.
Reconnect with nature as you stroll along the different paths within the forest. The gentle rustling of leaves and the singing of birds will keep you company on the forest trail. Again, make sure to wear comfortable shoes and clothing as you'll need to do a lot of walking.
Want to discover other awesome places in Korea? Check out our article on 15 Hidden Gems in South Korea you should not miss out.
9. Munhwa Gonggam Sujeong
Built in 1943, this well-preserved Japanese-style housing is know a respectable tea house. It is known as a modern antique and was even proclaimed as a cultural property in 2007.
The wooden houses in the compound still have their tatami rooms and wooden sliding doors. Those looking for a more historical trip should definitely add this gem to their list!
10. Jeonpo Café Street
In the heart of bustling Busan, you'll find a neighborhood filled with aesthetic cafes. Although it's overshadowed by the busy Seomyeon area, Jeonpo has its own unique charm.
Apart from good coffee and memorable meals, the street also has plenty of attractions. There's a coffee museum you can visit for free. You can also find an art market here for some unique crafts and artworks.
You May Also Like: 15 Hidden Gems in Seoul
11. Yong-so Wellbeing Park
Known as the La La Land of Busan, this obscure, urban forest park is a favorite among the locals. The best time to visit is during the early summer, when the breeze is still cold and the days are bright and sunny.
You can choose to have a picnic by the lake or walk along the relaxing paths by the trees. The scenery here is like something out of a colorful painting. You wouldn't even notice that you're in the city with how peaceful it is!
12. Jukseong Church
You'll find this medieval church along the Gijang coastline. Built as a filming site for the SBS drama Dream in 2009, the church stands in charming contrast with the horizon.
It's a perfect spot to take pictures, with the vast blue scenery enveloping every visitor. There are also romantic cafés and local fish markets nearby, making the church a good stop along the way.
You May Also Like: Geoje Travel Guide
13. Dongnaeeupseong Fortress
The stone walls and remnants of a fortress in Dongnae are hard to miss. Along the stone-bricked trail, you'll get to see a panoramic view of the town and a distant sea bridge. You can also spot historical buildings such as an ancient gate and command posts.
14. Suyeong Historical Park
Once a naval headquarters, Suyeong is now a space for people to relax and enjoy nature. Canopy trees provide shade for visitors as they go on a peaceful stroll in the park.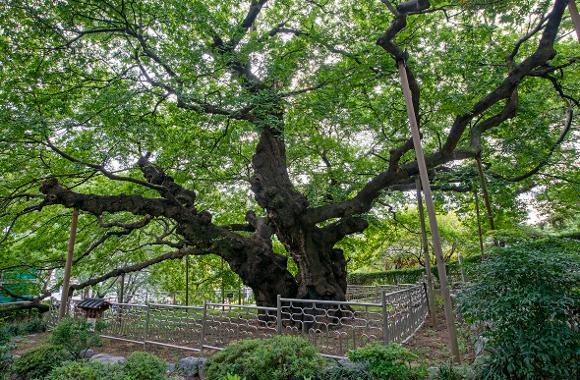 Ancient buildings continue to stand the test of time, leaving visitors in awe. The park also has an outdoor theater where you can witness cultural performances.
15. Mandeok Pass Trail
Mandeok Pass is an old road found in Geumjeongsan Mountain. New tunnel roads and a subway line passing through the mountain replaced this pass. But, it hides some great sceneries and unique experiences.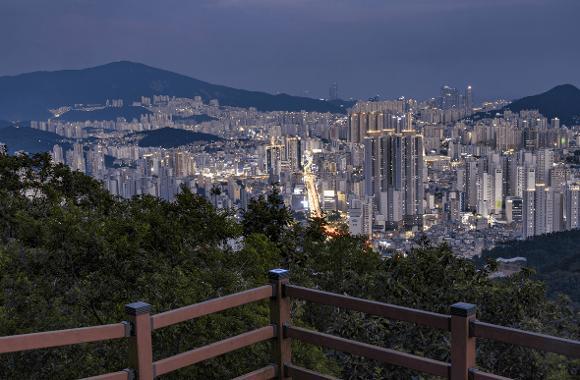 Following the trail along the pass, you'll encounter a café hidden in the forest and even an obscure temple. At the end, you'll find yourself gazing over Busan's wide cityscape at the edge of the mountain. It's best to visit the trail early in the day as it can get really dark at night.
Where To Stay In Busan?
Ramada Encore by Wyndham Busan
This hotel is situated in the bustling Seo-gu district, just a short walk away from the popular Busan Citizens' Park and Seomyeon Station, making it an excellent base for exploring the city's top attractions.
With its modern amenities and stylish design, Ramada Encore by Wyndham Busan provides an unforgettable experience for guests looking to indulge in a little bit of luxury.
The hotel features a range of spacious and elegantly furnished rooms, all of which come with high-speed Wi-Fi, flat-screen TVs, and luxurious bedding. The hotel's facilities include a fitness centre, a sauna, and a business centre, making it a great choice for both leisure and business travellers.
Additionally, the hotel's on-site restaurant serves up a delicious breakfast buffet, as well as a range of local and international cuisine throughout the day. With its unbeatable location, luxurious amenities, and top-notch service, Ramada Encore by Wyndham Busan is a fantastic choice for anyone looking for a truly memorable stay in Busan.
Book Now: Ramada Encore by Wyndham Busan
Dynamic Guesthouse Busan
Dynamic Guesthouse Busan is an excellent option for travelers seeking a comfortable and convenient stay in the heart of Busan. The guesthouse boasts a prime location in the Seomyeon area, which is famous for its shopping, dining, and nightlife scene. This place offers affordable and comfortable rooms for solo travellers but also for couples and families.
One of the thing that you will probably like here is the shared living room that offers a beautiful view on the city of Busan.
Book Now: Dynamic Guesthouse Busan
—
We hope you enjoy this list of best hidden gems in Busan! Most of these destinations are only known to locals. So, it's super likely that you won't have to compete with crowds to appreciate them.
Do you know more hidden travel spots in Busan? We'd be happy to know about them in the comments!
After visiting Busan, why not exploring the historical city of Gyeongju. Check out our selection of the best things to do in Gyeongju here