The glitz and glamour of skincare is often attributed to luxurious top-quality moisturizers that promise us the world and deliver it to us via dewy, supple, hydrated, youthful skin.
It's not often that the layers beneath get as much spotlight, and this is a travesty!
Just as moisturizers are essential for locking in all the skincare goodness at the end, serums are just as important for targeting those pesky skin issues we all love to hate.
Korean serums in particular are formulated using simple yet effective methods and ingredients that guarantee powerful results. They're also on the more affordable side (compared to similar western serum products), and are becoming more readily available by the day.
Korean brands also often use fresh-faced girl-next-door Korean celebrity beauties that we all know and love – which completely adds to its appeal!
In this article, we're going to highlight the best Korean serums that can contribute to the overall health of our skin.
1. Dear, Klairs Freshly Juiced Vitamin C Drop Serum
Firstly, you'll be pulled in by the gorgeous shimmering white glass bottle this vitamin C serum comes in. Secondly, and lastly, you'll be hooked by how effective and affordable this popular serum is. It's a serum that targets almost all common skin concerns, so it's almost an all-in-one!
The 5% vitamin C content means that it's gentle enough for sensitive skin but make no mistake: this is one powerful serum. It delivers on its promise to brighten lackluster skin and also works hard to fade stubborn brown spots and scars, fine lines, and enlarged pores.
Summary
No harmful ingredients, paraben free
Targets stubborn scars and marks and brightens skin
Super mild, suitable for sensitive skin
2. Benton Snail Bee Ultimate Serum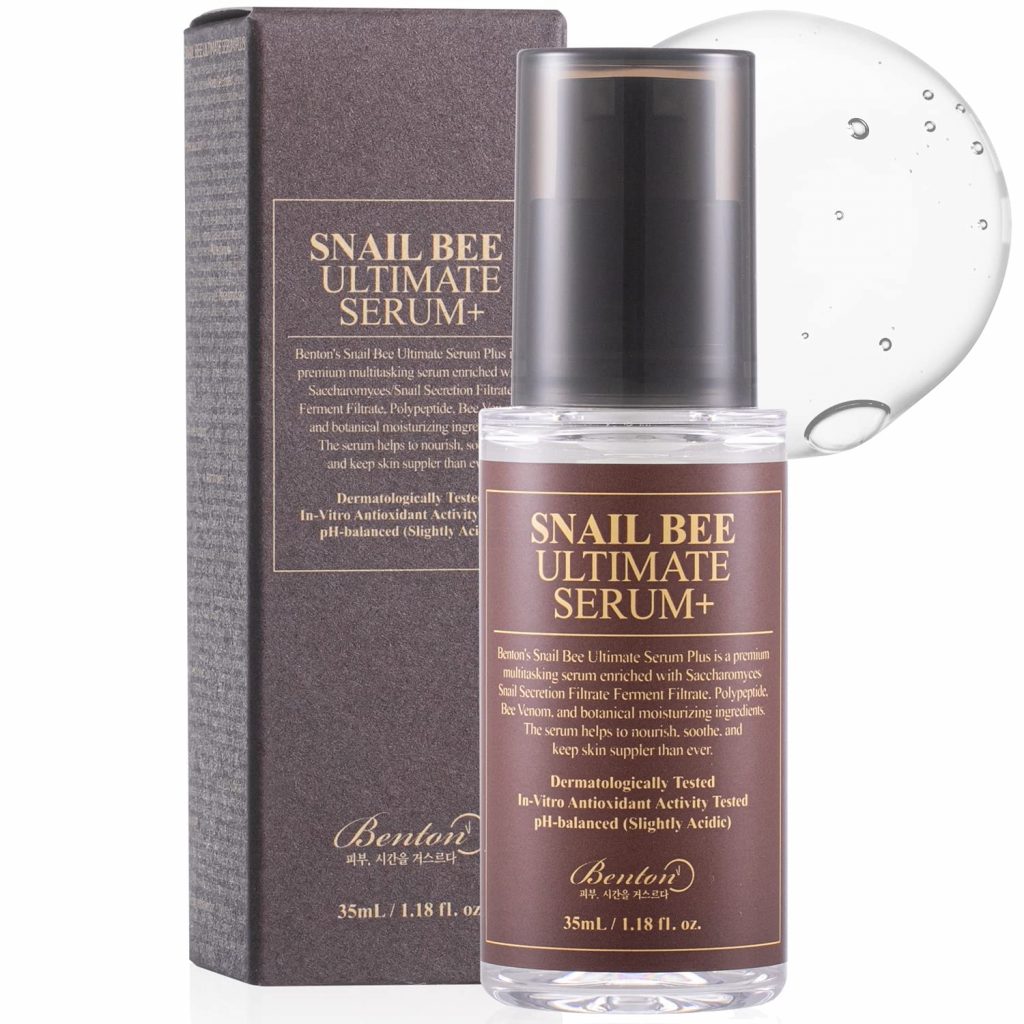 Snail mucin is a powerful ingredient that's often used in the top Korean skincare products. It's full of benefits for the skin and is considered one of the most potent skin ingredients.
The popular Benton Snail Bee Serum contains two powerhouse ingredients, snail mucin, and bee venom.
Snail mucin is known to be highly effective in minimizing the effects of acne, repairing acne scars, targeting hyperpigmentation, slowing down aging, and smoothing skin texture. Bee venom is a great ingredient for soothing irritated skin and treating breakouts.
This serum essentially regenerates the skin and leaves you with brighter, whiter skin.
Summary
Contains tea tree leaf water to calm stressed, problematic skin
Contains aloe vera to soothe the skin
Contains niacinamide and adenosine to target wrinkles and improve skin elasticity
Fragrance-free
Suitable for sensitive skin
3. SOME BY MI AHA BHA PHA 30Days Miracle Serum
This special toning serum is a cult favorite for those with sensitive, acne-prone skin. Its active ingredients are formulated to ensure problematic skin is the main target. It works to mainly exfoliate dead skin cells and give you cleaner, brighter-looking skin.
This serum contains 14.5% Centella which targets enlarged pores, moisturizes the skin, and gives it an overall radiant look. It also contains tea tree water extract, adenosine, and niacinamide – three super ingredients for overall healthy skin.
Summary
Formulated with three chemical exfoliants
Low pH (same level as your natural skin)
Anti-wrinkling
Toning serum exfoliates your dead skin cells
Suitable for sensitive, acne-prone skin
You May Also Like: How K-pop Idols Deal With Acne – 9 Secret Tips
4. Dear, Klairs Rich Moist Soothing Serum
If lack of hydration and moisture is a problem for you, this dear, Klairs serum is right up your alley.
This moisturizing serum contains a powerful mix of natural extracts such as carrot root, celery, and broccoli. It also contains sodium hyaluronate which helps restore moisture into dry skin and provides a protective barrier.
Despite this, the formula is quite mild and its super lightweight. It's suitable for all skin types, even those with sensitive skin.
Summary
No essential oils, suitable for all skin types including sensitive skin
Soothes, hydrates, and brightens dry skin
Sodium hyaluronate penetrates the skin to inject moisture
5. MIZON AHA 8% Peeling Serum
The MIZON AHA 8% Peeling Serum is a fantastic choice for those who are looking for a serum that specifically targets hyperpigmentation, dark spots, and blemishes on the face.
The product contains 8% glycolic acid, the main powerful ingredient of the serum. It works to gently exfoliate the skin, thus improving its texture and promoting overall skin regeneration.
It also contains papaya and aloe extracts. These two gentle ingredients are known to soothe and hydrate your skin.
This serum is what is considered a chemical exfoliant. If it's your first time introducing chemical exfoliants into your routine, this is a gentle and mild choice to begin with.
Summary
Dermalogically tested
Hypoallergenic
Targets hyperpigmentation, dark spots, blemishes
6. Sulwhasoo First Care Activating Serum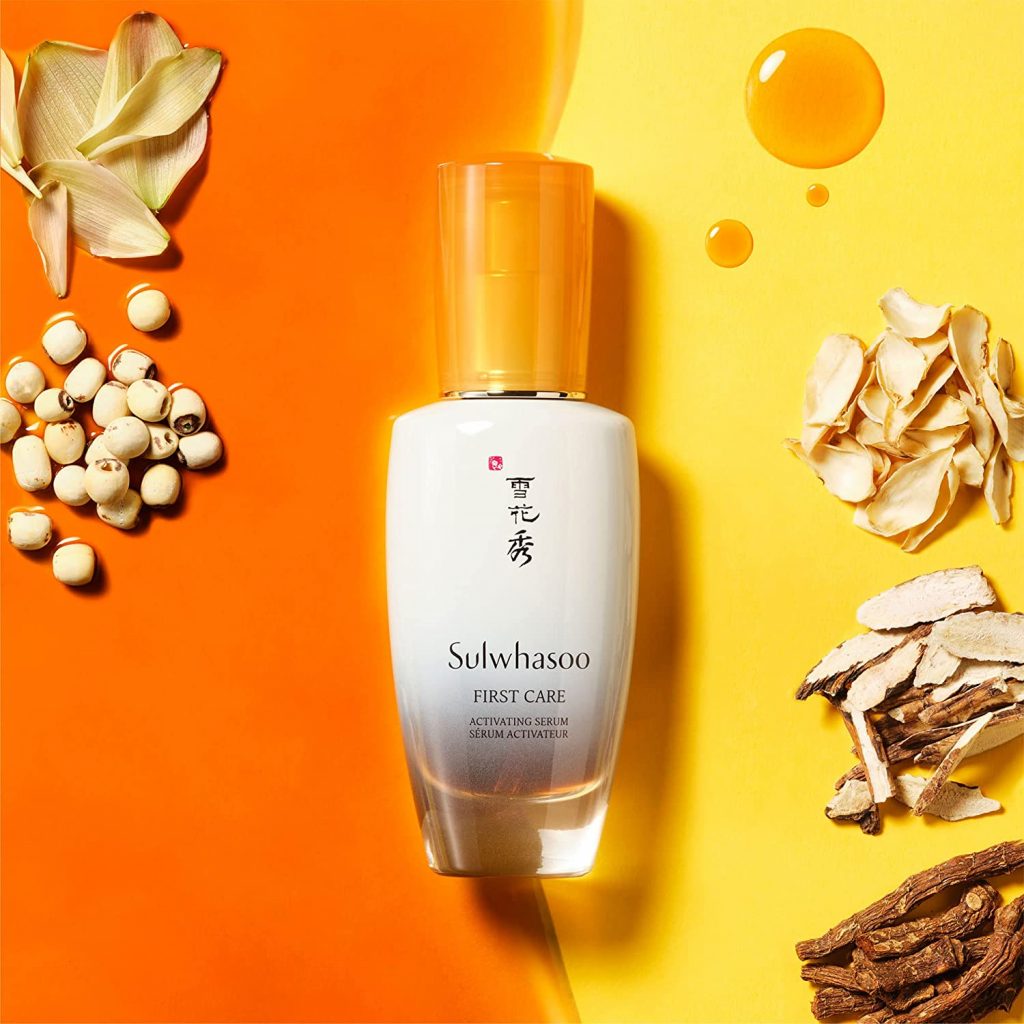 The Sulwhasoo First Care Activating Serum is popular amongst those with mature skin. It's described as a skin-balancing anti-aging serum with a main goal of harmonizing your skin.
It boasts a blend of 5 Korean herbs that work together to brighten, hydrate, and smooth your skin's look and texture.
It works to nourish dry and mature skin, giving it firming properties and balancing its surface. It's suitable for those with dry skin, or dull and uneven skin tone.
Summary
Absorbs easily
Can be used as a toner right after cleansing
Brightens, hydrates, and smooths
No harmful ingredients, paraben-free
7. Neogen Dermalogy White Truffle Serum In Oil Drop
This unique serum has flown under the radar for a while but it's becoming more and more popular as people realize its versatility and effectiveness.
It's formulated to be gentle enough to suit sensitive skin, but powerful enough to address dullness, dryness, and signs of aging on the skin.
This oil drop serum contains white truffle extracts that strengthen your skin, improving its health and leaves you feeling refreshed afterwards.
Plus, doesn't 'White Truffle' itself sound simply divine?
Summary
Improves skin's ability to retain moisture
Contains niacinamide
Paraben-free
8. Innisfree Green Tea Seed Intensive Hydrating Serum
Innisfree Green Tea Seed Intensive Hydrating Serum had to make it to our list of the 10 best Korean serums.
It could be described somewhat as a cult product. It's been recommended by people across various ages and its popularity is nowhere near slowing down.
This green tea seed serum contains extracts from various different green teas to help hydrate and protect the skin from environmental factors.
The unique Green Tea Tri-biotic Complex assists with improving the skin's moisture barrier, whilst the Jeju green tea helps hydrate the skin.
After a few uses, you'll notice that your skin will be glowing, look much plumper, and feel smoother and more hydrated.
Summary
Suitable for most skin types, especially those with dry skin
Contains niacinamide and hyaluronic acid
Contains the Green Tea Tri-biotics formula
Soothes, protects, and brightens the skin
Note: there is a slight green tea fragrance in this serum
9. SKINFOOD Peach Sake Pore Serum
This peach serum by SKINFOOD contains rice ferment filtrate (or sake). For those unaware, it's a popular and active ingredient in many Korean skincare products. It's rich in amino acids, vitamins and minerals, and is super effective in reducing enlarged pores. Sake also contributes to improving skin elasticity, to give overall plumper, smoother skin.
This serum also contains peach extract, a source of vitamin C and vitamin A. It helps to brighten the skin and even out unbalanced skin tone as well as improve dark spots on the skin.
A unique detail about this serum is that it applies and dries whilst leaving a matte feeling, making the skin smooth and soft to touch almost immediately.
Summary
Contains vitamin A, C, and E
Reduces the look of pores
Brightens skin, improves dark spots, and evens out skin tone
Note: it contains sake which might not be suitable for sensitive skin
Note: it contains a very slight fresh peach fragrance
10. Beauty of Joseon Glow Serum
Prone to acne breakouts? The Beauty of Joseon Glow Serum is an amazing (albeit relatively expensive) serum that delivers on its promise to improve your skin within the first few weeks.
It works to remove skin cells to prevent it from clogging up your pores as well as provide intense hydration to the skin.
It also contains 2% niacinamide, which helps with redness and irritation, both of which are common amongst those with sensitive, acne-prone skin.
Summary
Suitable for sensitive, acne-prone skin
Removes dead skin cells
Hydrates the skin
Contains niacinamide
I hope you found this list of the 10 best Korean serums useful!
One thing to note about Korean serums (especially if you're new to Korean skincare products in general) is that they don't work overnight – nor do they promise to.
People might be a little put off after a few days of applying these serums and not seeing any noticeable change. However, patience is key.
With consistent use combined with quality and complementary skincare products, these serums will absolutely deliver on their promises to improve your overall skin look and heath. The millions of Korean enthusiasts can attest to this!
We here are in love with the Korean serum range, and picking the top 10 was quite difficult! We hope you found this article helpful, and would love to hear if you've picked out the next one you want to try. Let us know in the comments if you're on the lookout already!
Also, if you're looking at also incorporation ampoule into your skin care routine, or are just looking to learn more about ampoules, have a read of our top 10 Korean ampoule products.
And don't miss out our 10-step Korean nighttime skincare routine!