The discovery of Asian skincare products has been a welcome addition to the beauty market worldwide. Not only does age-old tradition play into the history and science of these products, but it has opened up a whole new world of different ways to give your skin some more tender loving care.
One particular type of skincare product that's relatively unique to the Korean markets would be skin whitening creams.
In this day and age, a product with that kind of labeling could be quite controversial, however, let us educate you on what these 'whitening' creams actually do.
Despite the word 'whitening', these creams mainly target uneven skin tone. This includes dark spots, hyperpigmentation, blemishes, scars, and simply tanning from excess UV exposure.
Certain lifestyle activities can give our skin a lackluster look and color, and these whitening creams are meant to inject some life back into it. Through regular use of whitening creams, you'll start to see your skin becoming more radiant and brighter – not whiter!
Whitening cream is one of the market-leading products in Korea. Many factors play into this, including the (even so slightly changing) Korean beauty standard of having a fair complexion. This is the reason for such a huge variety of whitening creams, from the big beauty brands to boutique brands.
Rest assured, these whitening creams do not contain any bleaching products. Remember, these creams are meant to invigorate your skin, not change its color!
With that in mind, let us take you through the top 10 best Korean whitening creams you need to try!
1. NELLA Whitening and Brightening Tone-Up Cream
Nella is a well-known brand that boasts a line of products that target common skin problems that everyone experiences. Nella's Whitening and Brightening Tone-Up Cream consistently tops lists for the best and most effective Korean whitening creams.
This whitening cream consists of super ingredients Bifida Ferment Filtrate and Pseudoalteromonas Ferment Extract, both of which invigorate the skin and help fight signs of aging.
It also contains honey, avocado oil, vitamin E, and glycerin, which help maintain proper moisture levels in the skin as well as brighten its overall look and feel.
Summary:
Contains mild ingredients, suitable for sensitive skin
Smooths and brightens skin texture
Has anti-aging effects
2. INNISFREE Jeju Cherry Blossom Tone-Up Cream
INNISFREE's Jeju Blossom range has long been a favorite for those looking for a whitening skincare set. The Jeju Blossom Tone-Up Cream is the creme-de-la-creme, though, with its lightweight formula that leaves the skin feeling dewy and looking glowy.
The cherry blossom extracts in this product invigorate and brightens the skin, whilst the betaine from sugar beets hydrates and protect it.
A favorite feature of this Tone-Up cream is just how moist and soft the texture is, which, when applied on the skin, is super easy to spread and feels relaxing.
Summary:
Suitable for oily, combination, and sensitive skin
Moist, gel-like texture
Brightens and hydrates
3. Secret Key Snow White Cream
Secret Key's Snow White Cream is everything you'd ever want in a whitening cream. It boasts a plethora of amazing ingredients which assist in smoothing, brightening, and calming the skin.
If you're looking for a whitening cream to target tan lines, dark spots, and dark bags, this is a great option. It works wonders to strengthen your skin barrier, hydrate, and leave your skin feeling soft and supple.
It contains ingredients such as niacinamide, shea butter, macadamia seed oil, jojoba seed oil, and natural vitamin E.
Summary:
Contains niacinamide
Smooths, brightens and calms the skin
Targets tans and dark spots immediately
4. TONYMOLY Panda's Dream White Magic Cream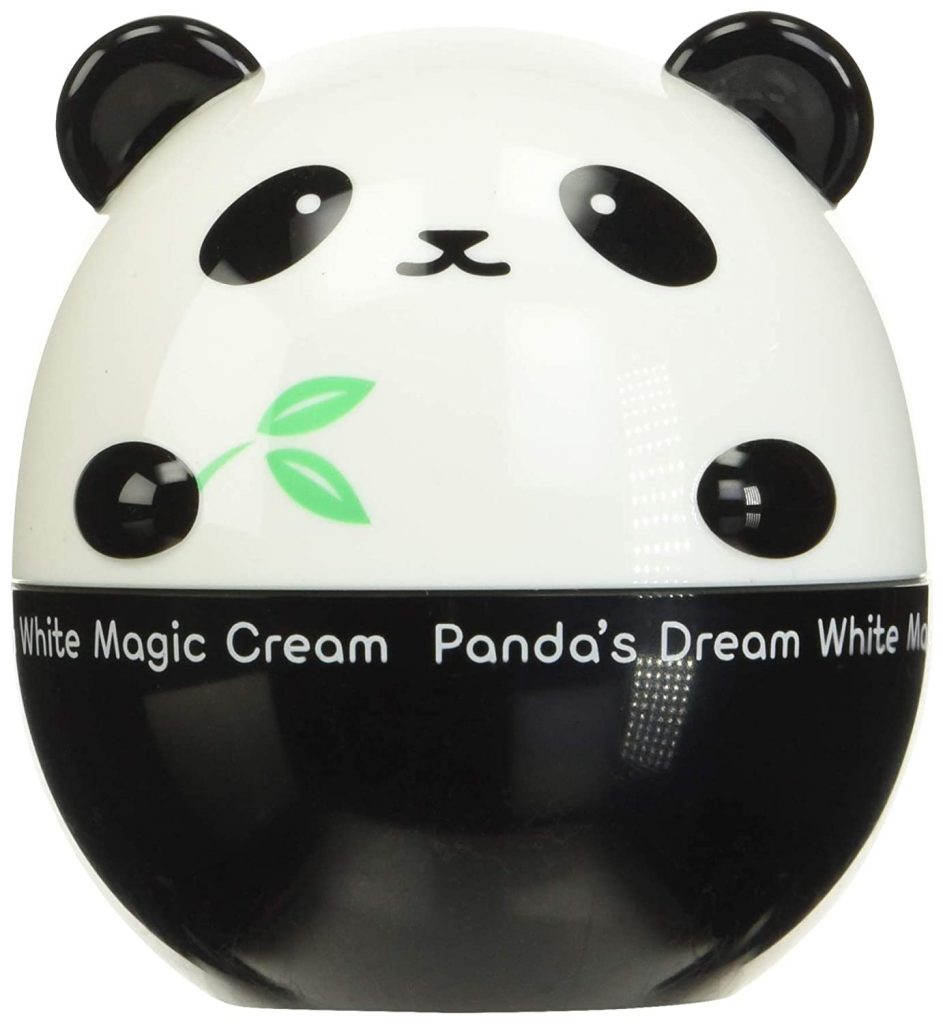 TONYMOLY's Panda Cream has been around for a relatively long time and has cemented itself as a staple for those looking for an effective and affordable whitening cream.
First off, how can anyone resist its adorable packaging?
Secondly, this product contains a heap of incredible ingredients that work together to brighten your dark spots and target uneven skin tone. They include the super ingredient niacinamide as well as natural ingredients such as lavender, rosemary, bamboo shoot extract, and berry extracts.
Summary:
Free of parabens, phenoxyethanol, GMP, and triethanolamine
Effectively lightens dark circles under the eyes
Lightens the skin
Heavy cream that's intensely hydrating
5. Seoul-Ceutical's Multi-Function All-in-one Snail Repair Cream
Seoul-Ceutical's Multi-Function had to make our list of the best Korean whitening creams!
This cream is true to its name, with its incredible collation of super ingredients coming together to be a true all-in-one cream that does it all.
Snail mucin has always been a highly sought-after ingredient in Korean skincare products to achieve that glass skin look they adore and love. This product has one of the highest percentages of snail mucin in its cream and is a much-loved product by the Korean public.
Not only does it immediately get to work getting rid of dark spots and scarring and overall lightening your skin, but it also contains anti-aging benefits and moisturizing effects as well!
Summary:
Contains 97.5% snail mucus
Lightens and tightens the skin
Heals and repairs the skin
Contains vitamin E for skin nourishment
You May Also Like: How Do K-pop Idols Get White Skin
6. Mizon Good Night Whitening Sleeping Mask
Mizon has always been popular in Korea for its amazing skincare product ranges. Its Snail Repair Cream is one of the most highly sought-after products in the market. However, if you're after an effective and affordable whitening cream, it's Mizon's Good Night White Sleeping Mask that will give you what you want.
This water-based cream is incredibly lightweight and airy. When you apply it to yourself, it will smoothly and easily spread and dry in no time without leaving any sticky residue.
It works overnight to lighten any blemishes or scarring, or dark spots on the face, and generally gives your face a brightening lift. It is meant to be used as a night cream at the end of your routine.
Summary:
Hypoallergenic
Contains niacinamide
Lightens dark spots and freckles
7. The Face Shop Whiteseed Brightening Serum
The Face Shop's philosophy is to work in harmony with nature to use ingredients that are sustainable for the earth yet still provide the benefits that we need to ensure we're taking proper care of our skin.
This Whiteseed Brightening Serum contains extracts of white daisy and white lupin seed to penetrate the skin and lighten and brighten the skin.
It's a super lightweight gel-cream formula that's more a serum rather than a cream, however its active ingredients ensure you achieve dewy skin texture and glowing skin in no time.
Summary:
Contains white lupin seed and white daisy extract
Gel-cream texture
Applies smoothly and dries quick
8. Goodal Premium Tone-Up Cream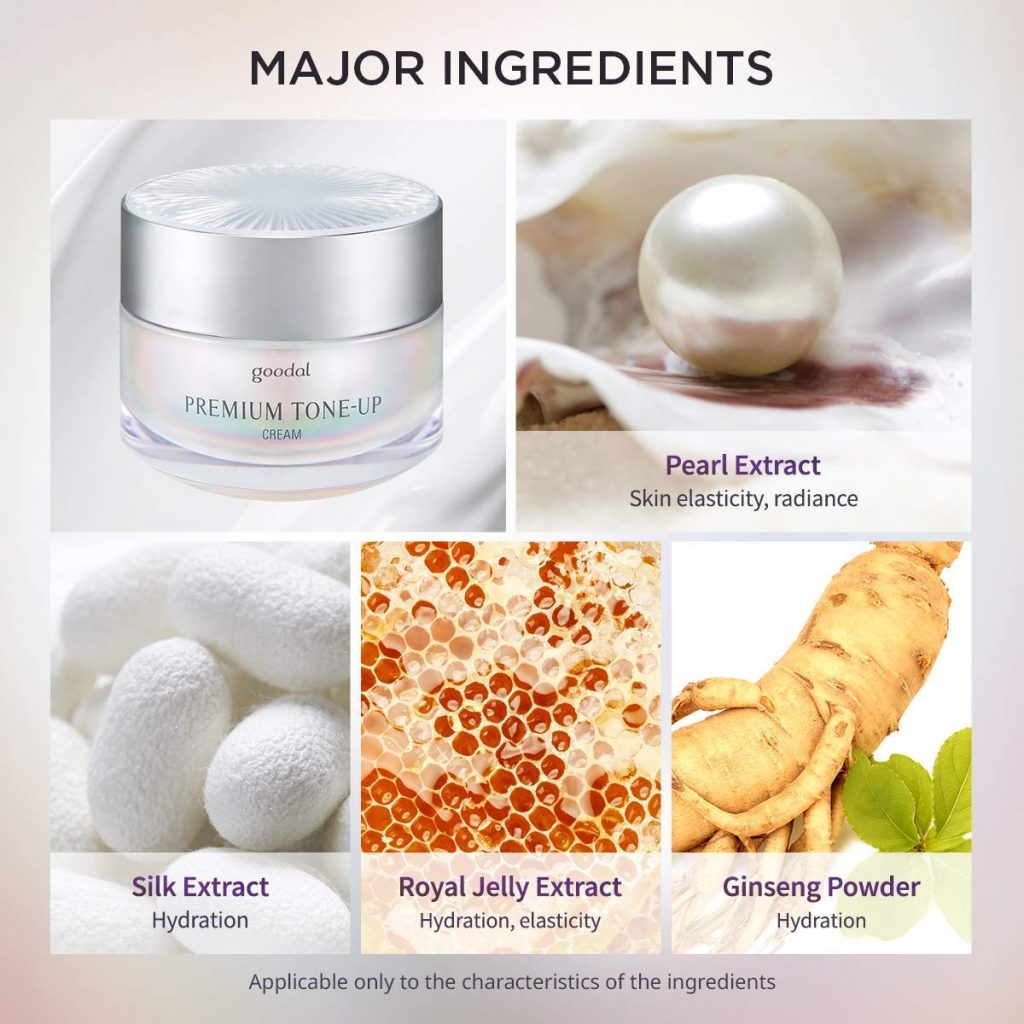 Goodal's Premium Tone-Up Cream is yet another cream on this impressive list that boasts quick results upon application. This particular whitening cream boasts ingredients such as pearl extract, ginseng powder, silk extract, and royal jelly extracts, which work together to tone, smoothen, and retain moisture in the skin.
Its consistency is not too light nor too heavy and is often used as a make-up primer under the skin as it's extremely hydrating and this helps with avoiding caking.
Summary:
Contains pearl extracts, ginseng powder, silk extract, and royal jelly extracts
Smoothens, tones, and retains moisture in the skin
Extremely hydrating
Can be used as a make-up primer
9. G9SKIN White In Whipping Cream
This G9SKIN whitening cream (it's not a whipping cream, as the title suggests!) is a fantastic product for those looking to achieve a lighter complexion as well as dewy soft skin.
It's one of the favored products by makeup artists for its effectiveness and ease of use. Not only is it super lightweight and contains ingredients such as niacinamide and milk protein, but it's also so compact that a little bit goes a long way.
Summary:
Incredibly lightweight formula
Lightens and softens skin
Contains niacinamide and milk protein
10. EnaSkin Dark Spot Corrector
The EnaSkin Dark Spot Corrector is a whitening cream that's made to target and reduce acne scarring, especially if you've been experiencing them for a lengthy period.
It's a lightweight formula that's jam-packed with ingredients to immediately get to work targeting the hyperpigmentation on the skin.
Because of ingredients such as kojic acid, lactic acid, and salicylic acid, you might feel a slight tingly or burning sensation when you first apply it. You may also experience redness and peeling. After the first couple of days, though, this should stop.
Use this for 1-2 weeks and you'll notice even the most stubborn acne scarring will begin to fade.
Summary:
Great tool for targeting acne scarring and hyperpigmentation
Contains kojic acid, lactic acid, and salicylic acid
You may experience a slight burning sensation, but this should go away after the first few applications
Here you go, you have our list of the 10 best Korean whitening creams!
By now, you should realize that these creams indeed do not work to 'whiten' your skin, but rather to target pesky dark spots, hyperpigmentation, uneven skin tone, and alike.
These issues are something that almost everyone experiences in their lives. You may not have been aware that there are ways to specifically address these issues, but this list just proved to you that Korean skincare is way ahead of the curve. There are multiple easy, affordable, and effective methods to deal with common issues like the ones listed above.
If you're interested, we highly recommend you give one of the aforementioned creams a try. They're all already super popular and loved in Korea, and we're sure you'll fall in love with these whitening creams too!
Let us know in the comments section if you've used whitening creams before, and how it has worked out for you!
For more products from Korea to take care of your face, check out our lists of the best Korean exfoliators, the best Korean moisturizers and read this post about why Koreans look so young and why Koreans have clear skin!