Korean skincare and beauty have taken center stage around the world over the past few years – and deservedly so. You only need to look at the vast majority of Korean celebrities with near-perfect skin and the range of Korean products in the market to know that they mean business when it comes to looking after oneself.
While the Korean 10-step skincare routine has shot through the roof, the Korean 10-step hair care routine has had a slightly slower uptake – and we're not sure why.
Our hair is an important part of our body. Sometimes it's the first thing people see or even smell! It changes the way we look, and it also impacts the way we feel. Who hasn't walked out of a hair salon before, after being massaged, treated, pampered, and felt like a million bucks?
But then again, hair care is also often overshadowed by the importance of keeping your skin youthful and healthy, and for many around the world, that takes the prize.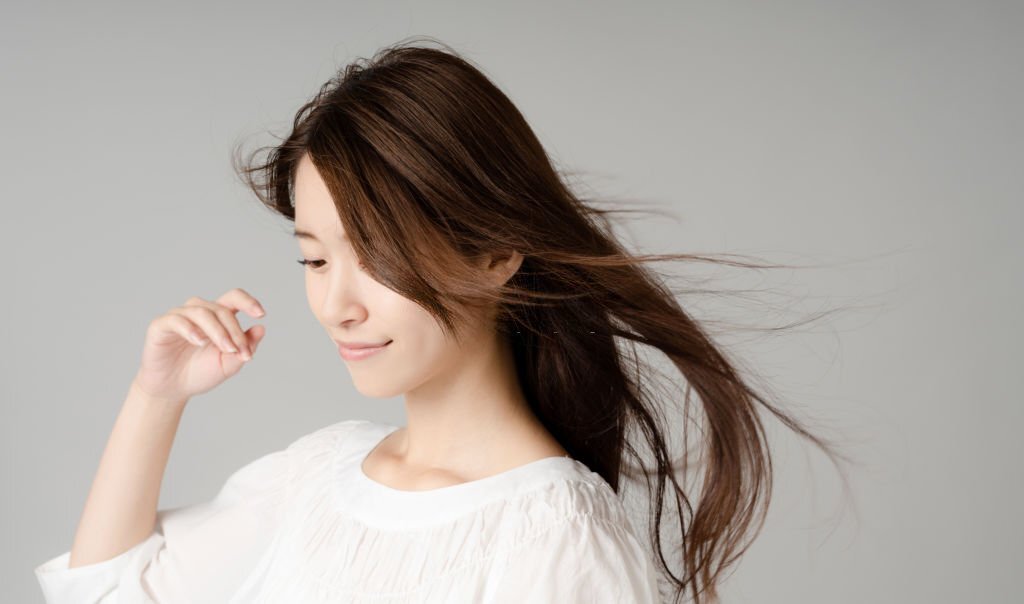 However, one is not mutually exclusive from the other. If you're serious about placing some emphasis on really looking after your skincare and beauty, we highly recommend that you look deeper into the Korean hair care routine.
This routine is rooted in the same philosophy as Korean skincare: tackle issues from deep in its core, and maintain its health by using natural ingredients from the Earth.
This hectic routine consists of 10 brilliant and surprisingly sensical steps that inject health back into our hair – nay, back into our entire head! From the breadth of your scalp right down to the tips of your hair, there isn't one part of the top of your head that's left behind.
With most steps, there's a science behind it. With other steps, there are years of history and an understanding that our elders sometimes did things for a reason with no explanation, and we're following their steps with no questions asked.
Let us delve into the intricacies of the Korean hair care routine now.
10 steps, let's go!
1. Scalp Scalers
Scalp scalers are essentially special stuff to clean scalps. No, literally!
Dead skin, condensed oil, and accumulated pollutants often form on our scalp, and regular shampoo does not help. Instead, Koreans use a scalp scaler product to effectively break through the dirt and oil and remove it from your head.
Scalp scalers feel similar to shampoo, and are typically made up of salicylate, though they do not foam up when you lather it onto your head.
It is advised to use scalp scalers only once a week before to shampoo your hair. Apply it to your scalp, lather it generously, and leave it for 10-20 minutes (depending on the product). Wash it off and proceed to shampoo your hair.
Our Recommended Product: Esthetic House CP-1 Scalp Scaler 
2. Shampoo & Scalp Massage
This next step is simply shampooing your hair, aka washing your hair, as per normal. It is common for Koreans to select relatively gentle shampoo products based on their specific hair type and hair needs.
Many Korean people often add a scalp brush to the mix here. Once you use it, you won't be able to wash your hair with just your fingers anymore.
The scalp brush maximizes the lather, boosts circulation on your head, and also provides a deeper clean, effectively removing all remaining dirt and dead skin cells. It also gives your head a nice, relaxing massage.
After you've applied the shampoo, use the scalp brush to massage your head gently but thoroughly before washing it off.
Our Recommended Products:
Daeng Gi Meo-Ri Ki Gold Premium Shampoo
Colorproof BioRepair-8 Scalp Exfoliating Brush
3. Conditioner (commonly known as Treatment)
Conditioning is yet another step that most people will be familiar with. Conditioner is typically used after shampoo is washed out to moisturize and nourish your hair; overall, improving its look.
In Korea, you won't see many products being labeled as conditioners; most of them will be labeled as "treatment", or "rinse".
The key to getting the most out of your conditioner is to apply it and leave it for a while. There's generally no use if you're applying it, only to wash it our moments later because it will have no effect. It is important to let it absorb into your hair.
The best way to apply conditioner is to ensure that your hair is a bit dry before applying it. You want your hair to be damp, not wet. Apply the conditioner to your hair (avoid your scalp), and leave it for a few minutes before washing it off.
It is recommended that you look for a herbal conditioner for natural hydration and to reduce the build-up in your hair.
Our Recommended Product: Ryo Damage Care & Nourishing Conditioner
4. Hair Mask
Hair masks, or hair packs as many people call them in Korea, are one of the most important steps in the Korean hair care routine, and it plays a huge part in differentiating this routine from most other hair care routines around the world.
Hair masks are described as deep hair treatments that nurture your hair back to life. They typically contain nourishing ingredients such as argan oil, coconut oil, or castor oil amongst other moisturizing ingredients to target frizziness, dry hair, and split ends.
Hair masks can be bought at most beauty stores, however, there are many Korean home remedies for hair masks as well. They usually contain ingredients such as rice, banana, coconut, honey, and avocado.
You want to avoid hair masks containing ingredients such as parabens, silicones, and sulfate.
After a few weeks of using a hair mask, you'll start to sense and feel that your hair feels and looks healthier and shinier.
It is recommended that you use a hair mask once a week, in replacement for conditioner. After using shampoo, apply the hair mask all over your hair and let it rest for 15-20 minutes before washing it out.
Our Recommended Product: Skinfood Argan Oil Silk+ Hair Mask
5. Vinegar Rinse
Ahh, now we're getting to the fun part. Vinegar is a fantastic ingredient for many reasons food-related, but did you know that it's also one of the best ingredients to apply to your hair?
Many older Korean mothers and aunties will have fond memories of themselves getting a home-remedy vinegar rinse from their mothers many years ago. These days, you can avoid the guesswork of making your own remedy, and buy quality vinegar rinse hair products at most beauty shops.
Vinegar rinse has long been known as a step that helps maintain the right pH levels for your scalp. Are you experiencing dryness, itchiness, excessive oil production, or even dandruff? It could be that your hair's pH level is completely off!
What a vinegar rinse aims to do is bring your pH levels back to normal so that the issues above disappear and you can store your hair's health back to its natural state.
If you're looking for a home remedy, dilute a cup of apple cider vinegar with two cups of water, and pour it onto your scalp. Wait for five minutes and then rinse it off.
Our Recommended Product: Esthetic House CP-1 Raspberry Treatment Hair Vinegar Rinse
You May Also Like: Why Kpop idols dye their hair?
6. Scalp Scrub
Your hair gets a nourishing mask, but what about your scalp? We're learning about the importance of scalp health, and a good scalp scrub is the next step in ensuring our scalp is the healthiest it can be.
Understanding that the make-up of your scalp and its structure is completely different from your hair is the first step, which is why you should not apply your hair mask to your scalp. Instead, when you're applying your once-a-week hair mask, take the time to also give your scalp a thorough scrub.
Regular scalp scrubs will entire that your scalp is deeply exfoliated and eliminated from any dirt and grime build-up, especially in and around your follicles. It also helps to oxygenate your scalp; it pretty much lets it breathe.  
Our Recommended Product: AROMATICA Rosemary Scalp Scrub 
7. Scalp Toner
If you're feeling a little overwhelmed now, we understand. Who knew that our scalps required so much TLC? But trust us, and millions of other avid believers of the Korean hair care routine – it'll all be worth it in the end.
So what is a scalp toner? A scalp toner essentially assists in soothing any inflammation your scalp may be feeling from prior treatments, target any infections with its anti-microbial effects, and hydrate your scalp.
It essentially works to soothe and balance your scalp whilst moisturizing your hair shaft (the visible part of your hair sticking from your scalp).
With scalp toners, it is especially important to pick a suitable product with the right ingredients for your type of scalp and hair.
When you're done taking a shower, towel dry your hair and spray the toner gently onto your scalp. Don't forget to massage it in.
Our Recommended Product: AROMATICA Tea Tree Purifying Tonic 
8. Scalp Serum
A scalp serum is the last part of treating your scalp for the night.
A scalp serum, much like a skin serum, effectively hydrates, heals, and calms your scalp down, eliminating any redness and irritation. It works to nourish your follicles and encourage hair growth so that your hair continues to grow long and luscious locks.
It will additionally add a layer of nourishment for those who experience excessively dry or oily scalp conditions.
Once you've applied your toner, pump some scalp serum onto your hair and spread it generously around your scalp, making sure you rub it in thoroughly.
Our Recommended Product: AROMATICA Rosemary Root Enhancer 
9. Hair Serum/Essence
Similar to masks, hair masks are different from hair serums, thus investing in a good hair serum will also do wonders for your hair.
Hair serums contain several active ingredients, all of which work to bring your hair to the optimum level of health and vibrance. It also contains ingredients to lock in moisture and protect your hair from air pollutants, heat, and radiation.
After using your scalp serum, spread your hair serum over your hair, beginning from the ends to the top.
Our Recommended Product: LA'DOR Wonder Hair Oil Serum
10. Overnight Treatment
Last, but not least, the overnight treatment is much like the moisturizer for the face – it is used as the last step to moisturize your hair and lock in all the nutrients that it had gathered from all previous treatments.
Once you've completed steps 1-9, cover your entire head with an overnight treatment, and let sit until it has dried before you go to head.
If you have excessively oily hair, you may want to wash it off the next morning. However, most people leave it in their hair until the next wash.
When selecting your overnight pack, most people tend to go for extra boosts of hydration, however, there are some that target damaged hair, frizzy hair, and so on. Choose one that's right for you.
Our Recommended Product: Scapes Untold Beauty Apothehair Signature Sleeping Hair Mask
We hope you enjoyed reading in-depth about the Korean hair care routine!
Understandably, it may have been overwhelming because to go from two basic steps of shampoo and conditioner (and some people don't even use conditioner, we've heard!), to 10 steps that include a scalp treatment in between – it's a lot.
However, as we mentioned before, each step has its reason, and as you can tell, similar to the famous Korean skincare routine, no stone has been left unturned.
Every part of your head will begin to feel healthier and cleaner after going through this routine just once. Now, imagine taking care of yourself via this routine every week – how good would you feel?
Next time you watch a K-pop video and you're wondering how they've achieved such gorgeous locks – remember, you could only be 10 steps away!
For more beauty tips, feel free to also read our article about how Kpop idols keep their hair healthy, why Korean look so young (15 secret tips) and the 10-step Korean Nighttime skincare routine.